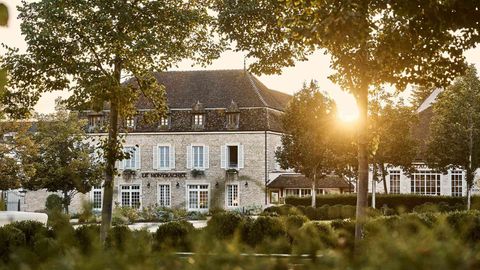 For wine lovers across the globe, Burgundy is the holy grail of pinot noir and chardonnay, and for good reason — the region's roots in viticulture date all the way back to the second century AD, and you'll find nods to its winemaking styles and two primary cépages all throughout the New World.
It's an intriguing location choice for Christina Ong, the hôteliere and entrepreneuse behind Como Hotels & Resorts, who selected a small, sleepy town nestled in Burgundy's Côte-d'Or for the brand's first foray into France and 16th hotel.
This luxury hotel in France is perfect for wine lovers Como Le Montrachet
Como Le Montrachet is Como Hotels & Resorts' first foray into France.
The restaurant has a stunning terrace and a cheese cart — and serves primarily local wine, from the 17,000-bottle selection.
The intimate resort in a small Burgundy wine town has only 30 rooms. The village of Puligny-Montrachet has just 376 residents, and its town square — now home to Como Le Montrachet — is as tranquil as the vineyards that surround it. Known primarily for its white wine production, Puligny-Montrachet has long been a respected name when it comes to Burgundy despite its relatively remote location — about an hour south of Dijon and almost two hours north of Lyon. Within Como Le Montrachet's three buildings, the hotel's 30 rooms and suites are outfitted in one of three distinct colourways — soft grey, deep blue, and sage green, "echo[ing] the shades of the French countryside," Ong says. Each has intricate 18th-century Toile de Jouy motifs inspired by material scraps collected from local markets. The Toile de Jouy repeats on long, dramatic drapes throughout the common spaces, this time in austere black and white.
Shop the best travel experiences here Despite opening its doors this spring, Restaurant Como Le Montrachet has quickly become a favourite of local Burgundians, resident ex-pats, and oenotourists alike. It's in the early stages of its organic buzz, and there's a sense of excitement from couples and families dining on the terrace in the warm summer breeze. Chef Romain Versino, an Ardèche native whose affinity for modern French cuisine reflects the hotel's contemporary-classic mood quite elegantly, has his own interpretation of Como's fil rouge: a "deep commitment to holistic wellness, exceptional nutrition-rich cuisine, and inspiring destinations that honour the spirit of place," he says.
The menu, which changes seasonally, currently features highlights like a beet tartare adorned with algae tuile, a golden John Dory filet with artichokes and pressed spinach drizzled in a light sauce of cockles and confit lemon and grain-crusted squab accompanied by grilled white asparagus and shallot in various forms. The wine list, of course, is a work of art, showcasing around 1,300 wines with about 17,000 bottles in the hotel's caves (the wines are almost exclusively from Burgundy, though there are a few outliers for variety's sake). Head sommelier André Berthier and his team are eager to share the best of Burgundy, from local favourites like Sylvain Langoureau, Jean-Michel Guillon, Olivier Leflaive, and Domaines du Château de la Crée and Evenstad. There's also a generous handful of cuvées from the internationally coveted Domaine de la Romanée-Conti — in other words, a collector's dream. Como Le Montrachet's team is also ready to curate experiences for guests throughout the area, to local villages like Côte de Beaune and Côte de Nuits and beyond.
With enough dedication, hotel guests can taste their way through Versino's menus over the course of a few days and nights without tiring of his style, and the pairing possibilities are endless (especially for those without budget constraints). It's worth dining here at least twice, even if just to experience both the interior of the restaurant and its peaceful, lush terrace. And Berthier's team is an excellent usher into the world of Burgundy and its many appellations (84, to be exact). But whatever you do, don't miss out on the chariot de fromages (cheese cart) — an aerated, refrigerated rolling selection of cheeses curated by local maître fromager (master cheesemonger) Alain Hess.
The future of Como Le Montrachet looks promising — with plans for a pool and spa to open in the coming years, travelling oenophiles have even more reason to visit Puligny-Montrachet, and for longer periods of time. For a brand that's only just getting its feet wet in France, Como's got the concept of joie de vivre down to a science.
Rooms at Como Le Montrachet start at USD 602 (INR 49,859) a night, and you can book at comohotels.com.
Book your stay at COMO Le Montrachet via Booking.com
Book your stay at COMO Le Montrachet via Agoda.com
(Hero and feature image credit: Martin Morrell/COMO Le Montrachet)
This story first appeared on travelandleisure.com
All currency conversions were done at the time of writing
Related: This New River Cruise Sails To Charming Towns And Wineries In France's Burgundy Region
Written By