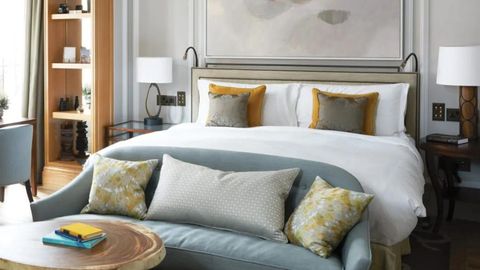 Luxury hotels often sell the idea of indulgence as a selling point, but in truth, there's no bigger luxury than feeling like you're at home, especially when you're halfway around the world. The Cadogan might be one of Sloane Street's fanciest (and most expensive hotels), but beneath its storied facade and designer furniture is a warmth that emanates from more than its crackling fireplace – and that, to us, is truly what's priceless about this property. Read on for our review of the hotel.
Located at the junction of Sloane Street and Pont Street, The Cadogan enjoys a prime spot, being midway between Chelsea and Knightsbridge. Like a number of buildings in its vicinity, it too boasts a big slice of the history of London's gilded past, thanks to two of its most famous past residents, Oscar Wilde and Lillie Langtry. But don't expect the stuffiness that historic hotels typically bring. It's undergone a multi-million-pound restoration and reinvigoration to become contemporary, and artsy, but still respectful of its heritage. But if history's your thing, you'll want to set aside some time for Senior Concierge Daniel, who's quite literally a living encyclopaedia of the hotel's (nay, London's) history. Armed with a wealth of knowledge, plenty of patience, and the warmest of smiles, Daniel didn't hesitate to walk us around the property for a little tour, spilling some of the most fascinating facts about the building and its scandalous past in between apologies for keeping us. "I could go on and on," he said, and we wished he would. He explained its connection with Lillie Langtry, who lived at part of the hotel's current address at 21 Pont Street. The British socialite – who gained notoriety as the mistress of King Edward VII from 1877 – sold the property to the hotel in 1895 on the agreement that she could continue living and entertaining there for free. Today, the space serves as a private entrance for guests of the hotel, and as a tribute to the glamorous personality, still retains the same mosaic floor and staircase that she once threaded. Her room, #109, still remains to this day.
Other notable faces that were often spotted include authors Mark Twain and Bram Stoker, who reportedly lived in the area and were said to be regulars at the bar. But perhaps the most famous of them all was Irish playwright Oscar Wilde, who although lived with his wife and two sons just a short distance away, often hosted friends at the bar and was known to stay overnight if his evenings stretched on. It was also here where his affair with the son of the Marquess of Queensbury had come to light, and where he was arrested for his then-illegal sexual orientation. The memory of Wilde still lives on at the hotel today with a specially commissioned peacock, a creature he admired and often referenced. The white peacock, 'Homage to Hera', is made from 25,854 Swarovski crystals and is perched proudly along the art corridor on the way to Langtry's property. With that much history, you would've thought the hotel would look like a museum, but far from it. The lobby is light and elegant, with a cosy sitting area by the fireplace right next to the check-in counter. You'll find a glorious floral arrangement next to this, complemented by a grand painting by Simon Casson of Sir Hans Sloane and his daughter Elizabeth, founders of the Cadogan Estates. Further down, 600 real books that have been cast in bronze provide a dramatic entrance to the lift, giving you a little taste of what's to come in the room.
Rooms The 54-key hotel offers impossibly elegant spaces ranging from the Deluxe room to the Royal Suite, each as stylish and homely as the next. The Deluxe Junior Suite we stayed at was a generous 48m² (517ft²) (sprawling by London's standards) and overlooked the streets of Chelsea. A little walkway curved into the room from the door, revealing a plush king bed that was almost too big for two. For a better context of the size of the room, there was even space for a couch with a table in front of this gigantic bed, as well as a desk that was flanked by looming shelves filled with curiosities and an array of books.
It's an inviting space, with touches of soothing light grey for the walls. Coupled with the wooden flooring, contemporary rugs in warm hues, and elegant wood furniture that was custom-made in England, the room was cosy but sophisticated, enough to make you feel at ease immediately. The bathroom's big enough to be another room in itself. A contemporary bathtub sits in a corner with an integrated TV, but there's also a separate walk-in rain shower. There are His and Hers sinks so you'll never have to fight, and the marble floor's always warm, even when it's chilly outside. Molton Brown amenities are provided to keep you smelling impeccable for the rest of the day.
A good night's sleep is almost guaranteed here, even for the fussiest of sleepers. While down pillows with Egyptian cotton linens are the default, The Cadogan also has a Sleep Concierge program with a menu of pillows, weighted blankets, and even silk sleep eye masks. But it's always the littlest thoughts that count, and here, it comes in the form of little drawstring pouches that are filled with lavender essential oils, placed by your bedside every evening during turn-down service. Oh, and your newspaper of choice neatly folded in a little leather tote by the door every morning.
Food & Drinks Paying homage to the property's muse Lillie Langtry is The LaLee, a buzzy restaurant on the first floor that's definitely on the radar of many a well-heeled Londoner. Named after Langtry's personalised railway carriage, the restaurant offers takes on European fare that she once "seduced [her] on her travels." The Coronation menu we sampled started with a surprise cheese hors d'oeuvre that was pleasantly savoury, and tasty, before the appetiser – a light, chilled tomato consommé – arrived. The 'middle course' was a rather hearty dish consisting of Wye Valley asparagus and a poached hen's egg, delicious if not for the overly rich hollandaise sauce that soaked beneath it. We tried both the mains here; the Cornish Roasted Lamb was juicy and perfectly seared, while the Morel and Broadbean Risotto with aged parmesan were light and comforting. Lemon meringue pies are notoriously tricky to nail, and here they thread the line between tart and sweet perfectly. By sunset, the place is buzzing with a diverse selection of people, from bankers (don't quote us, we guessed) and society ladies, to a very fashionable group of creatives that had stopped by for an after-work cocktail. The gin list is extensive here, but you'll also get to choose from over 80 wines by the glass, as well as a 'Reserved for The Cadogan' English sparkling that's been created specially for the hotel by the Rathfinny Wine Estate in Sussex. Breakfast also takes place here, and the selection is stellar, with some of the best pastries and traditional English breakfast platters you'll ever have. Those watching their weight and are vegan will love the selection of wellness-focused, plant-based options here, as well as the shot of superfood booster that the waiter cheerfully encourages you to have for a healthy start to the day. Service here is always prompt, regardless of the time of day.
Amenities
You're not limited to the confines of the hotel when it comes to amenities. Because the hotel sits within the 93-acre Cadogan Estate, guests also get access to the Cadogan Place Gardens that it overlooks, a privilege only residents in the vicinity enjoy. This painstakingly manicured slice of heaven in the heart of London is the perfect escape from the big city, and here you'll get to enjoy an afternoon tea picnic, play a game of tennis on one of its two courts, or simply go for a stroll.
The Chelsea Physic Garden (previously known as the Apothecary's Garden) is also worth a visit; Established in 1673, it's London's oldest botanical garden and is home to some 5,000 medicinal and herbal plants.
There's also a gym that's equipped enough for a quick workout if shopping at the nearby Harvey Nichols and Harrods isn't enough exercise for you.
Verdict Luxury hotels are anything but scarce in London, but there's plenty else to be said about the service. While other hotels will offer you the obligatory smile at check-in and check-out, there's rarely any other interaction between you and the staff. The Cadogan's stellar team makes sure you get a lot more than that here.
From the red-coated doorman who very kindly waited with us and our luggage outside for the car to arrive, to Daniel – whose stories about the hotel we could listen to for hours – every member of the staff knew just how to make their guests feel right at home. Add to that the delicious food, the clean, stylish rooms, and that glorious garden across the street, and we dare bet you won't be rushing to check out any time soon.
The Cadogan is located at 75 Sloane St, London SW1X 9SG, United Kingdom.
Find out more about The Cadogan here, and book your stay here.
Book your stay at The Cadogan via Agoda.com
Book your stay at The Cadogan via Booking.com
This story first appeared here.
Related: The Dorchester In London To Recreate 1953 Decor For His Majesty The King's Coronation
Written By