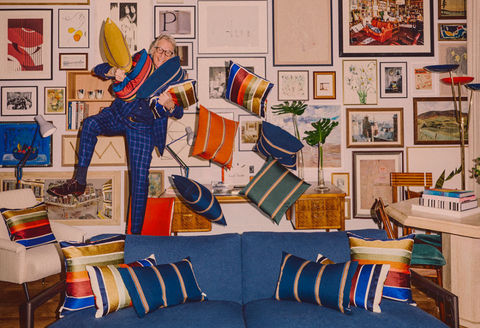 If you're seeking a true taste of Britain the next time you're in London, consider checking in to the new Paul Smith signature suite at the Brown's Hotel in Mayfair. Recently, the designer brought his iconic stripes and colourful creative energy to this storied London hotel.
Inside the Paul Smith Suite at the Brown's Hotel in Mayfair
One of Britain's most famed designers has created a new signature suite for the Brown's Hotel in London's prestigious Mayfair neighbourhood.
Sir Paul Smith has long been known as a quintessentially British designer, from his humble beginnings in Nottingham in the 1970s to a now multinational label with boutiques all around the world. Now, he brings his focus a little closer to home, with the design of a charming new signature suite at the Brown's Hotel.
View this post on Instagram
In collaboration with Rocco Forte's Director of Design Olga Polizzi, the suite has been created to be "a place of inspiration and creativity." From the artwork over to the design books in the suite's mini library, no detail has been spared.
Of course, there are more literal touches, too. Sir Paul Smith's signature colourful stripes adorn the pillows, and many of his most notable home and living collaborations can be found around the suite. From the blankets and rugs over to the sofas, tables, and even the leather goods, everything has received that magical Paul Smith touch. There are even banana-shaped door handles, touching on both the designer and the hotel's relaxed approach towards "British humour and bespoke design."
View this post on Instagram
Conveniently, the Paul Smith boutique on Albemarle Street is just a few minutes away, and for those who can't jet to London quite yet, several of the items in the suite are also available on the Paul Smith online store.
Image via Paul Smith

Image via Paul Smith

Image via Paul Smith

Image via Paul Smith

Image via Paul Smith

Image via Paul Smith
About the Brown's Hotel
The Brown's Hotel in Mayfair is known as London's oldest hotel. Dating back to 1837, it has had many owners since those days, before it was purchased by Rocco Forte Hotels in 2003. Under the hand of Rocco Forte, the hotel has seen many refurbishments and charming new design elements. Alongside the Paul Smith suite, there is also a Kipling Suite, which pays homage to Rudyard Kipling's The Jungle Book through tropical jungle-inspired interiors.
This story first appeared here
Related: Hotel Suites Where Famous People Once Lived — And You Can, Too!
Written By