Turquoise waters, white-sand beaches, and lush peaks — the unparalleled beauty of French Polynesia is bound to wow even the most seasoned travellers. Jet-setters tend to flock to honeymoon-favourite destinations like Bora Bora and Tahiti, but with 118 islands and atolls comprising this overseas territory in the South Pacific, there are endless pockets of paradise worth exploring. One of them is Moorea, an adventure-filled volcanic island only a 30-minute ferry ride from Papeete, Tahiti's largest city.
And if you're keen on making your tropical travel dreams a reality by booking an overwater bungalow, look no further than the Sofitel Kia Ora Moorea Beach Resort.
Here's a peek inside the stunning overwater bungalows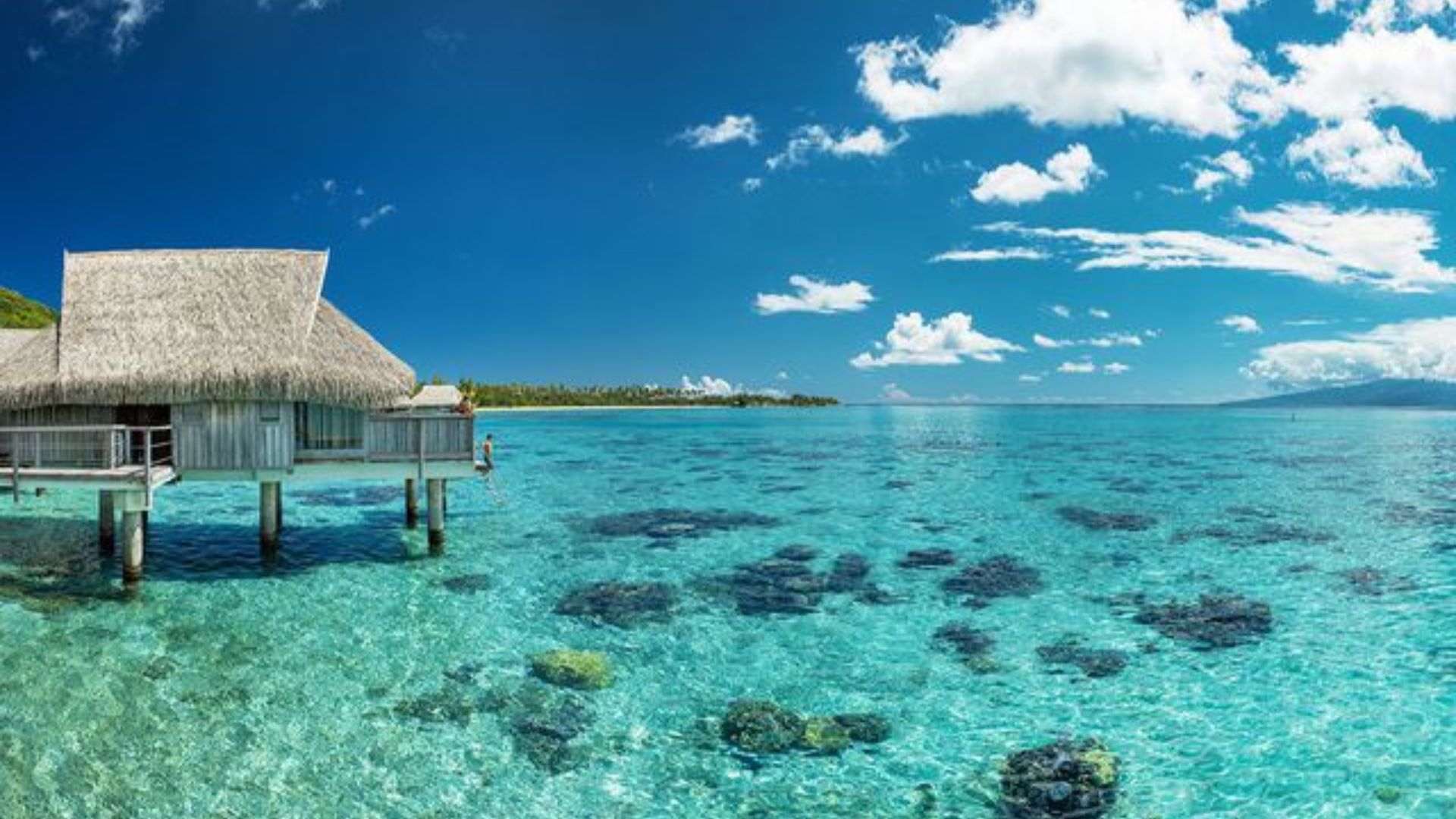 Sitting on the edge of a protected marine area off Temae Beach (the longest on the island), the resort boasts a beachfront infinity pool, two open-air dining venues, an on-site Tahitian pearl shop, and its bread and butter, 38 overwater bungalows with easy access to a crystal-clear lagoon. There are also plenty of onshore accommodations scattered throughout the property, from bungalows inside tranquil gardens or directly on the beach to a luxury villa fit for families and big groups. Experiencing the next-level opulence of an overwater bungalow has always been high on my travel wish list. There's something truly special about this type of ultra-private accommodation: The sound of lapping waves lulls you to sleep, while you wake up feeling refreshed only a few steps from the water. Floor-to-ceiling windows turn the space into your own personal solarium, where the picturesque view from your bed looks like a postcard you'd find at a hotel gift shop. And if you want an even closer look, you can opt for the comfy lounge chair on the outdoor deck. Use in-room snorkelling gear to explore the lagoon directly from your bungalow's private platform, or peer into the indoor glass floor panel to catch a glimpse of the seabed and thriving marine life below.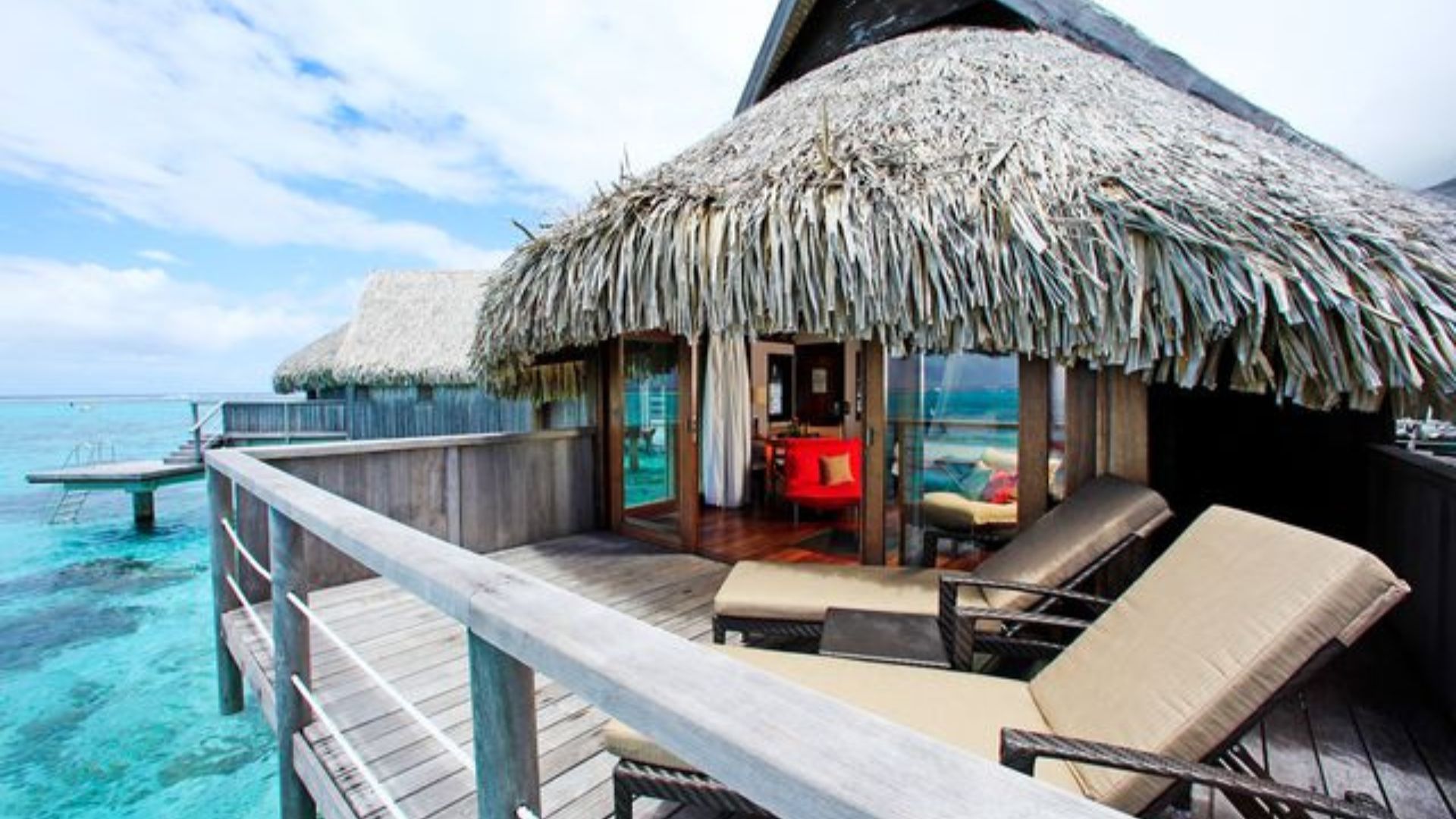 Le Jardin Spa & Beauty is tucked away in a central yet unassuming location on the resort grounds. Large wooden double doors open to a tranquil tropical garden, where guests can indulge in massages, facials, or holistic treatments using natural oils sourced from local producers.
The on-site restaurants — Pure and K — specialise in both local Polynesian and international cuisines. "Boasting French style infused with Tahitian hospitality, the hotel's two acclaimed restaurants provide an intimate and romantic setting with incredible panoramic views and live entertainment," says Sabine Lamberts, the resort's general manager. Pure offers three meals a day, including a daily breakfast buffet, as well as lunch and dinner menus. The weekend nights end with a bang here when guests are treated to a traditional Polynesian dance performance with live music, followed by a mind-boggling display of Samoan fire knife dancing on the beach.
The atmosphere over at K, a beach restaurant that serves a specially curated tasting menu on Thursday and Friday evenings, is more private and moody. Sit under the cathedral ceilings made with Kahaia wood from the Tuamotu atolls, while torches illuminate the surrounding space. Kick off your shoes, dip your toes in the sand, and toast to your tropical getaway with expert wine pairings carefully selected by chef Frédéric Gigou.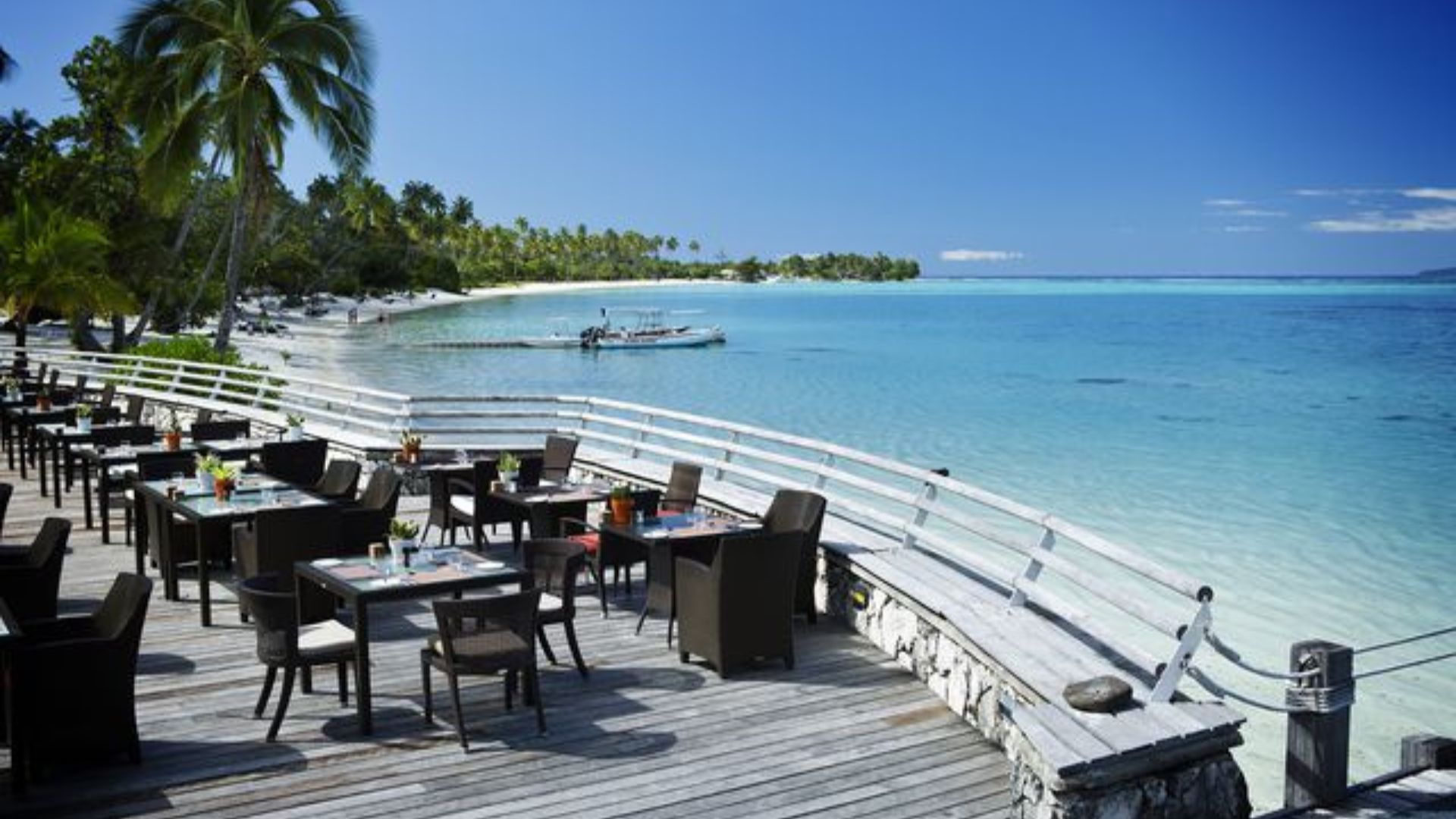 An uninterrupted day spent lounging on my private deck (with a rum-based cocktail in hand) was enough to satisfy my sense of wanderlust, but I quickly learned the resort offers much more. Striking the perfect balance between adventure and relaxation, we spent some days away from the resort exploring Moorea by land and water. There's a single main road that follows the 37-mile (60 km) perimeter of the island, making it easily accessible and difficult to get lost. However, thanks to our trusty local tour guide, Yvette, the owner of Moorea VIP Tours, we were able to venture off the main road and explore the island's lesser-known spots.
Growing up on the island of Tahiti, Yvette displayed an impressive wealth of knowledge about the region's culture and history, from sharing ancient Polynesian legends to teaching us how to make a traditional Tahitian flower crown. It was pouring rain when we visited Yvette's private garden up in the mountains, which ended up being the base of our guided hike to Moorea's Āfareaitu Waterfall. An excursion we thought would be ruined by weather wound up being one of the trip's most meaningful highlights — our 40-minute muddy trek in ponchos was eventually rewarded with the opportunity to swim at the base of the gushing waterfall while rain poured over us. Āfareaitu is a Tahitian word meaning "sacred valley of gods and kings," and the conditions made this experience feel all the more spiritual.
Our first aquatic adventure was a jet-skiing tour across the island's two symmetrical bays — Cook's Bay and 'Ōpūnohu Bay — with stops along the way to admire Moorea's tallest and most spectacular mountain peaks. The next day, we hopped on a private boat tour of the island, where we snorkelled with stingrays and nurse sharks, and even encountered a few sea turtles, as our guides taught us about Moorea's biodiversity and how to responsibly interact with sea life.
But nothing can top the excitement of spotting a majestic dolphin pod swimming along our boat as we rode to lunch on a private motu, the Tahitian word for "small island." We were greeted with piña coladas by Johanna Berard, founder of Temoana Tours, while her husband prepared us a delicious and much-needed meal of grilled chicken and fish, french fries, and ahi tuna ceviche. A picnic table perched in a shallow sandbar off the shore made the experience even more magical, as stingrays and small fish swam around our feet while we enjoyed our food. If the water isn't your thing, but you're still seeking an adventure, an ATV tour may be the most exhilarating way to explore Moorea. After about an hour and a half of driving over dirt paths through the French Polynesian jungle, you'll end up at the base of a steep but short walking path that leads to the top of Magic Mountain — arguably the best viewpoint on the entire island.
Moorea's unspoiled beauty and thriving culture, combined with Sofitel's top-notch service and hospitality, made this resort an ideal place to fulfil my lifelong dream of staying in an overwater bungalow. Learn more about the Sofitel Kia Ora Moorea Beach Resort and all of its incredible offerings here.
Book your stay here via Booking.com
This story first appeared on www.travelandleisure.com
Main and Feature Image Credit: Courtesy of Sofitel Kia Ora Moorea
Related: Bookmark These Stunning Island Resorts In Malaysia For Your Next Holiday