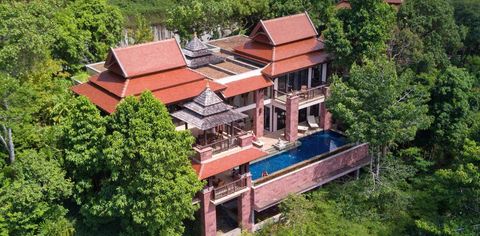 Lush tropical forests, pristine shores, an array of sports activities, and exciting deals make Pimalai Resort and Spa in Thailand perfect for a summer holiday.
Built on 100 acres of tropical forest, with direct access to a stunning 900-metre- long stretch of sandy beach, Pimalai Resort and Spa in the Koh Lanta district in Thailand's Krabi is a favourite among A-list travellers seeking a natural retreat. Located away from the hustle-bustle of southern Thailand's popular islands, this award- winning resort offers the ideal setting to break away from the ennui of daily routine. Take Pimalai Spa, for instance, which is designed like a small village and offers a wide range of rejuvenating treatments, including massages, scrubs, and wraps. There is also an outdoor jacuzzi and steam room. Guests who like active holidays can work out at the fitness centre, spar with experts in the Muay Thai boxing ring, work up a sweat on the tennis court, or go for a swim in one of the two infinity pools. Those seeking peace and alone time can unwind in Pimalai's luxurious accommodation options, which include Beachside Villas and Hillside Pool Villas. The resort also offers a range of non- motorised watersports such as paddle- boarding and kayaking. Hop on one of the luxury speedboats operated by Pimalai to explore the neighbouring islands, marine parks, or shark spots. Nearby, Talabeng Island is famous for its sea caves; intrepid explorers can paddle into hidden caverns and beaches of this island. Franck de Lestapis, Pimalai's general manager, says, "We are delighted to be one of the founding members of the Considerate Collection. Ever since our resort was founded 20 years ago, we have strived to work in harmony with the island's community and conserve its pristine ecosystems."
Special Offer To celebrate the country's lifting of testing and quarantine requirements for international visitors, Pimalai Resort and Spa is offering a special deal to travellers who want to experience the shores of Koh Lanta this summer. Under this offer, guests who book a five-night stay at Pimalai will be treated to THB 2,000 (INR 4,491) of resort credit, which can be redeemed for meals, sunset drinks, spa treatments, and more. Visitors will also enjoy 15 per cent discount on all other dining experiences and onsite activities. Travellers who book their holiday at least 30 days in advance will be rewarded with a 30 per cent discount, while 14-day advanced reservations will enjoy 20 per cent off. Starts from THB 5,820 (INR 13,070).
Related: Why We Can't Wait To Head To Pimalai Resort & Spa On Thailand's Koh Lanta Island!
Written By