Discover Arthaus: A Hotel That Offers Guests Access To Lebanon's Irrepressible Creative Scene
After decades of war and political turmoil, Beirut's artists and makers continue to produce boundary-pushing works as the city rebuilds. Our contributor visits Arthaus, an innovative hotel that offers guests access to Lebanon's irrepressible creative scene. By Gisela Williams
The cities that most enchant me wear their histories on their sleeves. I once visited a fashionable boutique in a hidden courtyard in Berlin, its facade pockmarked with bullet holes from World War II. In Jerusalem, I had an epic multi-course meal at a throbbing cafe with all-white decor, then ended the night watching black-clad pilgrims rock back and forth in front of the Wailing Wall. It was an exhilarating and disquieting experience, like finding a portal that could transport me between centuries.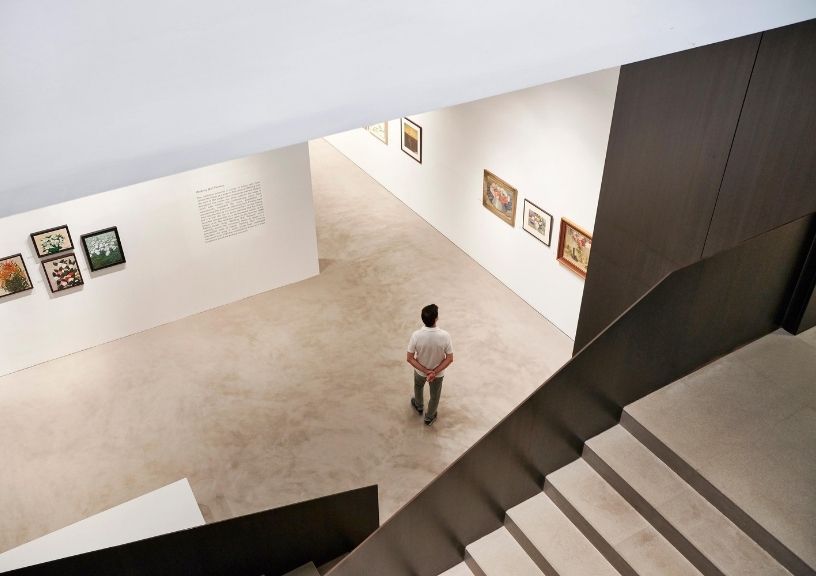 This fascination with places where the past rubs provocatively against the present is the reason I couldn't wait to see Beirut, an ancient port city that has survived centuries of violent conflict and destruction. I was told that it was a place where you might walk by a sleek Japanese-inspired bar on your way to an 18th-century villa built on top of Roman baths.
When I finally got the chance to visit in January of last year, I decided that not even the ongoing protests were going to get in my way. Lebanon's most recent revolution was ignited in October 2019 by wildfires that burned thousands of acres of trees—a catastrophe many Lebanese felt the government did next to nothing to stop—as well as a new tax on platforms like WhatsApp, FaceTime, and Skype. But the unrest had been brewing for years, born out of multiple government corruption scandals and the gradual breakdown of basic infrastructure.
Of course, last year would prove to be one of the country's most challenging: the outbreak of the global pandemic was followed in August by a massive explosion in the port that killed more than 200 people and damaged or destroyed more than 100 buildings within a one-kilometre radius. Much of the country blamed the government for the blast, which was caused by the improper storage of 2,750 tons of ammonium nitrate.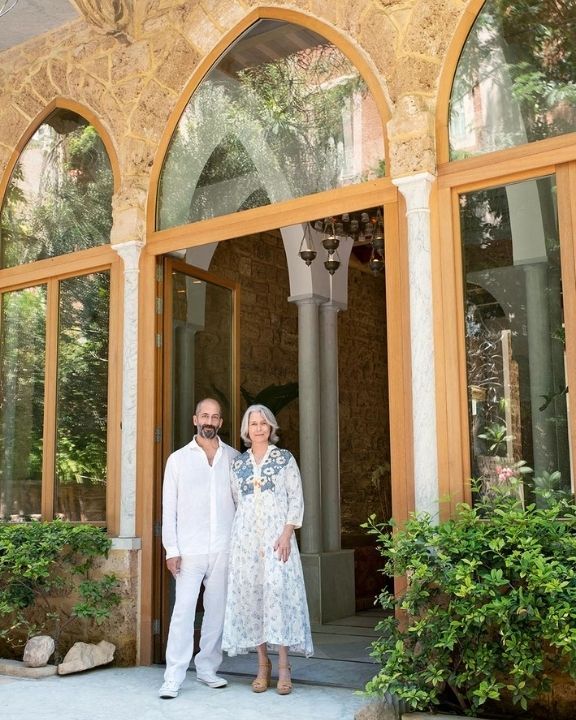 But, that January before the blast, I decided not to let the protests prevent me from visiting. And I trusted the reassuring words of the art patrons Zoe and Nabil Debs, whom I was travelling to Beirut to interview. The couple—she's British, he's Lebanese—met almost three decades ago in London and lived in Europe for many years. They share a love of saving and transforming timeworn spaces. By the time they decided to move to Beirut in 2010, they had already renovated more than a dozen properties in England, France, and Lebanon.
For the past 10 years, the Debses have been converting an 18th-century villa that has belonged to Nabil's family for several generations into Arthaus Beirut, an intimate hotel in the bohemian Gemmayze neighbourhood. The main building's 12 rooms and suites are filled with antiques, family heirlooms, and furnishings sourced from around the globe, as well as some pieces by Lebanon's most talented up-and-coming designers. The hotel also showcases works from the couple's remarkable art collection, ranging from Byzantine funerary busts to contemporary murals by world-renowned street artists. The Debses plan to add 11 more rooms in three surrounding buildings. In August, just as the hotel was about to open, the port explosion damaged the windows, roof, and facade of the main building and tore the roof off a second building behind the garden courtyard. "Our way of reacting was to fix everything as soon as we could," Nabil told me. They replaced lost artworks with new pieces and repaired much of the property in just five weeks.
In October, a month before finally opening to guests, Arthaus hosted an exhibition of works by 60 Middle Eastern artists. "A journalist friend commented that Beirut is at its best during the worst of times," Nabil said. After all, the city, inhabited for more than five millennia and built upon the remains of Phoenician, Greek, Roman, and Ottoman civilisations, has, according to legend, been destroyed and rebuilt at least nine times.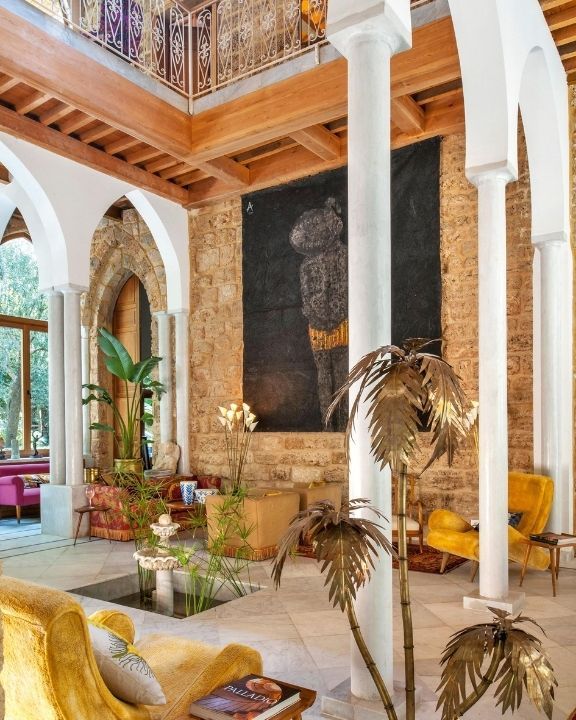 For my visit, the Debses had arranged three whirlwind days of introductions to the artists and designers with whom they collaborate. "We organise visits to private ateliers, houses, and museums throughout Beirut and beyond," Zoe said. "The hospitality and creativity of this country is exceptional, and we want our guests to experience it all as if they were family friends."
On my first morning, I made my way along the narrow Rue Gouraud, which is lined with fashionable bars and galleries, and turned left into a nondescript driveway to meet the Debses at Arthaus. Nabil was waiting for me at a gated door set within a wall spray-painted with a large hummingbird. The mural was commissioned from the Brazilian street artist L7M a few years ago, Nabil told me as he led me up a set of wide stone stairs.
The grounds felt like a hidden oasis, with lush gardens of citrus trees and trumpet trees with yellow and crimson blossoms, and an expansive courtyard tiled with ancient limestone and yellow marble. The main villa was also rebuilt using artfully weathered blocks of reclaimed limestone; its walls now drip with wisteria. Behind the villa was a light-filled terrace with a well from the Byzantine era that the Debses decided to cover with plexiglass so that guests can walk over it and peer into its depths. (Bêrūt, the Phoenician name for the city, means 'the wells'.)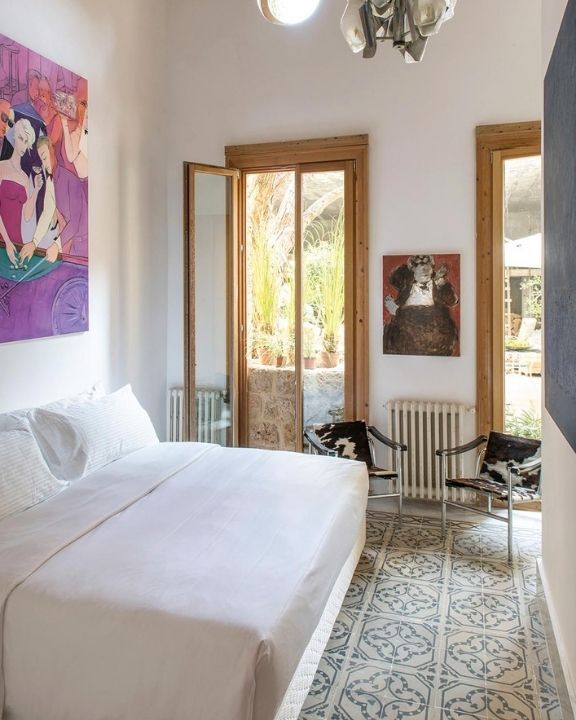 In addition to unearthing the old spring that feeds the well, the Arthaus construction workers unearthed Roman columns, a stone cornice from a temple, and even evidence of an ancient burial place. "At a certain point you just have to stop digging because there are remains everywhere," Nabil said. "At one point, we found monolithic granite columns under the garden, but we couldn't pull them up because much of the house was built on top of them. It's said that the property is constructed over a Roman villa and possibly the remains of Roman baths."
In a city where so many landmark buildings are being torn down and replaced with high-rises, what the Debses are doing is unusual, and is seen by many locals as an act just as mad as it is heroic. All the artists and designers who are collaborating with Arthaus told me that they were drawn to this project by the Debses' passion for and commitment to recovering a fragment of the city's heritage. The couple's perseverance in the wake of the port blast has only increased the unwavering support of Beirut's creative community.
After my tour of Arthaus, the three of us drove into the mountains above the city to meet Nadim Karam, a multidisciplinary Lebanese artist whose works they have been collecting for years. Just an hour earlier, I had admired his sculpture Thoughts, a thick cloud of scribbles created with dark wireframed by metal beams, which was suspended over the Arthaus pool. Another piece by Karam—an abstract figure laser-cut with whimsical symbols and topped with a tangle of wire—stands in the garden.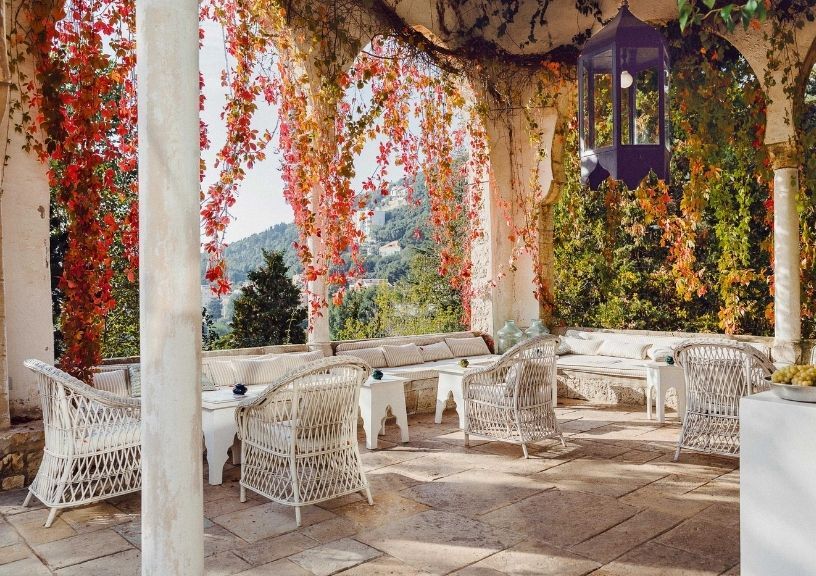 The congenial Karam led us down a zigzagging set of outdoor stairs to A.Muse.um, the contemporary building that serves as his archive, gallery space, and studio. Karam, who trained as an architect in Japan under greats like Tadao Ando, wanted to create a space that was both functional and sculptural. The result is a maze of boxes, mostly underground, connected by bridges and doors. "Lebanon is a magical place because of the mess," he told me over coffee on his terrace. "I need the energy that comes from the cycle of destruction and remaking and destruction in order to work."
For more than a century, the Arab world's most talented artists and designers have been drawn to Beirut for similar reasons, explained Saleh Barakat when I visited him later that day at his namesake gallery, a former cinema in the Kantari neighbourhood. "Beirut is where artists of the Levant come to breathe, where they can express their ideas without fear of censorship," the gallerist told me. "It has always been open to both the West and the East." Barakat has chosen to dedicate his career to promoting artists from the Levant region, with a focus on work that has a strong political bent.
Barakat believes in art that expresses ideas for change. He brought up an installation entitled Fair Skies, by the Iraqi artist Mahmoud Obaidi. The piece includes a working vending machine that sells hair bleach, blue contact lenses, and skin whitener, which a hypothetical Middle Eastern man could use to get through US customs more easily. Barakat's gallery was almost entirely taken up by an exhibition of the Palestinian artist Abdul Rahman Katanani; one room was dedicated to a massive wave built from barbed wire.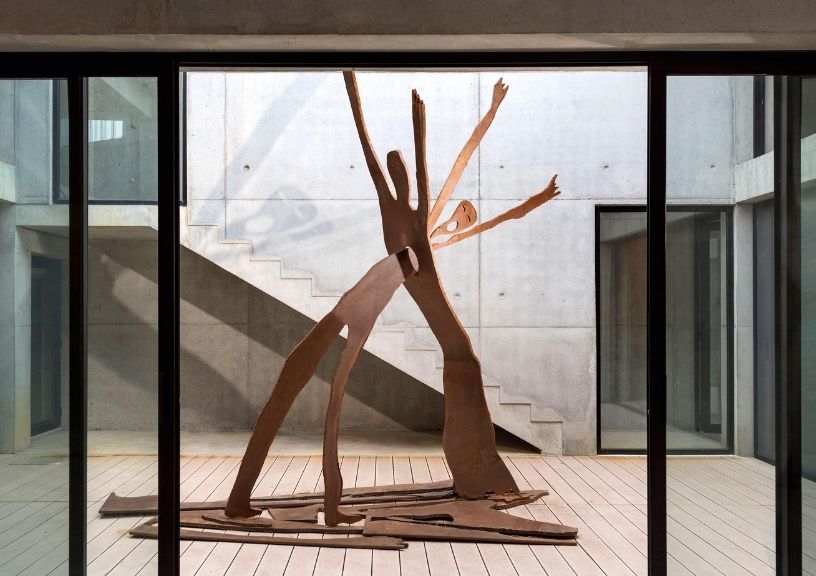 The next day, I saw both Obaidi's vending machine and another of Katanani's works—a floor-to-ceiling barbed-wire sculpture of a tornado—at the provocative Dalloul Art Foundation, owned by Ramzi and Saeda Dalloul. The world's largest private collection of modern and contemporary Arab art, the foundation houses more than 3,000 works, many of which are scattered over multiple apartment spaces inside two nondescript high-rise towers. The Dallouls' son, Basel, who now oversees the collection, gave us a tour. We stopped in front of a mesmerising surrealist painting by the Egyptian artist Inji Aflatoun, a woman who worked in the mid-20th century. "Almost 40 per cent of the artists in our collection are women," Basel said. "Most Westerners walk in here with a preconceived idea of what Arab art is and leave with a radically different, more truthful, and less biased perspective."
In fact, most of the greatest design talents I met through the Debses were women. Karen Chekerdjian, who makes minimalist furniture, and Nada Debs (no relation), whose wooden pieces incorporate marquetry techniques, both have expansive ateliers that double as showrooms. Chekerdjian's extremely modern space in the Beirut port was damaged in the blast, but she has since repaired it. Debs's studio, just steps from Arthaus, is set up like a colourful and eccentric apartment. I could have spent hours at Hoda Baroudi and Maria Hibri's Bokja, a whimsical design atelier in a crumbling old mansion in Basta, the city's antique district. The two charming, energetic women founded the company about 20 years ago to celebrate Lebanese craftsmanship and produce one-of-a-kind pieces, from wall hangings to upholstered chairs, using fabric embroidered by vintage machines they had found and saved.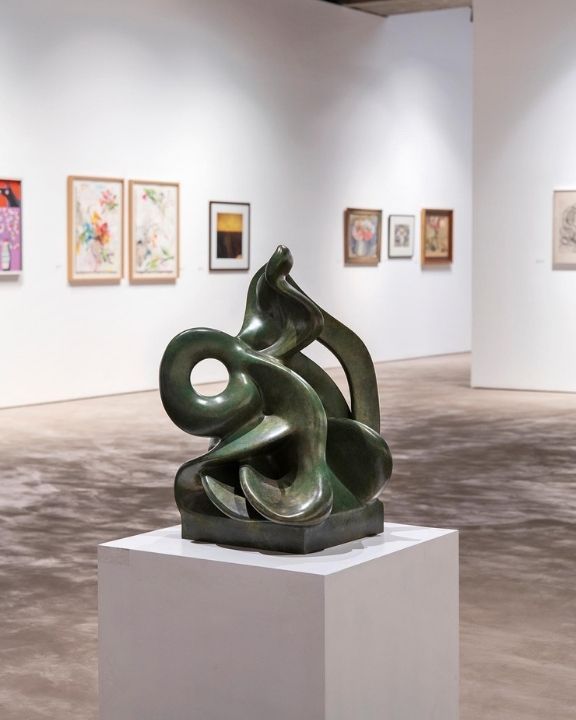 For the past several years, Zoe Debs has been buying up dozens of Bokja's pillows for Arthaus, including several from the latest collection that showcases vibrantly colourful images of nature, such as branches of Lebanese pine and cypress, now-endangered trees that are symbols of the country. "Our work is always inspired by the city we live and create in," Hibri said. "Beirut is a dynamic and frustrating place of contradictions and opposites: past and present, beauty and ugliness, the ordinary and the exceptional."
The most intriguing stop that day was at the studio of the design duo 200Grs, located in an industrial area in Jisr-el-Wati, a neighbourhood near the Beirut River that still bears the scars of the country's war years. The two-room atelier was part garden, part laboratory, and part gallery, with tools and design objects neatly placed and organised. Plants cascaded over tables and hung from floor-to-ceiling poles. Pascal Hachem and Rana Haddad, both of whom have wildly curly grey hair, were just as earnest as they were humorous, and we spent hours talking about their work, which is both practical and political. (They had recently performed a piece at the Milwaukee Art Museum that commented on the harrowing process of crossing borders.) "Both of us are fascinated by the city, and very angry about what is happening," Haddad said. "We keep designing and portraying a positive image of Beirut because we think it's a way to resist."
I saw Hachem and Haddad again on my last night in Beirut, at a dinner organised in part by the Debses and hosted by the design agent Zeina Raphael. Her stunning apartment includes a monumental side table and bar as well as a tall cabinet, both meticulously constructed by 200Grs. The Bokja founders were there, as well as several gallerists, including Saleh Barakat.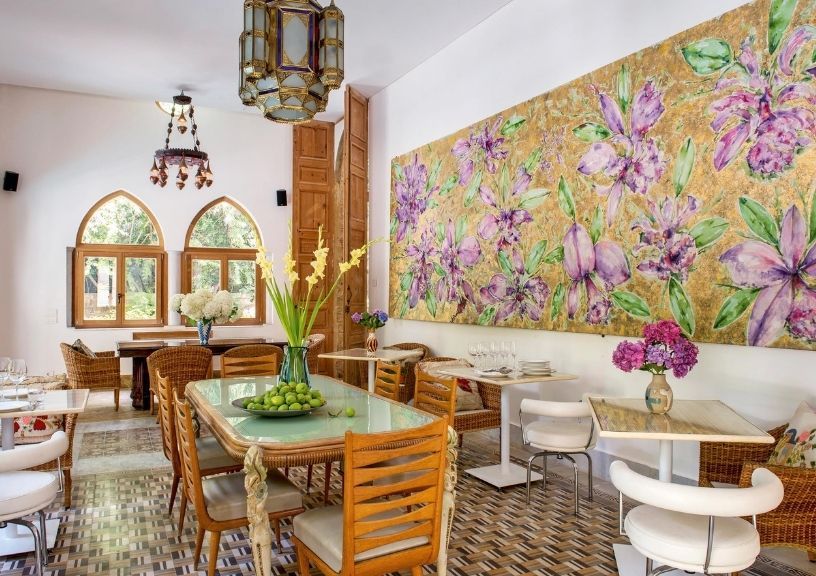 Many of the guests were speaking of the protests and the hopes they had for real change. At one point I found myself conversing with Kamal Mouzawak, the owner of the restaurant Tawlet and a farmers' market named Souk el Tayeb. For years I had heard about his support and promotion of women home cooks, farmers, and producers, many isolated in rural parts of the country. Over the past few months, he had been providing food to the protesters. He told me that living in a politically charged and challenging country has continually pushed him to be a "better human."
"If we don't dream, we will always repeat the same thing, and the world will stay the same," he continued. Last October, Mouzawak moved Tawlet to a larger space, a former garage in the creative neighbourhood of Mar Mikhael, to bring everything together under one roof: his farmers' market, the restaurant, and Matbakh el Kell, his new community kitchen, which has produced hundreds of free meals daily for those displaced by the explosion.
Throughout 2020 and into early 2021, I continued to check in on the Debses. Despite a strict lockdown in January 2021 due to rising COVID-19 numbers, they hadn't stopped dreaming—in fact, they were already planning an exhibition of street artists for Arthaus for when the lockdown lifted. "Even during the civil war, people in Beirut never stopped going out," Nabil said. "We are not going to close down and wait for things to get better. Like everyone here, we are just going to keep pushing on and creating."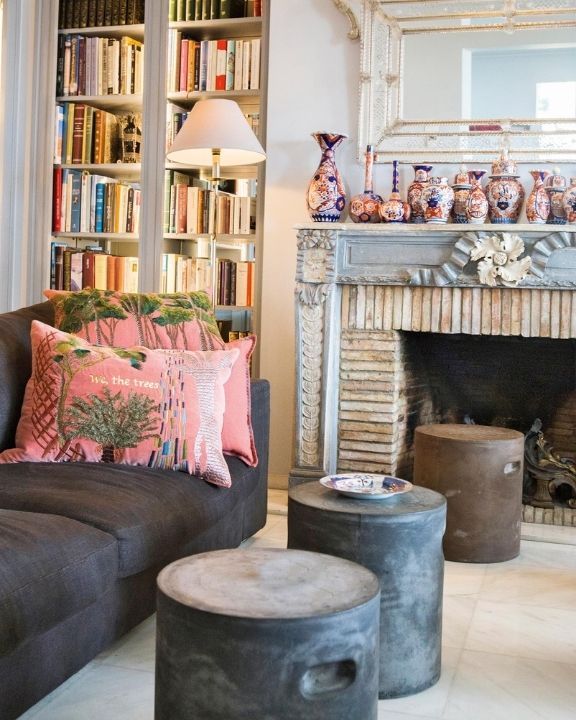 The Artful Side of Beirut
Getting There
Emirates flies from Delhi and Mumbai to Beirut via Dubai.
Stay
A historic villa in the lively Gemmayze neighbourhood, transformed by philanthropists and art collectors Nabil and Zoe Debs into an art-filled hotel with a dozen rooms and suites. Doubles from INR 23,720
Located in the mountains north of Beirut, this guesthouse occupies a 19th-century home. Doubles from INR 15,567
Do
Lebanese artist Nadim Karam built this atelier and gallery underneath his private residence in the village of Daroun, an hour's drive from Beirut.
The world's largest private collection of contemporary Arab art. By appointment only
This designer displays her sculptural furniture in an expansive studio in the gritty Karantina neighbourhood.
The designer's showroom is filled with her handcrafted Middle Eastern- and Japanese-inspired furniture.
Immersive exhibitions of artists from Lebanon and neighbouring Arab countries.
Eat
No restaurant in Lebanon inspires more accolades or admiration than this spot in Mar Mikhael. Buffet INR 2,965
Related: Art Connoisseur Kiran Nadar Talks About The Evolution Of Immersive Art Spaces