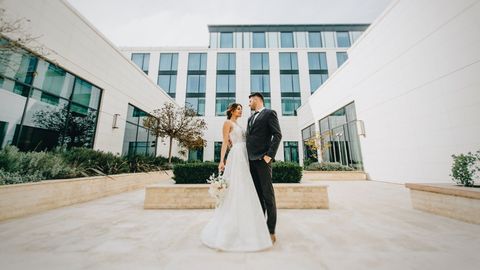 Baku, the capital city of Azerbaijan and rich in ancient landmarks and sea views, is preordained for romance. And now, it is poised to become the next big wedding destination. So, let your fairytale chapter begin!
Azerbaijan offers an enchanting backdrop for couples looking to say "I do" in a truly exceptional way. Whether you envision a modern cityscape, a mountain retreat, a historic backdrop, or a riverside extravaganza, this transcontinental nation has the perfect setting to make your dream wedding a reality. To complement your wedding experience, the cosmopolitan capital Baku has a range of world-class accommodations that cater to every taste. Travel+Leisure India & South Asia has picked a few hotel recommendations to make your big day extra special: If you are seeking a venue that combines natural beauty with contemporary elegance, Fairmont Baku is the place to be. Nestled in the heart of Azerbaijan's capital, it's the ideal destination to celebrate your big day. From stunning views of the Caspian Sea to its world-class amenities, exceptional service, and unique attractions, Fairmont Baku stands out as a truly magical wedding destination. A wedding at Baku Marriott Hotel Boulevard isn't just about the breathtaking scenery; it's also an opportunity to infuse your special day with Azerbaijani culture and traditions. From traditional Azeri music and dance performances to incorporating local cuisine into the wedding menu, you can add a unique cultural touch to celebrations that will leave a lasting impression on you and your guests.
However, if you want to go the Indian traditional way, the hotel's event planners are well-versed in desi wedding customs and rituals. From mehndi ceremonies to sangeet nights, every aspect of your wedding can be beautifully hosted. No Indian wedding is complete without a sumptuous feast, and Four Seasons Hotel Baku delivers on this front with culinary excellence. The hotel's experienced chefs excel at crafting authentic Indian dishes, ensuring that your guests savour the flavours of India and world-class service. One can also design their unique banquet menu with the help of our inspired chefs — from elaborate buffets to exquisite plated dinners. Here, you'll also find one of Baku's most beautiful and ornate ballrooms, reminiscent of classical 18th-century France. Let your dream wedding come to life at JW Marriott Absheron Baku. From intimate gatherings to grand celebrations, the JW Marriott Absheron Baku offers comprehensive wedding packages that cater to every couple's needs. The gorgeous wedding venue and stellar service here are icing on the cake! A destination wedding at Hilton Baku is more than just an event; it's an experience that will etch itself into your love story forever. The hotel's blend of luxury, cultural richness, and scenic beauty makes it an ideal choice for couples seeking a memorable and picturesque wedding celebration. As you say "I do" against the backdrop of the Caspian Sea, you'll create memories that will last a lifetime and embark on your journey as a married couple in style and grandeur.
Related: Exploring Baku, The City Of Contrasts In Azerbaijan
Written By