While some travellers visit warm-weather destinations for their winter vacations, lounging in the sun and enjoying a break from chilly temperatures back home, others head straight for freezing locales to embrace the picturesque, snowy landscapes. Across North America and northern Europe, ice hotels provide the ultimate winter wonderland experience, with one-of-a-kind accommodations in stunning, remote places, like Swedish Lapland or Romania's Carpathian Mountains. Although amenities, on-site activities, and room types vary by location, ice hotels generally have a few things in common. The hotels made of ice and snow are typically rebuilt every year during the winter, open for a limited season while weather permits. And don't worry — even though some offer beds made of ice, guests usually sleep on top of a mattress or in sleeping bags, so they don't shiver all night. By Elizabeth Rhodes and
Here are five stunning ice hotels located in Canada, Sweden, Norway, Romania, and Finland.
1. Hotel de Glâce, Canada
View this post on Instagram
This French Canadian palace located outside Quebec City is perhaps one of the best-known ice hotels in the world, and it's the only hotel made of ice in North America. Opened in 2001, the resort changes its structure each year, offering 21 rooms and themed suites that come with arctic sleeping bags.
The exact opening dates change every year — in 2021, the ice hotel is open from January 2 to March 13.
2. Icehotel, Sweden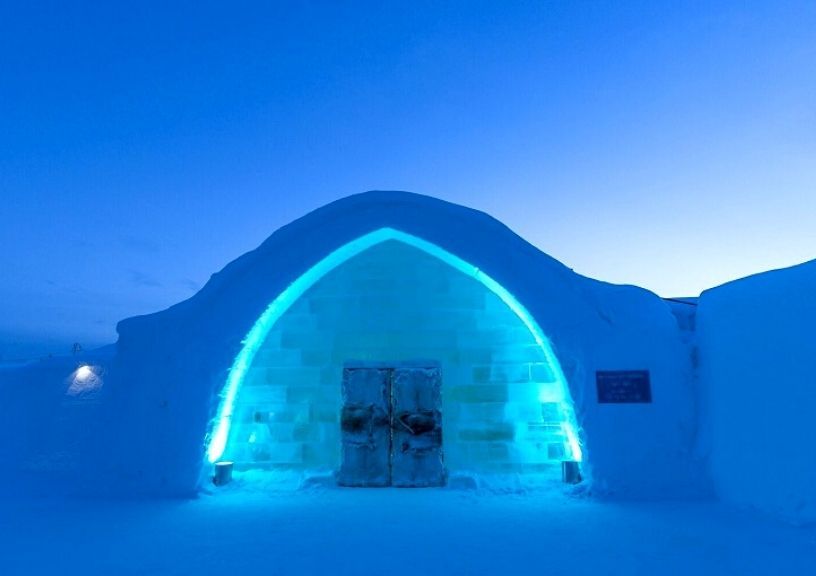 Located 125 miles north of the Arctic Circle in Swedish Lapland, Icehotel is situated in the tiny town of Jukkasjärvi. This retreat is made for the rugged traveller, and it's open all year long. Icehotel Winter is rebuilt each year, offering ice rooms from December through April, while Icehotel 365 has ice rooms available year-round.
The cold rooms are kept at below-freezing temperatures to keep the ice bed frames intact. Guests staying in most rooms need to charge electronics and use the restroom at separate facilities (Deluxe Suites at Icehotel 365 are the exception with their own, warm en suite bathrooms). The hotel offers wilderness excursions, as well as a host of other services for travellers looking to embrace the quiet life of a Swedish village.
3. Snowhotel Kirkenes, Norway
View this post on Instagram
Located in northern Norway, Snowhotel Kirkenes is open 365 days a year. There are 14 rooms available — seven double rooms and seven family rooms with four beds. In the winter, available excursions include king crab winter safaris and northern lights tours, while summer guests can opt to hike with huskies or fish in the Barents Sea.
4. Hotel of Ice, Romania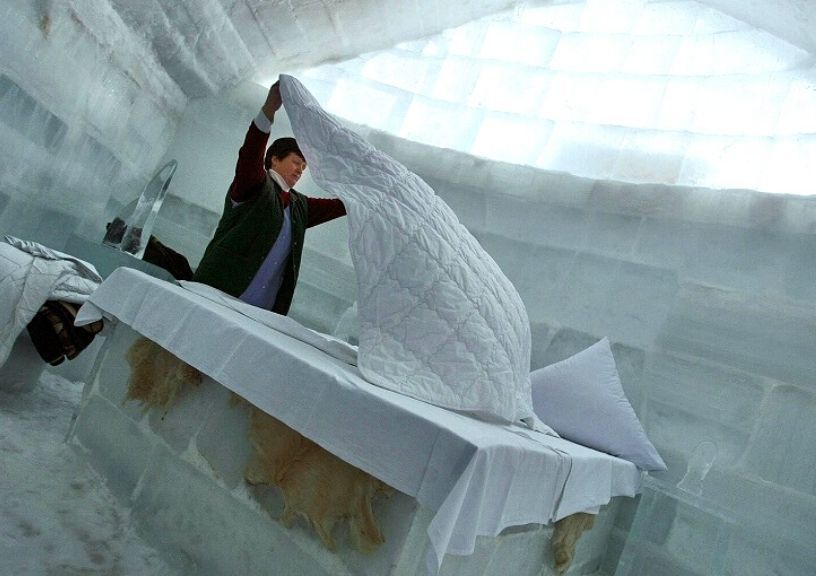 The Carpathian Mountains surround this high-altitude resort near the glacial Bâlea Lake. The hotel has been built from ice and snow every year since 2005, with double rooms and igloos available for travellers seeking a unique experience. The Ice Restaurant & Bar serves local dishes in a chilly setting — starters and desserts are even served on ice.
5. SnowCastle Resort, Finland
View this post on Instagram
Located in Kemi in Finnish Lapland, SnowCastle Resort is open 365 days a year, but the SnowHotel is only open during the winter. Due to the pandemic, SnowHotel won't reopen until 2022, but visitors can still check out ice sculptures and the ice bar at SnowExperience365. This year, guests can opt for a winter stay at the Seaside Glass Villas, which have glass roofs perfect for viewing the northern lights.
Editor's Note: Those who choose to travel are strongly encouraged to check local government restrictions, rules, and safety measures related to COVID-19 and take personal comfort levels and health conditions into consideration before departure.
Related: 12 Best Places To See The Northern Lights Around The World