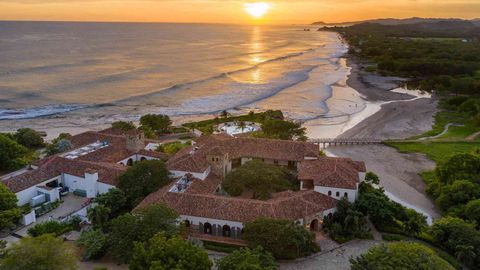 "Waves all day," sings my enthusiastic surf guide, Lenny Espinoza. It's barely 5:30 a.m. and morning's first blush tints the sky sherbet. Most guests at Rancho Santana are still sleeping, but the surrounding jungle is wide awake. We wax our surfboards to a chorus of bellowing howler monkeys, the high-pitched buzz of cicadas, and a symphony of bird song. Above it all we hear the rumble of crashing waves calling us to the ocean.
In most countries, "waves all day" would be a wishful mantra. In Nicaragua, Espinoza's refrain is a celebratory fact, particularly along the Emerald Coast where Rancho Santana resort is located. Lake Managua, 50 miles (80.46 km) inland from this 30-mile (48.28 km) stretch of shoreline, funnels wind from the country's Caribbean side across to the Pacific Ocean, providing 330-plus days of offshore winds. Those unicorn winds make this one of the few places in the world where you can find perfect waves, from sunrise to sunset, nearly all year round. It was the promise of consistent surf that first drew me to Nicaragua in 2010. But the country's raw natural beauty, empty beaches, warm people, and untapped potential for adventure are what have lured me back a half-dozen times. My reasons for returning have changed, but the reactions of my friends haven't. "Isn't it dangerous?" they still worry. "Aren't the waves in Costa Rica just as good …and the hotels, even better?" they ask.
Nicaragua spent most of the 20th century suffering through oppressive dictators, revolutions, counterrevolutions, a 10-year civil war, and a devastating earthquake. With such a tumultuous past, it's no wonder that mostly diehard surfers and undaunted backpackers dared venture across its borders in the 1990s when a tenuous calm seemed to settle across the country. As Costa Rica was loudly touted as the poster child of eco-tourism, whispers of Nicaragua's pristine nature quietly started to spread.
This resort in Nicaragua provides a dreamy oceanfront view In 1997, American developer Matt Turner learned of a 2,700-acre ranch for sale with five dreamy, surf-swept beaches. He and five friends flew down to scout the land and immediately knew they'd discovered paradise. Their original vision was to build personal vacation homes, but luckily for me, they decided to share their Shangri-la, called Rancho Santana, eventually adding rentable homes and a 17-room oceanfront inn. Most real estate developments feel like exclusive, gated compounds shut off from locals. Rancho Santana, however, feels like an integral part of the surrounding communities thanks to investments like a non-profit health clinic and a community centre located across from the ranch's entrance that offers youth and adult English language courses, computer and vocational classes, sports programs, and a gym open to both locals and guests. Everyone is welcome at weekly bike-and-burger rides hosted at the property. The resort also supports the Santana Surf Team and its members (many of them employees like Espinoza) show off their talent on the waves at Playa Santana, the surfing beach adjacent to the inn.
Espinoza, 28, started working as a surf guide for the resort at age 16. As we paddled out to the empty lineup at Panga Drops, he told me he was promoted to an office job a few years ago. After just a few months, he told his boss that he preferred a job where he could be barefoot and in board shorts sharing his passion with guests.
I can't say I blame him. His office, the surf shack, is located steps away from world-class surf breaks like Panga Drops and Colorados. It's also next door to La Taqueria, the resort's casual taco spot, beloved for its tableside guacamole service and house-ground corn tortillas stuffed with beer-battered catch of the day or chile-braised lamb. On my first trip to Nicaragua, I was nearly as wave obsessed as Espinoza. Back then, Rancho Santana catered to guests like me. But the resort's new emphasis on wildlife, culture, and wellness has started to attract non-surfers looking for a less crowded, more affordable alternative to Costa Rica. And what they uncover is a destination that has it all: wildlife, volcanoes, towns brightened with pastel-painted façades, and incredible hiking and biking trails. Even surf-crazed visitors like me are enticed away from the sea.
The vastness of the ranch makes it feel like your own private national park (there's even a turtle sanctuary and guests can observe hatchlings from August through October). Later that afternoon, Eddy Mendoza, one of the resort's experience guides, leads me on a hike along the 21 miles (33.79 km) of jungle-shaded trails. A self-described bird nerd, he jumped with excitement when he spotted the long, bright blue tail of Nicaragua's national bird, the guardabarranco or turquoise-browed motmot, flash above us.
Another afternoon, I up the adrenaline factor on a mountain bike excursion with guide Devin Lynn. Jurassic-sized iguanas scurry out of our path as we zip down the resort's newly built singletrack trails. The ranch's "hero dirt," which provides some of the most predictable grips on the planet, makes the mountain biking here just as unique as the surfing, boasted Devin. That same evening, I have a thrilling sunset surf session with Eddy, but it isn't on a wave, it's down a 100-foot sand dune at Playa Duna. With such an action-packed schedule, my muscles would have been revolting if it weren't for daily Yin sessions in the ocean-view yoga pavilion and a restorative massage and cold plunge at El Bosque, a new 6,000-square-foot spa built into the treetops. The upside to being so active was that I always had an appetite, and trust me, you'll want one. The food at Rancho Santa is sensational and nearly every ingredient in the dishes I savoured — the coffee-rubbed pork chop and plantain-bean hash served at La Finca y El Mar, the sushi and wood-fired pizzas at La Boquita — is sourced locally. Seafood comes from area fishermen, including Espinoza's dad, but nearly everything else is grown, raised, and produced on-site, including the cheese and kombucha.
On a tour of Rancho Santana's 80-acre farm, I learned that I am hopeless when it comes to milking cows (I'm only slightly better when it comes to handling goat udders). But the more important insight was the extent of the sustainable and regenerative practices the resort has embraced. Each month those cows and goats produce 2,000 litres of milk and the farm's chickens lay more than 1,100 eggs. Cows and pigs are slaughtered for meat and the two-acre garden provides 2,500 pounds of fruits, vegetables, and herbs each month. What isn't used at the property's four restaurants and sold at the on-site market is sold to staff. An on-site biodigester utilises organic waste, including animal droppings and food waste, to produce fertilisers and biogases, enough to cook all the food waste that is received from the kitchens to feed the Rancho animals.
The resort's efforts go beyond food. A solar park powers much of the property and an on-site woodshop employs 200 locals who do everything from craft furnishings for the villas to meld metal for the chandeliers in the inn's rooms. In total, the hotel employs more than 80 percent of its staff from the surrounding 16 communities.
As easy as it would be to stay on property, where my every wish and desire was met, the team at Rancho Santana urges guests to go out and explore, offering day trips to the colonial city of Granada and the active Masaya volcano and boat trips to epic waves like Lance's Left. Tours of the neighbouring communities include stops at local restaurants like Amigos Bar (don't miss the wings) and Yolanda's (the ceviche is a must). And the nearly mile-long (1.6 km) stretch of beach between Playa Santana and Magnific Rock, a favourite beginner surf spot, has a handful of beach bars, including the Popoyo Republic, a low-frills spot recently opened by the manager of Rancho Santana's horse stables. When I visited this area in 2015, I stayed at a chic (and pricey) boutique hotel on this very stretch of beach — it's since been reimagined as a hip surf lodge. Nicaragua was having a brief "star" moment. International investors and influencers had descended on Granada and surf towns like San Juan del Sur and Popoyo. Almost overnight, this sleepy area seemed on the precipice of becoming the next Tulum.
But then, in April 2018, President Daniel Ortega announced social security reforms that resulted in the largest protests the country had seen since the end of its civil war in 1990. Authorities around the globe issued travel warnings, crushing the country's nascent tourism industry. Visitors disappeared and investors vanished, leaving locals to return to their lives as campesinos, and farmers. COVID-19 dealt the country yet another setback.
Despite the uncertainties over the years, Rancho Santana's owners consider Nicaragua home and have stayed committed to their employees as well as their long-term plan to develop the ranch slowly and sustainably. And travellers are starting to trickle back, following those same whispers the owners heard more than two decades ago — and still finding a place that feels undiscovered.
Nightly rates at Rancho Santana start at USD 360 (INR 29,815) for guest rooms; USD 520 (INR 43,066) for suites and USD 800 (INR 66,256) for three-bedroom residences. You can book at ranchosantana.com.
Book your stay at Rancho Santana via Booking.com
Book your stay at Rancho Santana via Agoda.com
(Hero and feature image credit: Rancho Santana)
All currency conversions were done at the time of writing
This story first appeared on travelandleisure.com
Related: This Caribbean Island Has A Famous Luxury Hotel And The 'Most Extreme Beach In The World'
Written By