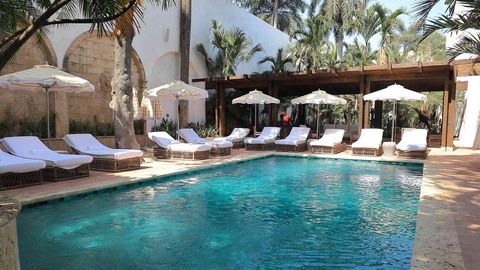 Tucked along Colombia's north Caribbean coast is one of South America's oldest colonial cities: Cartagena de Indias. Colonised by Spain in 1533 and liberated in 1821, the historic architecture remains well-preserved within its "Old City," which is designated a UNESCO World Heritage Site. (The Old City is surrounded by a nearly 2.5-mile or 4.02 km wall that was built in the 1590s by Spain to protect the port city from attacks.)
Today, charming squares, cobblestone streets, and colourful buildings await travellers who visit. And this past spring, the Walled City welcomed a new boutique hotel in a Colonial-era building: Casa Pestagua. The historic 18th-century mansion underwent a USD 15 million (INR 1,24,41,37,500) renovation that merges the city's Colonial past with its contemporary present. (The property is notably Colombia's only Relais & Châteaux hotel.)
This charming boutique hotel in Cartagena is in an 18th-century home
As part of the update, the property has an upgraded lobby, an on-site restaurant, a new bar, and a gym. "As a carefully renewed and restored hotel, the team put all our best efforts into reopening it," Paula Andrea Chamorro, the director of sales and marketing, told Travel + Leisure. "Its Moorish-inspired arches; its double-height ceilings; its rooms, each one different from the other and with a history related to the Count of Pestagua; the service and luxury amenities — all these aspects make our hotel unique."
Casa Pestagua
The hotel is located in the heart of the city, just a one-minute walk from Plaza de Santo Domingo.
The vibe and aesthetic of the hotel blend seamlessly with the historic Old City, while simultaneously offering modern amenities.
You don't need to leave the property to find a great meal. The on-site restaurant, Ánima, offers local dishes plus international fare.
Casa Pestagua comes from the same owners as Hotel Casa San Agustin, another boutique hotel in the area with three Colonial-era homes that were merged to offer 20 rooms and 11 suites. Preserved throughout the property, much like Casa Pestagua, are original frescoes.
Here's everything you need to know about the boutique hotel.
The Rooms Casa Pestagua has 16 rooms and suites in a beautifully restored home. No two rooms are the same — each is unique in its shape and size. The common thread tying the rooms together is the design and thoughtful amenities.
The boutique hotel in Cartagena has two suites — the Count de Pestagua and Madariaga suites — that are equipped for larger groups. Each suite has three rooms, plus private elevator access and a terrace with a jacuzzi and city views.
Food and drink At the center of the boutique hotel in Cartagena is a Moroccan-style open-air courtyard framed by arches and filled with greenery. That's where the on-site restaurant — Ánima, under the helm of chef Heberto Eljach — sits. "I was mainly inspired by the ancestral traditions of Colombian cuisine, the gastronomic heritage left to us by our grandparents, the great biodiversity of Colombia, and my family," Eljach told T+L.
Each stay comes with a complimentary breakfast. Every table is given a bread basket of assorted treats and a fruit platter with seasonal and local bites. Guests can order an assortment of beverages: coffee, water, orange juice, and green juice. And then there's the a la carte breakfast entrees, which range from arepas to acai bowls and yoghurt parfaits. I opted for the arepa con huevo y carne after a server told me it was his favourite breakfast — whether he gets it at the hotel or from a street vendor. (And he was right, it was delicious.)
"Ánima's relationship with Colombian cuisine is focused on ancient techniques of traditional cooking — this includes preservation methods (cured, salted, fermented, canned, smoked, pickled), the use of local products, artisanal fishing, organic products from the Montes de Maria, Amazon, and other regions of Colombia," Eljach said. "Each dish tells a story and it's important to us that we can keep our traditions alive in our cooking." (Chef's tip: he said Ceviche Eljach is a must-try dish. It's a blend of fish, octopus, shrimp, onion, local chilli peppers, and pork rinds served with a roasted arepa.)
You could also walk over to Casa San Agustin for dinner to dine at Alma, which was also conceived by Eljach. The restaurant is widely considered to be one of the best in the city. (In fact, I dined at Alma when I visited Cartagena in 2019 on a personal trip, as the restaurant's reputation made it a must-visit.)
You'll find Ceviche Eljach on both menus, but other than that, the experience is completely different. "Alma's menu is inspired by the cuisine and products of the Colombian Caribbean and Pacific coasts," the chef said.
Experiences and amenities My favourite experience on offer at Casa Pestagua was a visit to Acasi — a private beach in Barú that is only open to guests of Casa Pestagua and Casa San Agustin. "For those looking to escape the noise, Acasi is the perfect place to unwind and experience the natural environment of the lush mangroves and beautiful white-sand beaches," Chamorro said. "We welcome up to 10 people per day and serve delicious Colombian-Caribbean cuisine."
After a scenic, one-hour ride on a private boat, we pulled into a dock and walked through mangroves to a gorgeous beach. I was greeted with a cocktail served in a coconut, snacks, hammocks, and oceanfront loungers. The entire experience was relaxing and private — a stark difference from the bustling beaches in the area. For lunch, we enjoyed shrimp ceviche, paella, and a chocolate cake.
(Guests can pick between two food packages: the standard day trip and the VIP one. Both packages include a private speedboat, a host, and transfers between the hotel and the dock. The difference is the food: the standard package serves shrimp ceviche, fruit, and plantain chips, while the VIP one serves specialties like lobster empanadas and grilled octopus. The standard package is USD 600 (INR 49,763) for two adults, plus USD 75 (INR 6,220) for additional adults and USD 35 (INR 2,903) for each child. The VIP package is USD 620 (INR 51,422) for two adults, plus USD 83 (INR 6,884) per extra adult and USD 50 (INR 4,147) per child.
Coming to the private beach this October are six bungalows that will allow guests to stay overnight. Each will have an ocean view, and access to a massage area, bar, restaurant, and pool.
The property concierge can set guests up with local activities, too: walking tours, coffee tastings, rum tastings, and cooking classes.
I joined a coffee experience at Café San Alberto, where I learned about Colombia's coffee scene, explored the flavour notes of different beans, and became obsessed with a refreshing coffee mocktail made with in-house syrup and sparkling water. (I also learned that, as a reaction to the climate crisis, Colombia's coffee plants are moving to higher elevations to handle the warming temperatures.) On a walking tour with local operator Galavanta, I learned about the city, its colonial history, and its present. Our knowledgeable guide, Javier, talked me through Cartagena's slave trade history and even explained what each home's quirky ornate door knockers represent. (Spoilers: During the Colonial era, the door knockers symbolised what a resident's profession was. For example, a lion meant the home belonged to a military family and a lizard meant that the resident was someone of high-society status.)
Casa Pestagua's Aurum spa Guests of Casa Pestagua can book a spa treatment at Aurum Spa, which is at the Casa San Agustin location. "Aurum Spa is different than other spas in Cartagena, as it has an official Hammam space offering the service as it is originally done in Marrakesh," Chamorro said.
During my spa experience, I had a full body massage that made me forget I had just spent the bulk of my day flying to Cartagena. After the treatment, I was taken to the relaxation room to slowly reacclimate to the real world.
Shop the best travel experiences here
The location Casa Pestagua is just four miles (6.43 km), or a 15-minute drive, from Rafael Núñez International Airport (CTG). The boutique hotel in Cartagena can arrange airport transfers for guests.
Within Cartagena's old town, the property is conveniently located and walkable to most sites within the historic areas. Las Bóvedas, for example, is a 13-minute walk; Plaza de Santo Domingo, home to the iconic Fernando Botero sculpture, is around the corner; and Santuario de San Pedro Claver is four minutes away. (Pedro Claver was a missionary who advocated for slaves and became the patron saint of slaves.) Even the hip Getsmani neighbourhood is a 20-minute walk or 10 minutes by car.
Chamorro said the hotel's proximity to the historic city centre is ideal. "Not only because of the city's history and diversity but also because of how easily navigable the area is — you will never be far from the property."
Accessibility and sustainability
Though the surrounding city is flat in terms of elevation, visitors should know most nearby streets and sidewalks are cobblestone, which may be challenging for those with limited mobility.
Casa Pestagua encourages its guests to reuse sheets and towels instead of requesting a daily replacement. It also recycles all plastic packaging, working with a recycling plant that then uses the money to financially support children with cancer and other illnesses.
At the private beach, there has been a conscious effort to keep things undeveloped. This means mangroves were planted and the pathway to access the beach is made of washed-up coral instead of pavement.
Casa Pestagua's nightly room rates, which include breakfast, start at USD 550 (INR 45,616). You can book your stay here.
Book your stay at Casa Pestagua Relais Châteaux via Booking.com
Book your stay at Casa Pestagua Relais Châteaux via Agoda.com
(Hero and feature image credit: Casa Pestagua)
This story first appeared on travelandleisure.com
All currency conversions were done at the time of writing
Related: Add Luxury To Your Stay With These Royal Family-Owned Boutique Hotels
Written By