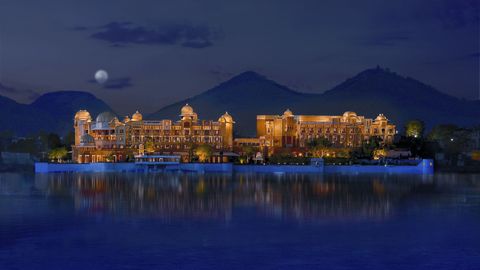 Experience India's rich art, tradition, and culture with The Leela Palaces, Hotels and Resorts, all while experiencing the true meaning of Atithi Devo Bhava amid abundant luxury.
The Leela Palaces, Hotels and Resorts' unmatched blend of traditional Indian hospitality and contemporary elegance has helped the brand establish itself as a prominent name in delivering true and gracious Indian luxury. With their distinctive properties spread across magical destinations and stunning locations, each reflecting the rich heritage and culture of the destination, The Leela Palaces, Hotels and Resorts has created an indelible mark in the hearts of travellers. No wonder, then, the chain has been voted the World's #1 Hotel brand in 2020 and 2021 and ranked #3 in the Top Hotel Brand at Travel+Leisure World's Best Awards 2023.
The Leela Palaces, Hotels and Resorts: A Space for Everyone, Everywhere
The Leela Palaces, Hotels and Resorts elevate Indian luxury hospitality to make every stay a memorable journey of indulgence into art, culture and wellness — no matter what the location. The team proudly houses flagship properties in cities like Bengaluru, Chennai, Jaipur, New Delhi, Udaipur, Bhartiya City Bengaluru, Delhi, Gandhinagar, Gurugram, Mumbai, Ashtamudi, and Kovalam.
But that's not all! The Leela Group has also collaborated with achievers from different walks of life who have placed India on a global platform such as Miss World 2017 Manushi Chhillar; Nobel Peace Laureate Kailash Satyarthi; cricketer Smriti Mandhana, and Sarod virtuosos Amaan Ali Bangash and Ayaan Ali Bangash.
Where Guest is God The Leela Palaces, Hotels and Resorts philosophy is deeply rooted in the timeless Indian tradition of Atithi Devo Bhava (the guest is equivalent to God). This core philosophy has shaped the very essence of the award-winning hotel group, defining its commitment to unparalleled service, opulence, and the art of hosting. Take The Leela Ceremonial Rituals, for instance. The Leela Ceremonial Rituals, complete with curated melodies and intricately choreographed dance, evoke a sense of belonging. It also includes the Indian tradition of lighting lamps as a symbol of hope and positivity. When paired with The Leela Palace Service, this experience is made better. The dedicated butler service stands as a hallmark of this unparalleled hospitality and attention to detail. From the moment of arrival to departure, these butlers provide the guests with seamless assistance and guidance throughout their stay.
Luxurious Lifestyles The Leela also offers several signature programs including Tishya by The Leela, the brand's signature fragrance and bath essentials. From fragrant bath oils and rejuvenating body scrubs to luxurious bath salts and nourishing shower gels, every product in this collection promises to transform your bathing experience into an exquisite ritual of relaxation. Tishya has carefully selected natural ingredients, sourced from the finest resources across the country. Aujasya by The Leela, the brand's signature wellness programme encompasses a collection of authentic experiences that build vivacity and allow guests to embrace an enriching and healthy lifestyle. Immerse in traditional and modern therapies — including European, Oriental, and the age-old Ayurveda–performed by skilled therapists at relaxing and rejuvenating luxury spa havens.
Related: The Leela Palace Udaipur: Where Tradition Meets Opulence
Written By