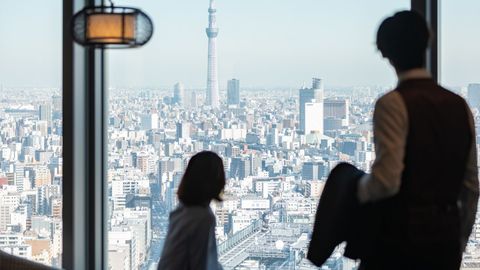 There's a saying about the capital of Japan by famed architect Toshiko Mori that describes the city quite perfectly, "More than any other city, Tokyo demonstrates that "city" is a verb and not a noun". Its dizzying speed contradicted by its calm temples and gardens, its international, ahead-of-the-curve technology coexisting with deep-rooted Japanese culture, Tokyo has everything you can expect after reading multiple itineraries, and then some more.
Even when it comes to hotels in Tokyo, the city offers a bit of everything for travellers of every kind – traditional ryokans, an outpost of a multinational chain, or a boutique hotel. Whether you are looking for unmatched luxury to complement your Japanese adventures or a memorable stay experience which adds an unbeatable charm to your time there, Tokyo has got it all.
Read on to find out the best hotels in Tokyo that pack in as much luxury as sensory pleasure with their decor, architecture, food, spa treatments and of course, panoramic views of the city.
Shop The Best Travel Experiences Here
Best hotels in Tokyo
Jump To / Table of Contents
Frequently Asked Questions (FAQs)
Question: What are the best stay options to explore in Tokyo?
Answer: You will find some of the best luxury hotels in Tokyo in Shinjuku, Shibuya, Harajuku, Asakusa, Ginza and Tokyo Station.
Question: What are the top tourist attractions in Tokyo?
Answer: Sensoji Temple, Meiji Jingu, Hamarikyu Gardens, Edo-Tokyo Open Air Architectural Museum, Tokyo Tower and Tokyo Skytree, Sumida River, etc.
Question: What are the best things to do in Tokyo?
Answer: Tokyo Skytree, the world's tallest tower, teamLab's Planets, Senso-ji temple, Sakurai Tea Experience, Shibuya Square tower, Yoyogi Park, Yayoi Kusama Museum, etc.
Question: What are the in-budget stay options at Tokyo?
Answer: You can look for budget hotels, capsule hotels, and hostels in Ueno, Akihabara, and Asakusa.
Question: What are the most expensive stay options in Tokyo?
Answer: Aman, Hoshinoya, The Ritz-Carlton, Mandarin Oriental, Four Seasons Hotel Otemachi, and The Peninsula are some of the best 5 star hotels in Tokyo.
Question: What are the best food to explore at Tokyo?
Answer: Donburi, tempura, tsukemon (dipping noodles), Abura Soba (oil noodles), Monjayaki (savoury pancake), Tokyo buns, Omurice (fried rice topped with an oval-shaped omelette), and Sushi.
Question: What are the best workation options at Tokyo?
Answer: The (tefu) lounge in Shimokitazawa, Japan Rail Cafe Tokyo at Tokyo Station, and Tsutaya Bookstore Marunouchi.
Question: What are the best hotels near railway station/airport at Tokyo?
Answer: Hilton Tokyo Odaiba, Grand Hyatt Tokyo, The Royal Park Hotel Tokyo Haneda, The Tokyo Station Hotel, Shangri-La Hotel Tokyo, Four Seasons Hotel Tokyo At Marunouchi, Mandarin Oriental, or Hoshinoya Tokyo.
Written By