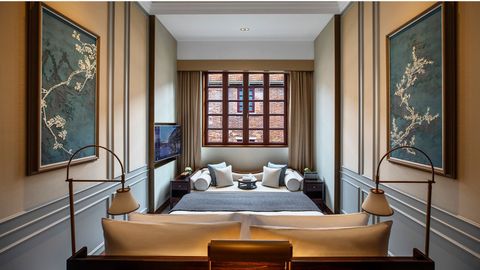 Welcome to the vibrant playground of Shanghai! This bustling metropolis isn't just any city; it's a dynamic fusion of East meets West, old meets new, and business meets pleasure. Shanghai is the ultimate hotspot for both globetrotters and savvy business travellers. It's not just skyscrapers and boardrooms; you'll find a historic soul beneath the modern sheen.
From strolling along the Bund with its iconic skyline to devouring mouthwatering street food in the French Concession, this city has it all. And where you rest your jet-lagged head matters. So, let's dive into the best hotels in Shanghai, where your adventure begins!
How to find the best hotels in Shanghai?
Shanghai, China's financial capital, offers prime areas to stay. Huangpu and Pudong are central, well-connected districts known for their impressive skyscrapers. Xuhui, in the southwest, is residential, featuring shopping hubs like Xijiahui with malls such as Grand Gateway Shanghai. Pudong, east of the Huangpu River, is a business hub housing the Shanghai Stock Exchange and iconic skyscrapers like the Pearl Tower and Jin Mao Tower. You can find some of the most popular and trusted hotels in Shanghai in these neighbourhoods.
Written By