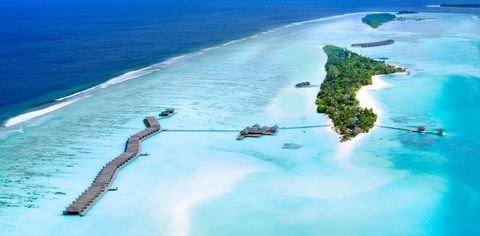 Enjoy Maldives to the fullest at LUX* South Ari Atoll, an all-inclusive resort that promises to pamper you with its authentic island experience. By Bayar Jain
Embodying the concept of 'one island, one hotel', LUX* South Ari Atoll offers a breath-taking slice of the Maldives from the get-go. Picture 193 villas dotted across four kilometres of sugar-white sands or perched on stilts above crystal-clear blue lagoons. This paradisiacal charm is further escalated by the resort's lush tropical surroundings, many dining spaces, and indulgent experiences.
Stay When at LUX* South Ari Atoll, choose from nine villa categories, namely LUX* villa, Romantic Pool Water Villa, Temptation Pool Water Villa, Beach Pool Villa, Water Villa, Family Lagoon Pavilion, Beach Villa, Two-bedroom Family Beach Pavilion, and Beach Pavilion. While the beach villas and pavilions boast of thatched roofs, the water villas enthral with fresh white interiors bathed in sunlight from the floor-to-ceiling windows. Irrespective, expect complete privacy amid untouched tropical Maldivian nature.
Dine Making the most of its tropical environs, LUX* South Ari Atoll has set up breakfast, lunch, and dinner tables all around the island's eight restaurants and five bars—be it overwater, on the beach, or even live cooking stations.
The main restaurant, MIXE, serves global cuisines on a sandy beach under thatched roofs; while Senses curates fresh-from-the-sea fish and grilled seafood, Middle Eastern- and Indian-inspired curries, nourishing salads, and tropical sorbets among others. The market-style restaurant East Market is great for Southeast-Asian delicacies; Allegria offers the ultimate Italian comfort food; UMAMI pays ode to Japan and its incredible variety of cooking methods, flavours and textures; the all-day Café LUX* specialises in barista-made coffee; Beach Rouge offers a variety of stone oven flatbreads and pizzas, salads and grilled seafood; and Senses Bar & Lounge dishes out ice-cold beers, and Sri Lankan tea along with light snacks. The overwater East Bar, beachside Lagoon Bar, and Veli Pool Bar serve as enticing watering holes. What's more—the resort can even set up a private barbecue dinner on the beach with a private chef upon request!
Experience LUX* South Ari Atoll goes beyond luxury and design to offer an authentic island experience for adventure travellers, honeymooners, solo travellers, and families alike.
When here, discover the colourful and unique marine life at the atoll's world-famous dive sites. The aquatic wonders around the resort are protected by a resident marine biologist, with whom travellers can take guided tours to swim with whale sharks. After the adventures, consider winding down at the LUX* Me Spa – the most restful way to end the day. The resort also offers stand up paddle boarding, fly boarding, hover boarding, jet skiing, kitesurfing, waterboarding, wake-boarding, topcat sailing, fishing, catamaran excursions, and yoga.
To make the vacation more memorable, LUX* South Ari Atoll peppers surprises throughout the stay. Think island-roasted coffee at Café LUX*, film screenings at cinema Paradiso, messages in bottles scattered around the island, and the chance to hang your hopes on the magical tree of wishes.
Commitment to Sustainability
Paving the way as one of the leading eco-friendly resorts in the Maldives, LUX * South Ari Atoll has launched the world's biggest floating solar system at sea, putting sustainable energy at the heart of its processes. This patented and unique technology, created in collaboration with Austrian company SwimSol, is the resort's latest initiative to becoming a greener and more sustainable destination.
Offers at LUX* South Ari Atoll Consider the all-inclusive package, which includes six of restaurants in its offer. The additional two restaurants—UMAMI and Allegria—can be enjoyed at a 30 per cent discount. The all-inclusive meal plan is ideal for those looking to enjoy the extensive menus of delicious culinary delights and carefully selected beverages from all around the world.
The resort has also created eight experience packages called the Collectible Experiences, depending upon the purpose of visit. For instance, the Maldives Bucket List; East, Sleep, Repeat; and Couple Goals in the Maldives packages are ideal for couples looking for adventures together.
For more details on LUX* South Ari Atoll and its offers, head here.
Related: All You Should Know About The Disappearing Manta Rays In Maldives
Written By