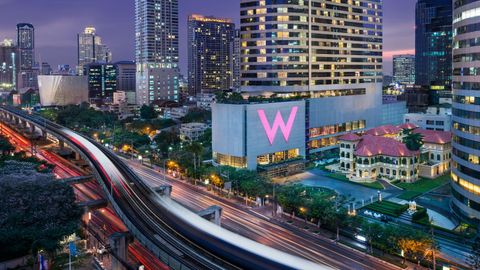 Led by design and comfort, W Bangkok is the go-to destination to enjoy a fusion of the city's past and present. By Bayar Jain
Located at a close proximity to the BTS Station for easy access to the rest of the city, W Bangkok is designed for a comfortable stay in the heart of the city. The design and offerings at W Bangkok are created to embody the capital city's fusion of past and present. The interiors of the hotel mirror the secrecy of the Thai city's obscure alleyways and corridors, as does The House on Sathorn—an iconic landmark and bar located here that looks like a cross between an ancient palace and a gentlemen's club. The hotel also seamlessly evokes spirits of the past as well as the city's captivating blend of modern skyscrapers and ancient temples, and shimmering bijous.
Stays at W Bangkok A design-led lifestyle hotel brand with 403 guest rooms and suites on offer, W Bangkok can accommodate for all kinds of travellers. Choose from any of the 244 Wonderful Rooms, 106 Spectacular Rooms, 19 Cool Corner Rooms, 20 Studio Suites, two Fantastic Suites, and 10 Marvelous Suites for your vacation. Those who wish to enjoy a more lavish holiday may book a Wow Suite, or an Extreme Wow Suite (W-style Presidential Suite). While each of the room types are smoke-free, the latter two boast of an escalated design level second to none.
Dining at W Bangkok When at W Bangkok, experience culinary traditions that come infused with visionary tastes presented by dynamic chefs, who are constantly looking to redefine gastronomy. The Kitchen Table, the signature restaurant, is a favourite haunt among jet-setters with an adventurous palate that adores quality. During the day, diners can indulge in an a la carte menu alongside an international buffet. As the sun sets, the restaurant turns its focus to an array of carefully selected meats prepared using various American cooking techniques, including low-temp, slow-cook, smoked, grilled and more.
Let your hair down and mingle with trendsetters and fashionistas at W Hotel's signature Woobar. When here, be wowed by the latest cocktail creations by W mixologists, and dance to trendy beats delivered live by Bangkok's finest spinners. Don't miss out on a visit to The House on Sathorn. Built in 1889, the colonial mansion on Sathorn Road in the heart of Bangkok offers nostalgic, theatrical flair to the city's old-and-new juxtaposing scene. Also inside the colourful landmark building is Paii, which serves modern Thai seafood; The Bar at The House on Sathorn, which is ideal for after-work drinks and more; and Upstairs, an exclusive club lounge. This lounge also houses four hospitality suites and private function spaces for exclusive dinners, private events and meetings.
And more!
With a modern and stylish concept, W Bangkok features state-of-the-art facilities to cater to all kinds of guests' needs. The eyeball-shaped outdoor pool—WET Deck—on the hotel's sixth floor lights up with twinkling underwater fibre optic lights resembling the star-sky. For a more traditional fitness routine, head to the 24/7 149-square-metre space that comes equipped with the latest fitness gear and technology. AWAY Spa, also on the sixth floor, is apt to detox and rejuvenate from a long night out in Bangkok.
Related: Impressive Spots To Visit When In Bangkok
Written By