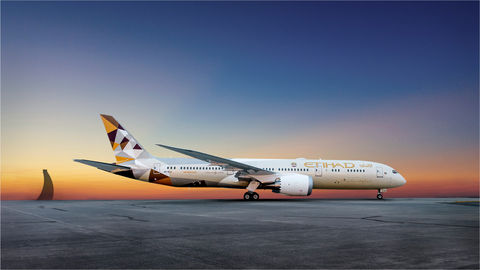 The holiday season is here, and you're in a mad rush to make all the bookings! Here's why Etihad Airways should be your choice of airline, especially if you're headed to an international destination with family. By Pallavi Phukan
1. Convenient Pre-Clearance Immigration for US-bound Travellers
For US-bound flights, Etihad Airways provides an unique opportunity to pre-clear all required checks including US customs, immigration and security conveniently while in Abu Dhabi before boarding the flight to the United States.
Another key benefit of US pre-clearance is that baggage security screening meets United States TSA security standards, allowing air travellers who have connecting domestic flights within US to have their baggage checked through from Abu Dhabi to their final destination. So, less time standing in queues and more time for fun.
2. A long-haul flight? Try the Economy Smart Seats
Comfortable recliner seats with adjustable back support, nice headrest to lean on, ample legroom are all you need for a long flight. Here are some more add-ons: easy-to-reach, great entertainment, and connectivity along with a relaxed ambience that makes a long flight a lot easier.
3. Travelling with kids? Flying Nannies are your saviour
Parents travelling with kids can now just sit back and relax. Trained nannies keep your kid entertained throughout. Long journey, happy kid and happy you are finally no longer a dream! 4. On-ground luxury experience
Guests can access Etihad Airways' First and Business Class lounges in Abu Dhabi, Dublin, Paris, New York, Los Angeles, Washington D.C., Melbourne and Sydney. These premium lounges feature unique zones designed to ensure that guests can relax, re-energise and be entertained in the lap of luxury before boarding their flight.
Etihad Airways' dedicated lounges in most major airports offer Family Rooms equipped with fun entertainment for its Premium Class Guests. Qualified nannies are also available to watch over your little ones, giving you the much-needed time to relax and enjoy the lounge facilities. 5. More value for your money
Guests flying on a confirmed Etihad Airways economy class ticket connecting through Abu Dhabi can extend their time away with a two-night stay in Abu Dhabi. The first night's accommodation is at a great rate, and the second night's accommodation is on the airline. Business Class guests receive a free night stay in a five-star hotel and those flying First Class, receive two free nights' accommodation
6. Pool in your reward points
Up to eight Family Guests can pool their miles into a single account. This allows everyone to earn miles individually, then look forward to enjoying them as a family, whether that's flights, holidays or something special from the Reward Shop.
Written By