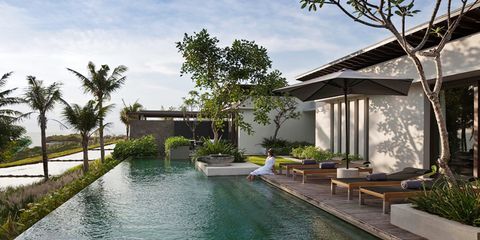 From a Mediterranean getaway to a reboot in the Austrian Alps, this is the new and improved bucket list of spa and wellness retreats for a quiet start to your new year. By Jasmine Kaur

Banyan Tree Tamouda Bay, Morocco

Nestled between Morocco's
 Rif mountains and the Mediterranean Sea, Banyan Tree's first resort in Africa—opened in September last year—is a stylish getaway. The Mediterranean- inspired resort features 92 villas, each with a private pool and garden, four restaurants, a library, and a kids' club. The highlight is its
 spa that evokes a sense of place with its Moroccan interiors and follows a 'high-touch, low-tech' approach. Come here for the signature Rainforest Experience—a hydrothermal circuit that includes a vitality pool and hammam.
Dreams Playa Mujeres Golf & Spa Resort, Mexico
Holiday in a villa that brings the ocean to your bedroom; laze around in infinity pools, whirlpools, or the lazy river; savour a new cuisine every day at its restaurants. The 502-room Dreams Playa Mujeres Golf & Spa Resort is beautifully located on a private beach. The Mayan-inspired 16,000-square-foot Dreams Spa by Pevonia has a traditional Mayan sauna called Temazcal and a Watsu pool for underwater massages. T+L India recommends: Their all-inclusive Unlimited Luxury experience that includes dining, activities, accommodation, and spa experiences. Aqua Sana Sherwood Forest Spa, UK
There really is a Sherwood Forest, and no, Robin Hood and his merry men aren't the ones offering spa treatments. The Aqua Sana is actually a nature-inspired spa with six zones that offer 26 experiences, including outdoor hot tubs, steam rooms, courtyard pool, foot spas, and treetop sauna.
Zemi Beach House Resort & Spa, West Indies
This Caribbean oceanfront resort, on Anguilla's Shoal Bay East, offers modern-day luxuries coupled with island traditions. The ancient healing practices of the Taino community are reflected at its spa that has a range
 of holistic treatments, including rejuvenating facials, marine salt scrubs, tropical scrubs and massages, rainfall showers, and a vitality pool.
Miraggio Thermal Spa & Resort, Greece
The amphitheatre-shaped resort faces the Aegean Sea. Stay at the sea- view Double Duplex Suite that has a private pool, a balcony, a terrace, and a lounge. At the Myrthia Thermal Spa, you can relax in the thalassotherapy pool with warm sea water or get
the Greek-orange deep hydration treatment. It also has a spa menu
for kids with massages, facials, and pedicure and manicure. Six Senses Zil Pasyon, Seychelles
Located on a private island, Six Senses Zil Pasyon boasts 30 pool villas, surrounded by the Indian Ocean.
In just a year, the resort has become a favourite among travellers. Come here for its local and African treatments, such as deep tissue massage, Afrique mystic facial, and sleep-with-me body treatment.
Relax in the private beach house and bungalows at the Playa Largo Resort
& Spa, Florida to experience luxury
 at its best. Indulge in the ultimate spa experience with the Ocean Spa Custom Massage, Coral Calm Soothing Facial, Key Largo Signature Massage, and a range of other wellness treatments.
Aja Malibu, Santa Monica Mountains, California
Aja Malibu in the Santa Monica Mountains takes new-age healing
 to the next level. The resort spa is set in a crystal cave and has acupuncture, craniosacral therapy, massage, energetic light treatments and binaural beats and shamanic healing on the menu, along with an infrared sauna and an ozonated Jacuzzi. Set on a sunny plateau surrounded by the Tyrolean Alps, deep forests, and vast meadows, is this wellness centre in Innsbruck, Austria. The recent makeover gave it a new curvilinear building as well as spa facilities such as a bathhouse and a saltwater pool. This health centre, one of the three from the group, offers a reboot with detox treatments, mental training, vital aging, movement therapy and a host of beauty programmes. Must-try: The LANS Med Concept signature programme is tailor-made for each guest—the plan requires a minimum seven-day stay for detoxification and purification.
Aurum Spa, Casa San Agustin, Columbia
The walled city of Cartagena welcomed a new member to its
list of wellness retreats with the launch of Aurum Spa by boutique hotel, Casa San Agustin in April
this year. A salute to the ancient history of Cartagena, the gold and natural accents in the spa add a local touch, which is further heightened by local ingredients and practices employed here. The Cartagena Coffee Body Treatment is a must-try.
Gainsborough Bath Spa, England
Opened last year, this is the only natural thermal spa within a hotel in the UK. Spread across two floors, the 1,300-square-metre Spa Village Bath has direct access to thermal waters through three therapeutic pools. Signature treatments are Hot Stone Treatments, aromatherapy, and Reiki. Surrounded by idyllic paddy fields, this tranquil resort in Bali overlooks Mount Batukaru. It features lavish private villas and a wellness spa with treatments such as acupuncture, meditation, neurotherapy, and longevity procedures that are meant to leave a lasting effect.
This is a place where the desert meets the sea. Revitalise yourself with
the complementary hydrotherapy facilities at the resort spa, based on the traditional Greaco-Roman ritual of combining hot and cold contrasts.
Matthew Kenny Wellness, Hawaii
Renowned vegan Chef Matthew Kenney introduced this wellness getaway in the garden island of Kauai, Hawaii last year. Body detoxification, plant-based meals, and meditation form the basis of this health retreat.
Written By