Known for its white sandy beaches, accessible marine life and mesmerizing sunsets, Maldives is not just about gram-worthy photos. With wellness taking front row for most travellers to the archipelago, we pick 10 wellness resorts in the Maldives that assure holistic well-being for your body and soul. By Team T+L India
10 Wellness Resorts In Maldives That Needs To Be On Your Radar
Rejuvenation at Hilton Maldives Amingiri Resort & Spa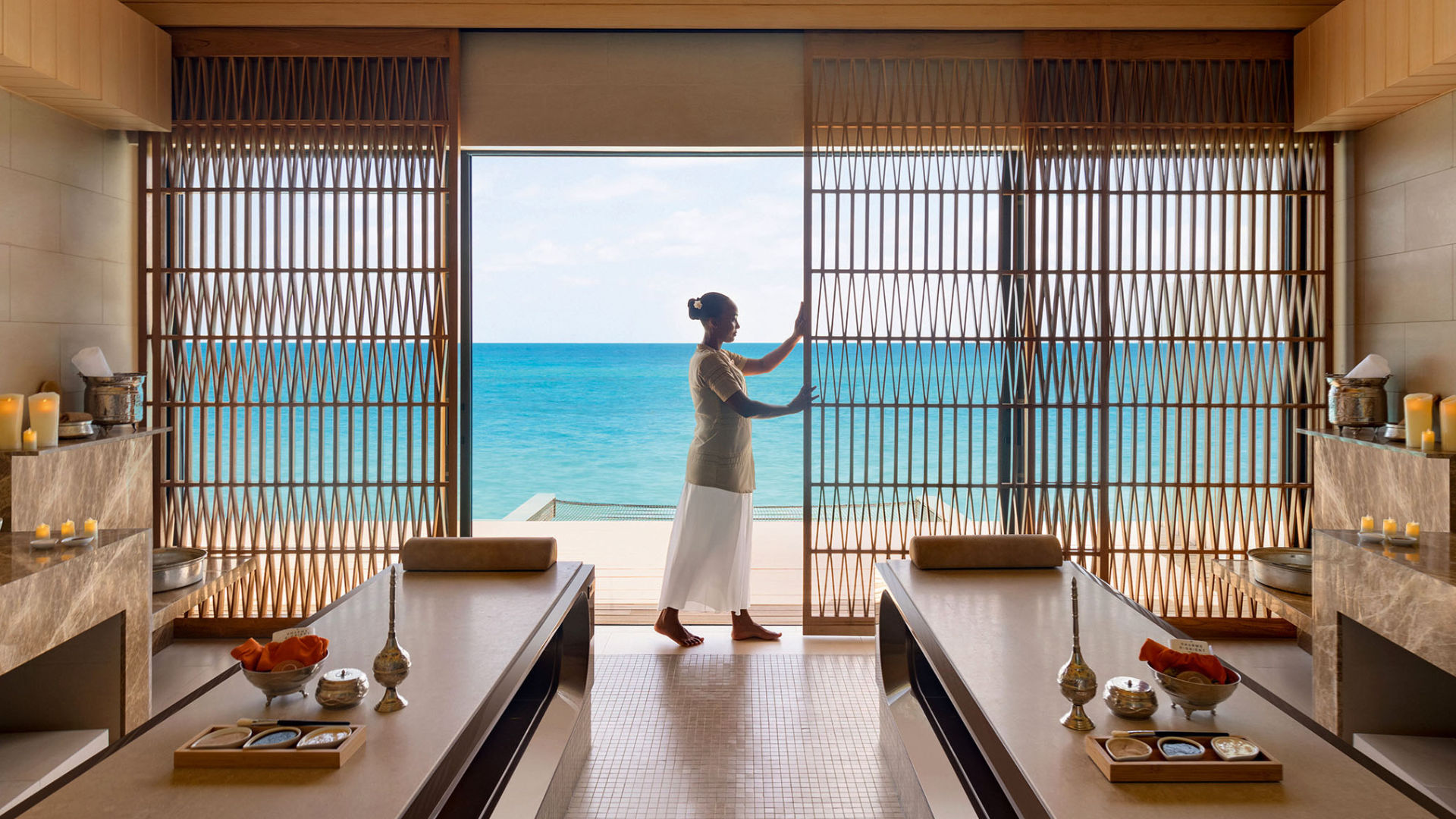 Nestled in Amingiri Island in North Malé Atoll, the recently opened Hilton Maldives Amingiri Resort & Spa boasts 109 overwater and beach villas. With scenic turquoise water all around, the property embodies a harmony of Maldivian accents and contemporary touches. Amidst its various wellness offerings, the one that stands out is the Amingiri Spa that offers an extensive menu of rejuvenating treatments and purifying hammam rituals that are sure to up your well-being. While here, one can also consult a naturopathy doctor for body alignment and lifestyle goals.
Harmonious Transformation at Raffles Maldives Meradhoo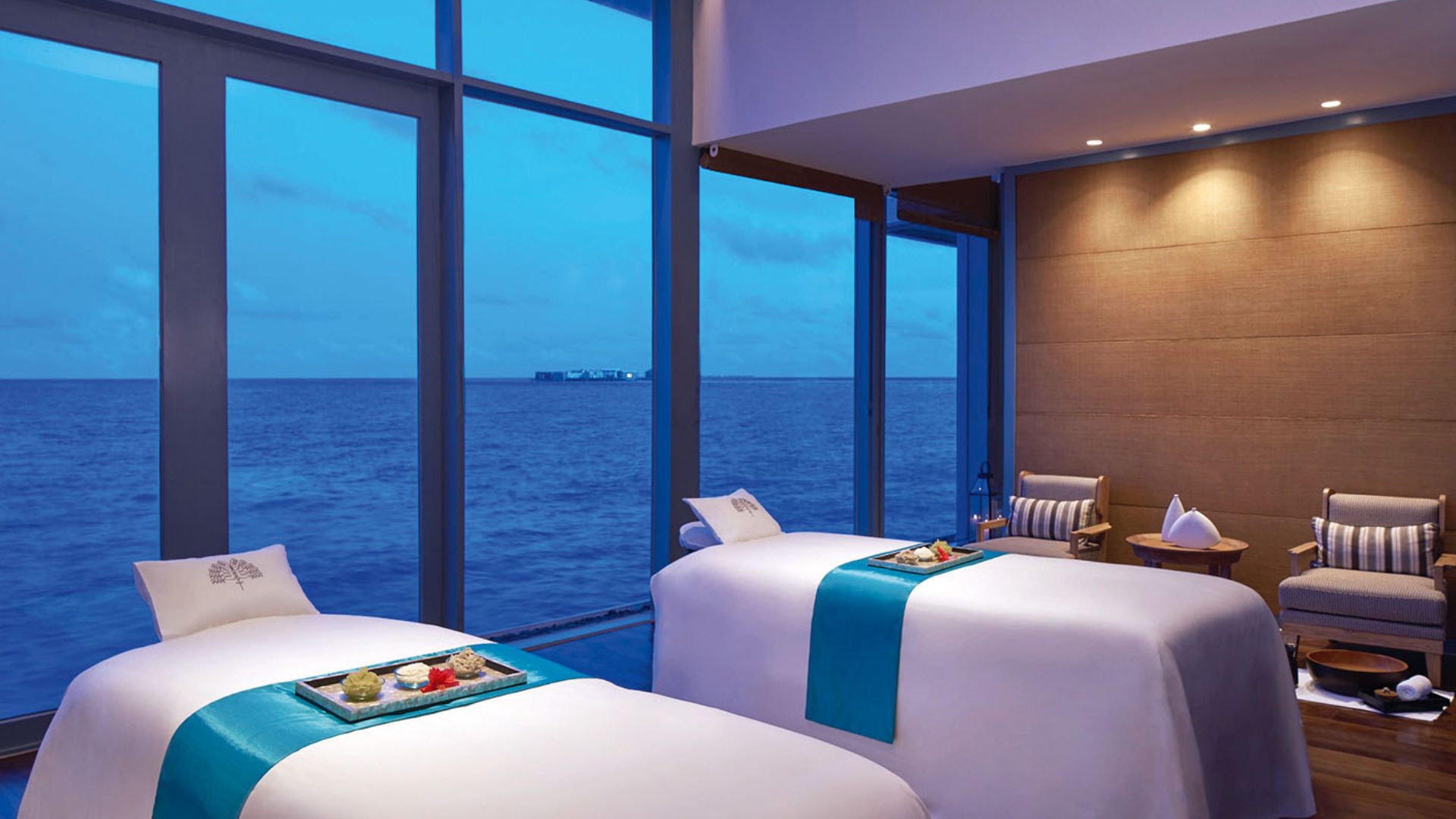 Lying in the lap of the Indian Ocean with an unrestricted visual access to the ocean, an authentic well-being experience awaits the patrons at the famed Raffles Spa in the Maldives. Considered a journey towards emotional wellbeing, the indulgences here are aplenty. With a variety of massages, body treatments and facials, the goal here is to rediscover mental, physical, and spiritual harmony with a lingering feeling of transformation. The Raffles Spa ensures inner and outer transformation through the various treatments on offer on the spa menu.
Regain Your Balance at JOALI BEING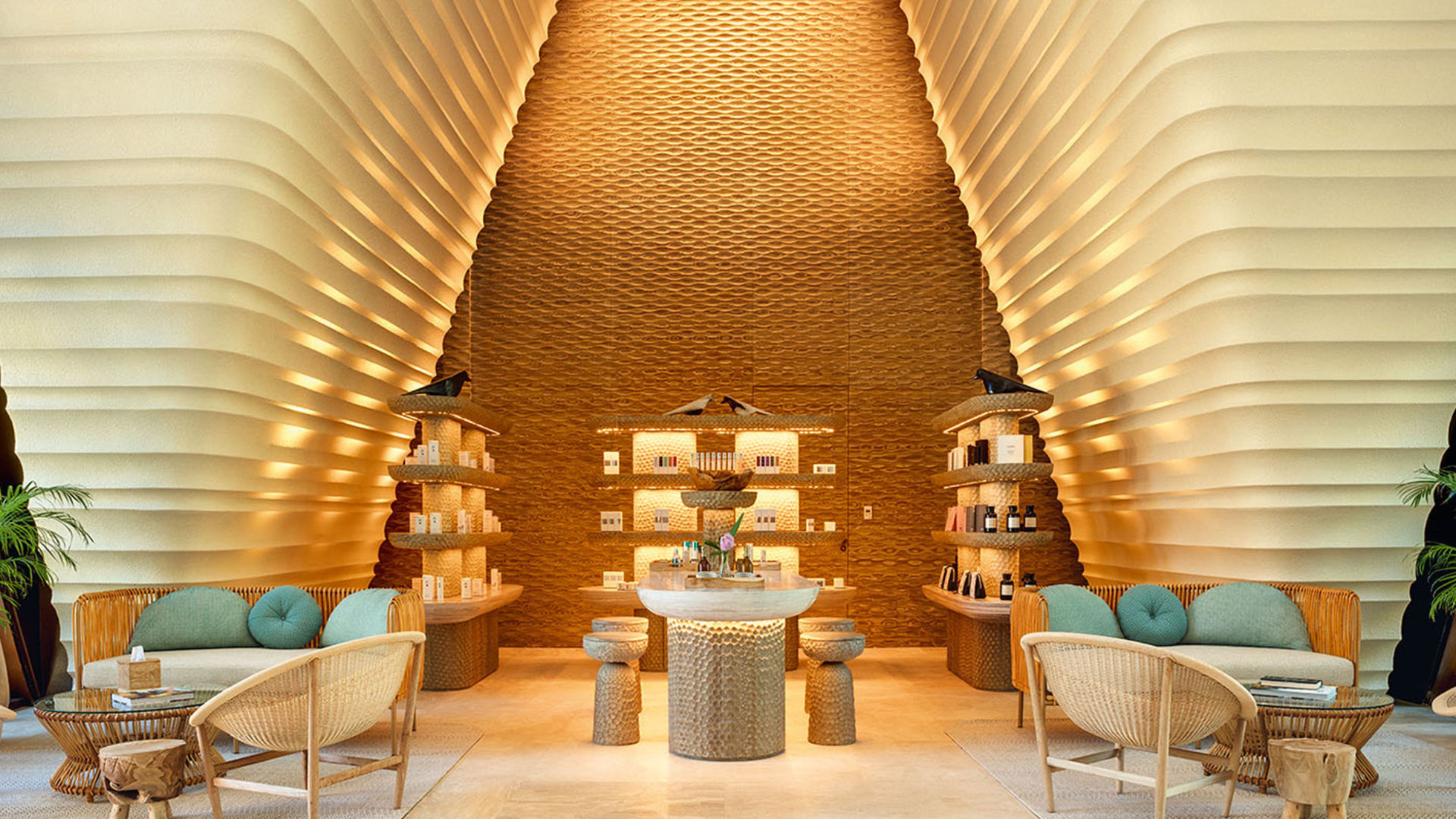 JOALI BEING, the first retreat of its kind in the Maldives, is tucked away on the remote island of Bodufushi in Raa Atoll, surrounded by crystal-clear lagoons, immaculate beaches, and lush coconut palms. The four pillars ofJOALI BEING— mind, microbiome, skin, and energy—which were developed in collaboration with an Oxford Professor and serve as a roadmap for tailoring each guest's journey to transcendence, self-discovery, and renewal, are at the heart of the retreat's curated offerings and transformative experiences. The dedicated team at the property, including therapists, movement specialists, and nutritionists, collaborates closely with guests' personal well-being consultants during each customised treatment to guarantee the best results.
Wholesome Healing at Waldorf Astoria Maldives Ithaafushi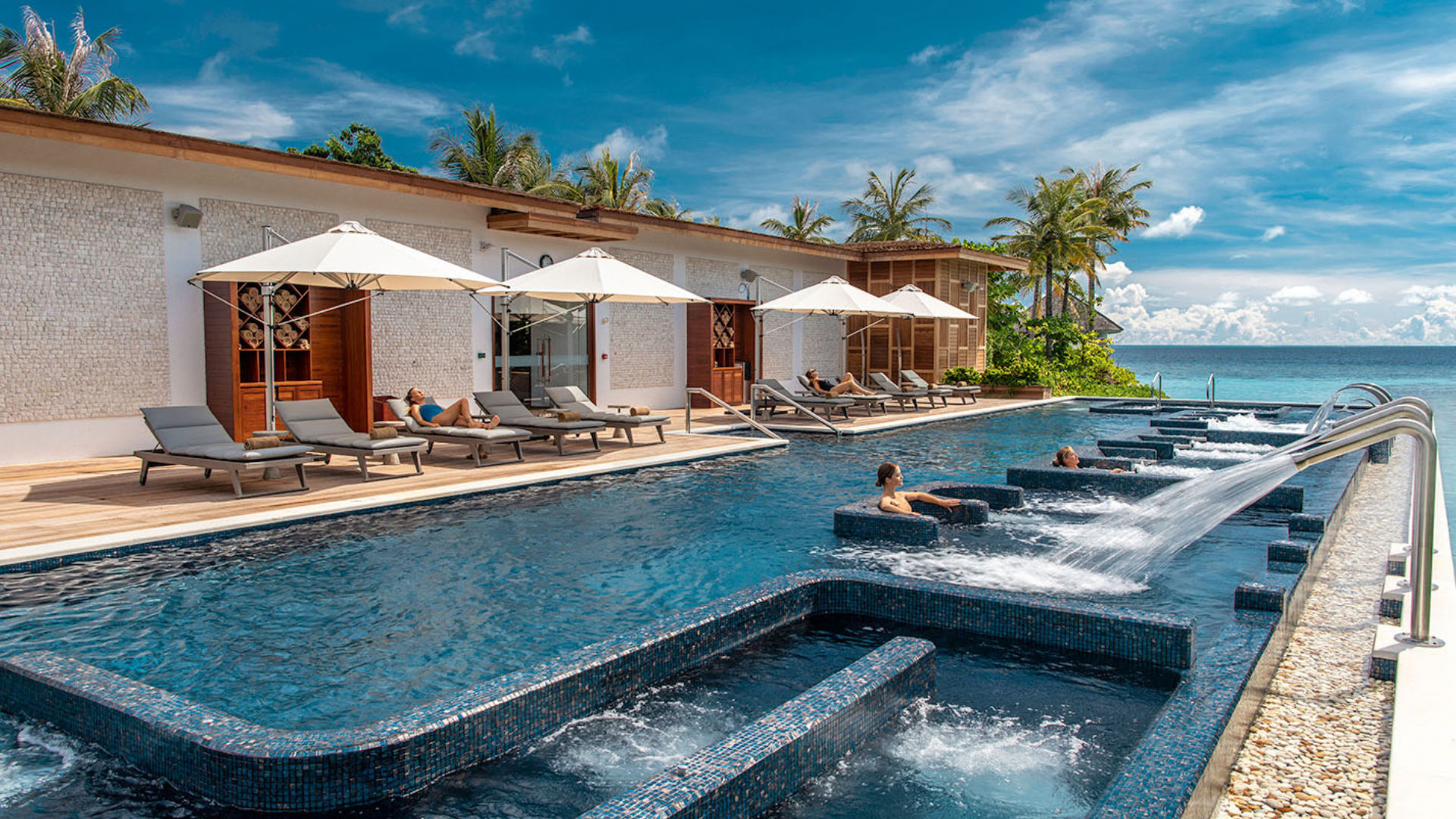 A range of energising wellness activities coupled with the tranquillity you find in an overwater villa makes Waldorf Astoria in the Maldives one of the most preferred destinations by wellness enthusiasts. The property is also home to the Maldives' first Aqua Wellness Centre, along with an expansive hydrotherapy pool, ice fountain, steam room and sauna. The outdoor pool is designed in zones to target different body parts and aims to ease muscle tension, boost the immune system, increase blood circulation, speed up metabolism and improve deep sleep quality. Guests can also look forward to expert knowledge of holistic medicine, martial arts, crystal healing and Ayurvedic doctors.
Sustainable Wellness at Ozen Reserve Bolifushi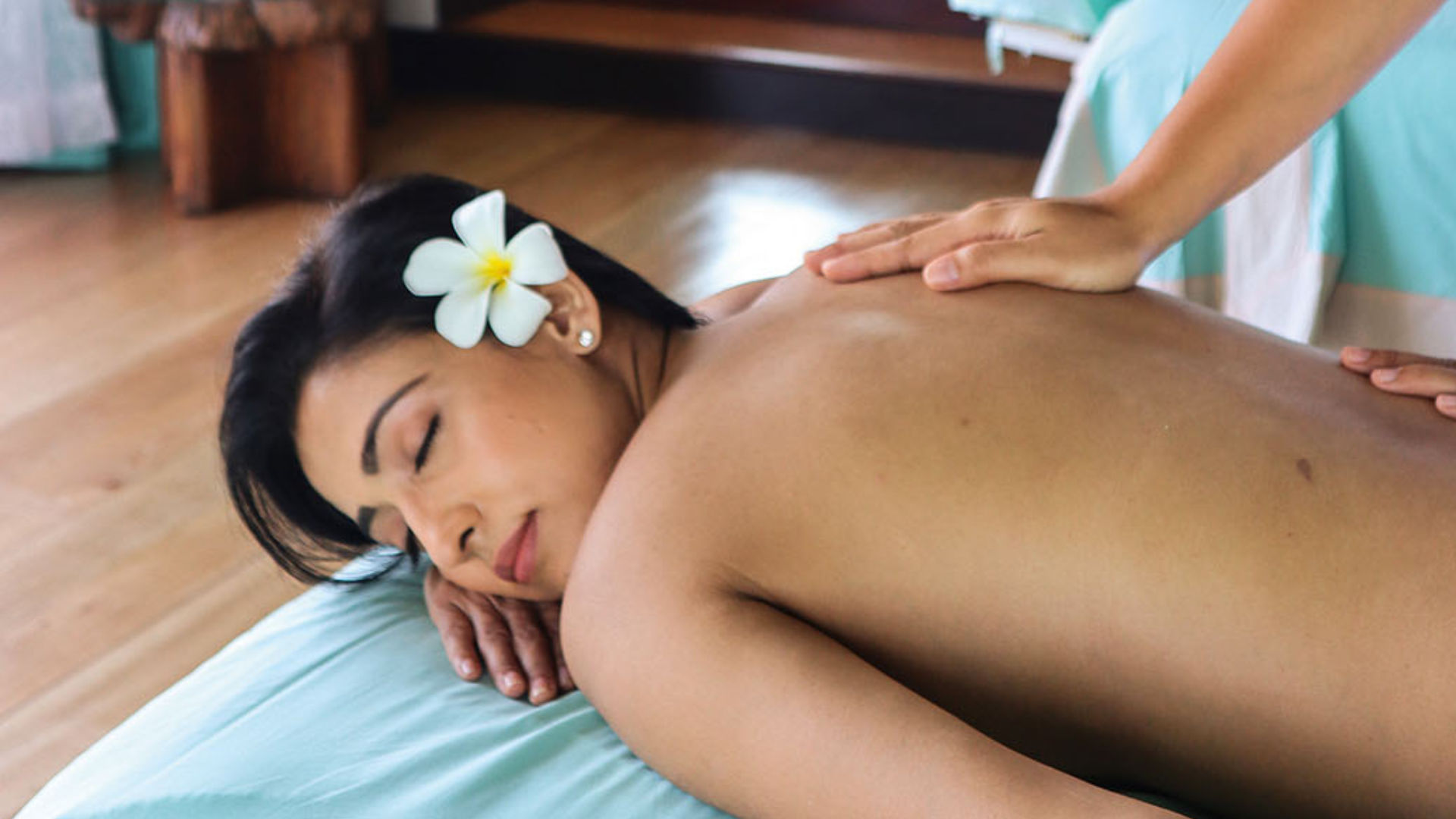 At Ozen Reserve Bolifushi, wellness therapies are focussed on a catharsis of sorts. Practised amidst the spellbinding vistas, these therapies are indulgent, and led by a team of experts focusing on restorative, healing, and invigorating treatments based on ancient rituals. Think holistic therapies, alternative medicinal treatments, personalised wellness dining options and a focus on the various elements of nature, natural products, and sustainable practices. The idea here is to balance the body and mind through the relaxation of muscle tension.
Barefoot Wellness Adventure at Sun Island Resort & Spa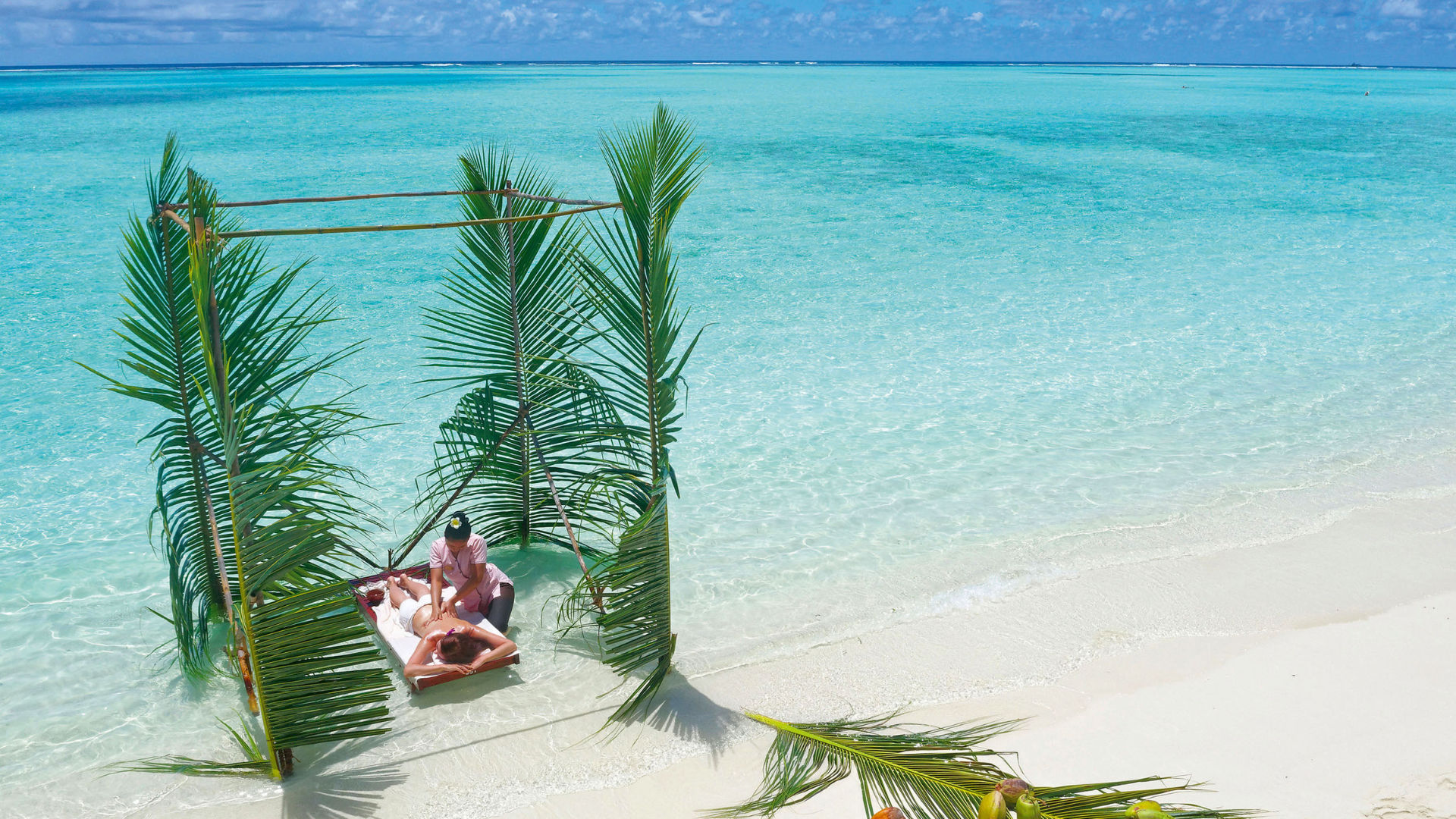 Sun Island Resort & Spa is where nature and wellness work in close proximity. The resort's award-winning spa, Araamu, has on offer a range of holistic beauty and wellness treatments, including signature massages and rejuvenating facials. One can also centre oneself with yoga sessions or high intensity sports like tennis, aqua aerobics, and personal fitness training. With innovative, sustainable efforts and signature wellness adventures, the resort captures the island's tranquillity and love for barefoot living.
Five Senses Therapy at SAii Lagoon Maldives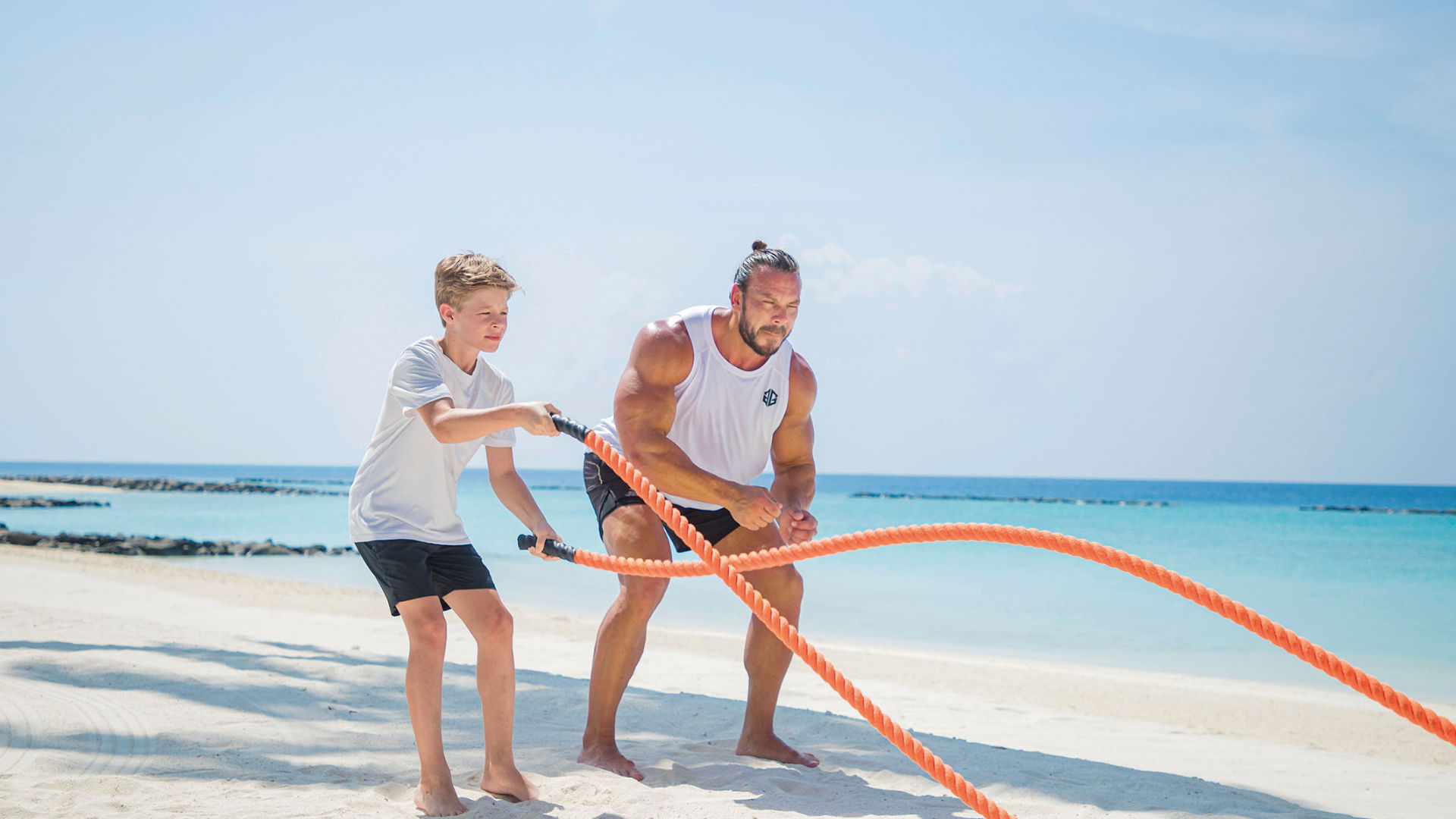 With water and beach villas that seamlessly combine indoor and outdoor spaces, SAii Lagoon Maldives promises to revitalise your five senses. The resort's wellness programme at Lèn Be Well Spa offers the best in health, beauty, and fitness. From specialised spa treatments to sound therapy and delectable culinary delights that dazzle the palate and calm the soul—this resort taps into all the elements of wellness. Guests can also learn and engage in specialised fitness and personal healing treatments and therapies from leading industry professionals through the Wellness Visiting Practitioner programme.
Oasis Of Wellness at The Westin Maldives Miriandhoo Resort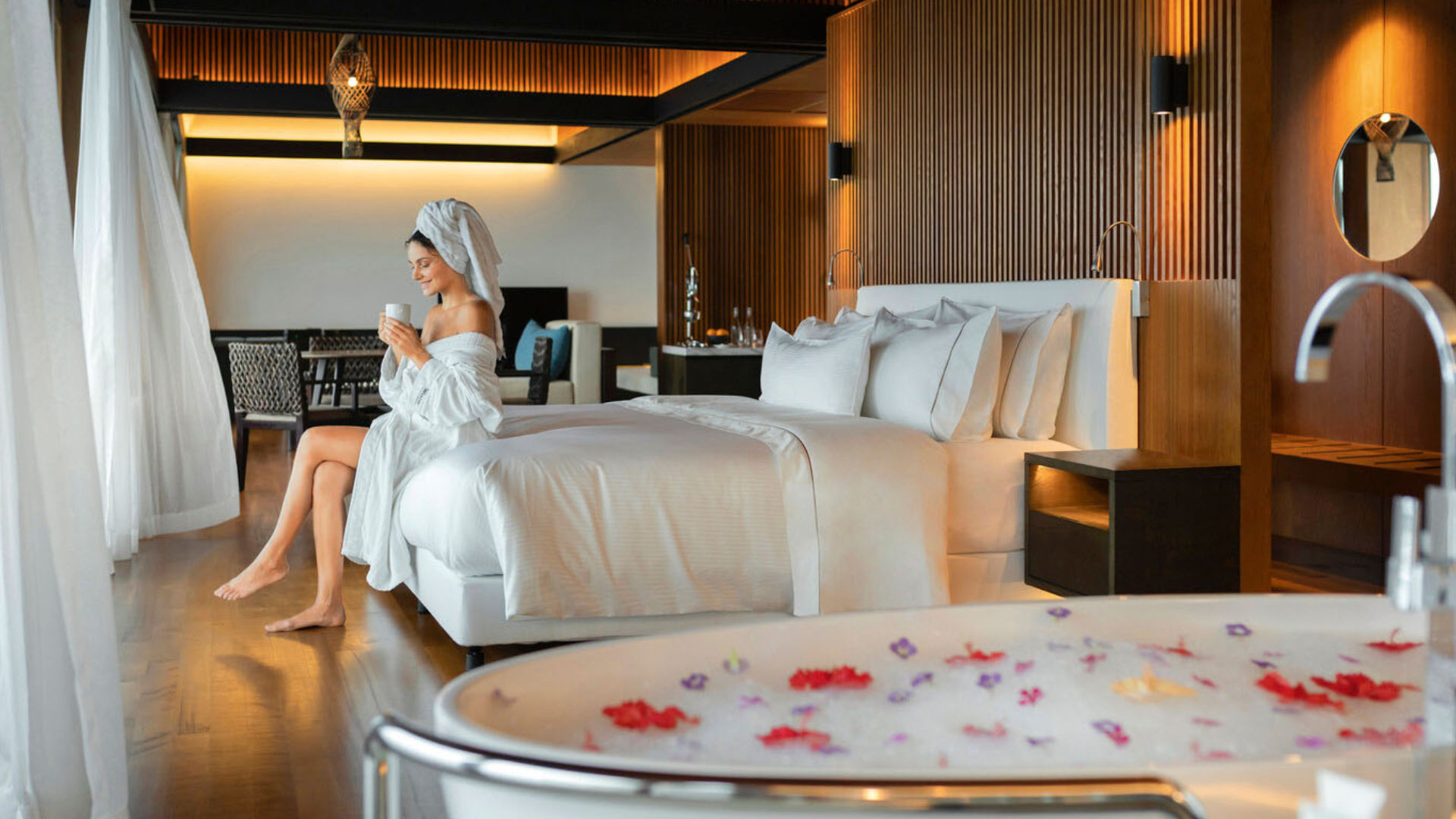 Finding a home on an island reef in the heart of the world-renowned UNESCO Biosphere Reserve, Baa Atoll, the Westin Maldives Miriandhoo Resort is perfect for rejuvenation. Some of the highlights at the resort include restorative sleep therapy, fitness studio, and spa treatments overlooking the ocean. However, the most sought-after therapy here is the signature White Tea Aloe Bath & Body, which consists of antioxidant and revitalising properties.
Mind, Body and Spirit Nourishment at JW Marriott Maldives Resort & Spa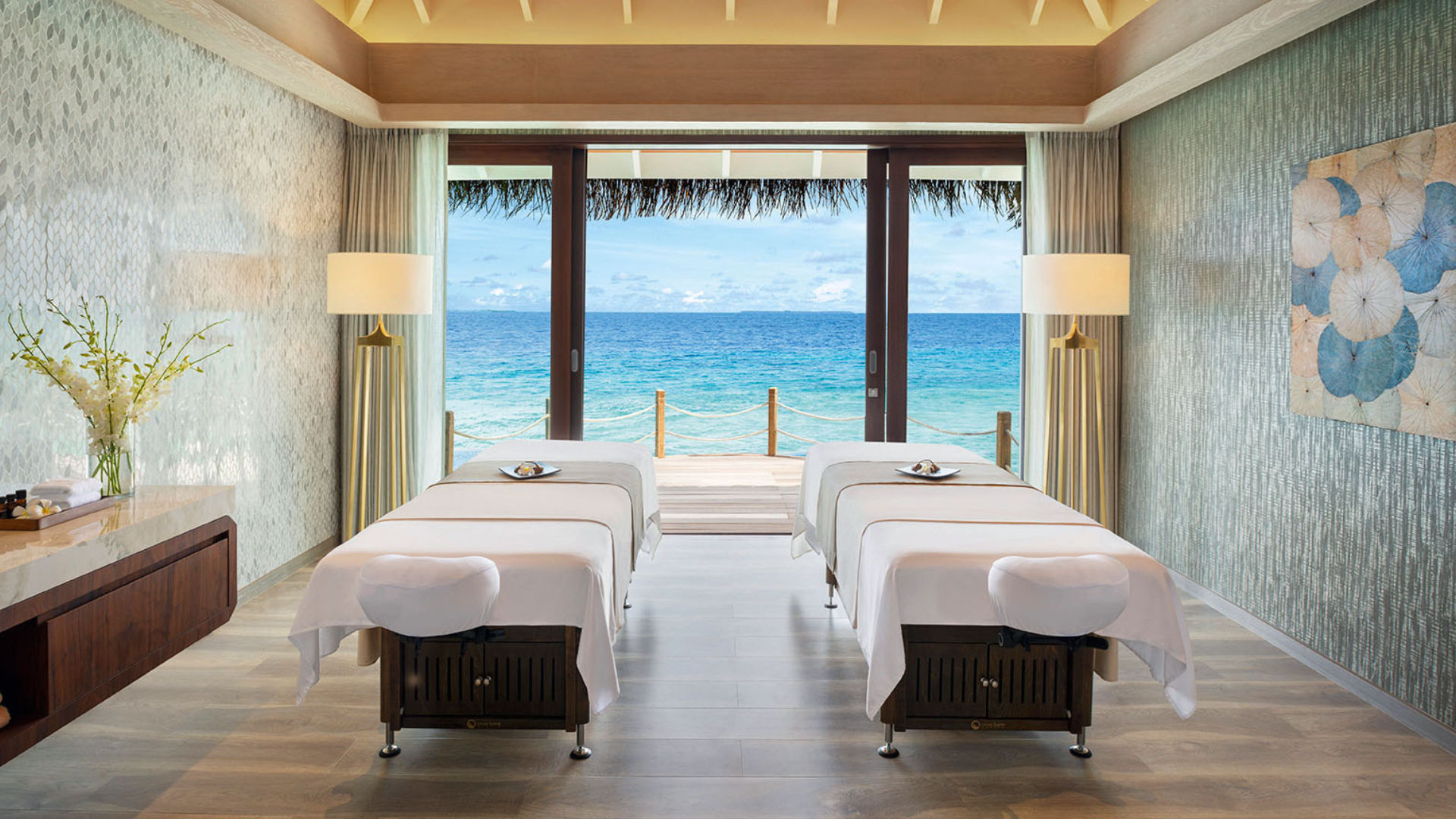 With their focus on holistic wellbeing and enriching experiences, JW Marriott Maldives Resort & Spa is a prominent destination for a stress-free vacation. Focussed on nourishment of the mind, body and spirit, the range of therapies at the resort's spa are inspired by some of the world's most ancient practices with four distinct benefits—calm, indulge, invigorate, and renew. This personal hideaway also offers fitness and wellness classes including yoga at the openair pavilion, an overwater gym, and healing treatments including soothing massages and body wraps.
Sweet Indulgence at Grand Park Kodhipparu Maldives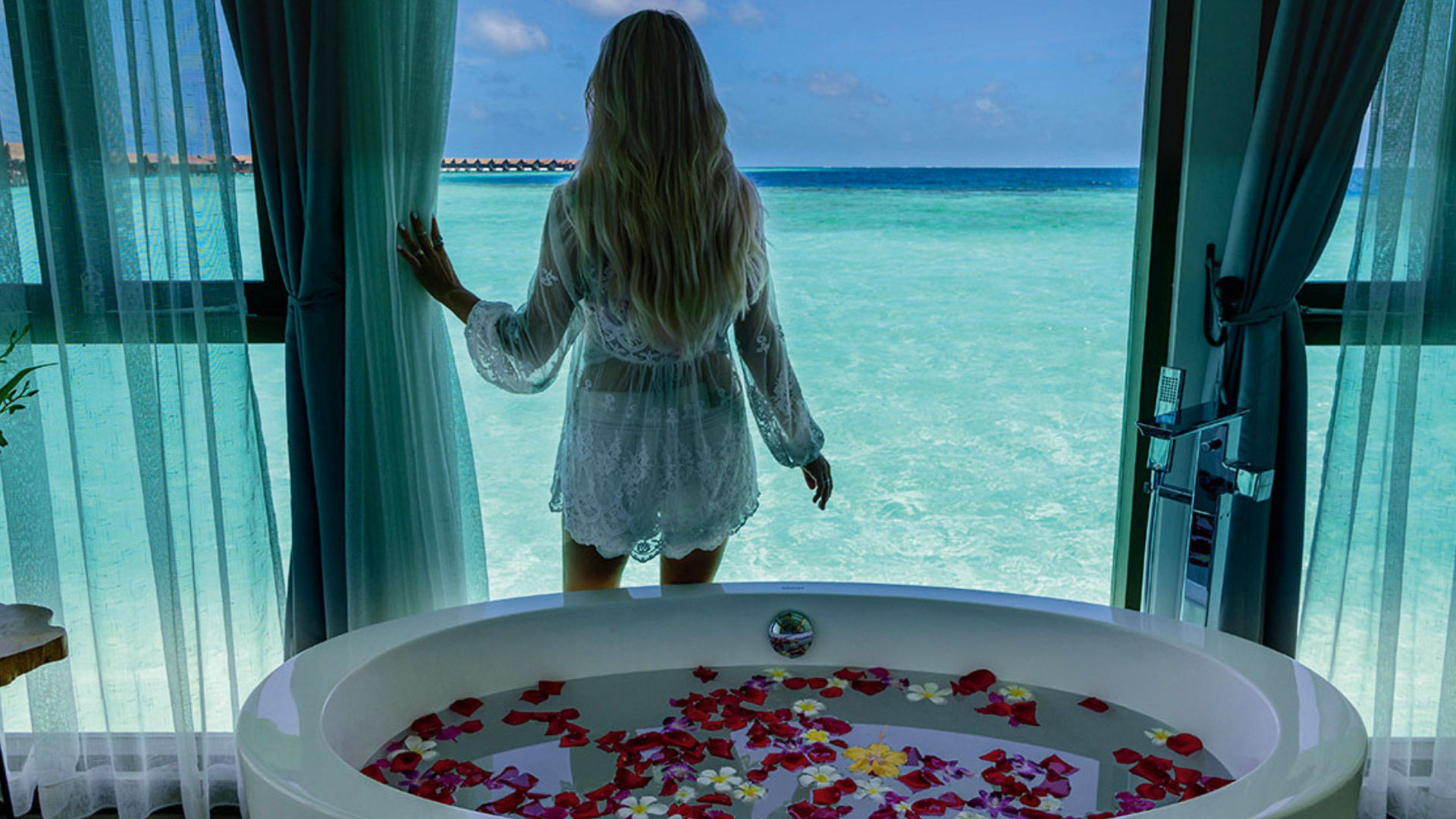 On the idyllic island of Grand Park Kodhipparu, wellness and indulgence become synonymous with nature. The most sought-after therapy at the Grand Park Kodhipparu Maldives is the signature Choco Indulgence treatment, combining a chocolate body wrap and a chocolate milk bath, at their award-winning overwater spa. In this wellness resort in Maldives, travelers can also destress by exploring the healing properties of a full moon meditation session or a sound therapy healing session, guided by professional therapists and tailored to one's unique needs.
Related: Make Memories On Your Group Staycations At These Luxurious Properties In India