Visit Musandam In Oman To Know Why It Is Rightly Popular As The Norway Of Arabia
The Musandam Peninsula in Oman boasts a fantastical landscape marked by craggy fjords lining a spectacular coastline. We booked a ticket to this intrepid traveller's paradise to find out if it deserves its moniker, the Norway of Arabia. By Ananya Bahl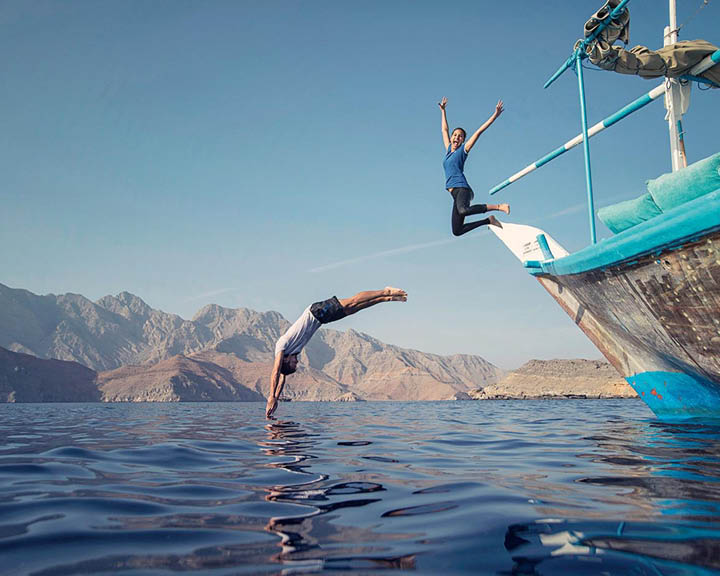 My eyes squint under the brilliant sun, trying to focus on something moving on the horizon. We're cruising on a wooden dhow on the Strait of Hormuz, the inlet of water separating Oman from Iran. Before I know it, the distant creatures on the horizon have become co-travellers—scores of dolphins are now swimming alongside our boat. Indo-Pacific humpback and bottlenose dolphins delightfully porpoise in the waters as I am reminded by the boat's captain to not give in to the temptation of reaching out and touching them. As they swim swiftly in the cerulean waters, I have to constantly remind myself: these are dolphins, and we are, in fact, in the Middle East! I am exploring the Musandam Peninsula, a mysterious exclave of Oman, separated from its home country by the United Arab Emirates to the south. The landscape quickly makes it apparent that this is going to be a very different kind of Arabian sojourn.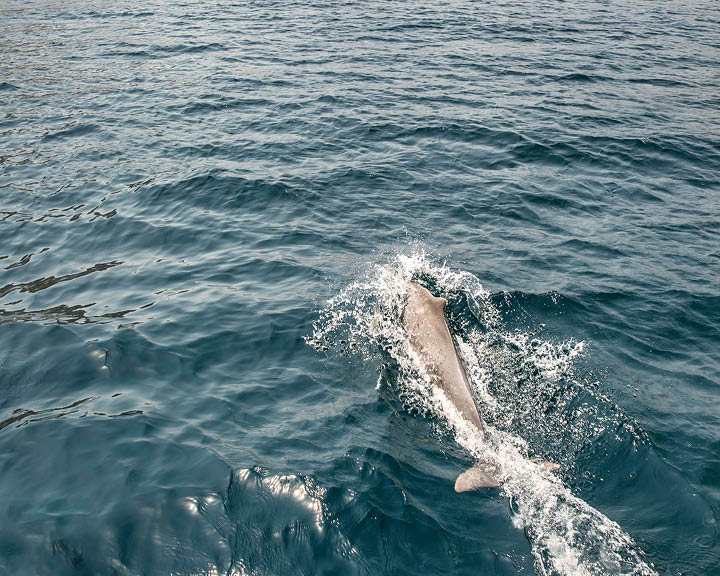 Eventually, I decide to sample the blue waters. We dock by a rocky landing, and I jump in. The water laps me up in a warm embrace, indulging me with colourful corals. The strait boasts crystal-clear and calm water, making snorkelling a fun activity for all age groups. I am told that the Strait of Hormuz holds a significant geopolitical position—a large chunk of the world's oil passes through it annually. But in the moment, as I float on the azure waters, the only business it beckons me to complete is utter relaxation. After I've had my fill of marine life, it's time for a fantastic meal of roasted local fish onboard the dhow's bright red majlis-style deck.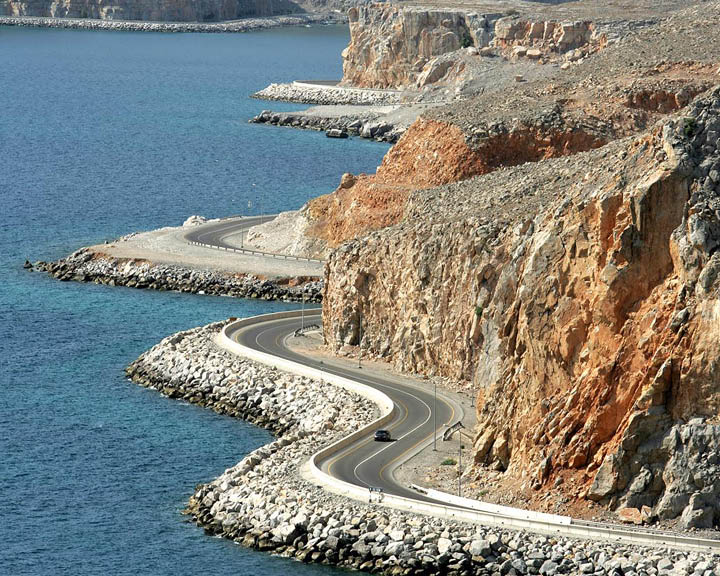 Aptly called 'The Norway of Arabia', the Musandam Peninsula basks in the shadow of the Hajar Mountains, a chain of spectacular rocky formations that run parallel to the Strait of Hormuz. Adding to their magnificence are craggy fjords, each of which offers awe-inspiring vistas and strong winds. Most of the mountains tower almost 2,000 metres above sea level and lend themselves to off-roading trails. On one such route, in a four-by-four, I find myself stopping repeatedly to soak in the panoramic views of the fjords. We drive up to the summit of the Jebel Harim mountain, which reaches about 1,600 metres above sea level. Flat and sprawled out, it invites archaeology fiends to uncover the scores of fossils under its surface. Geological evidence suggests that these peaks were submerged in water about 250 million years ago. Today, this is evidenced by fish fossils, shells, and other fossilised marine life that hide under years of dust accumulated on the rocky mountain top. My guide pours some water on parched land, and suddenly, some fossils reveal themselves like fleeting mirages on hot tarmac.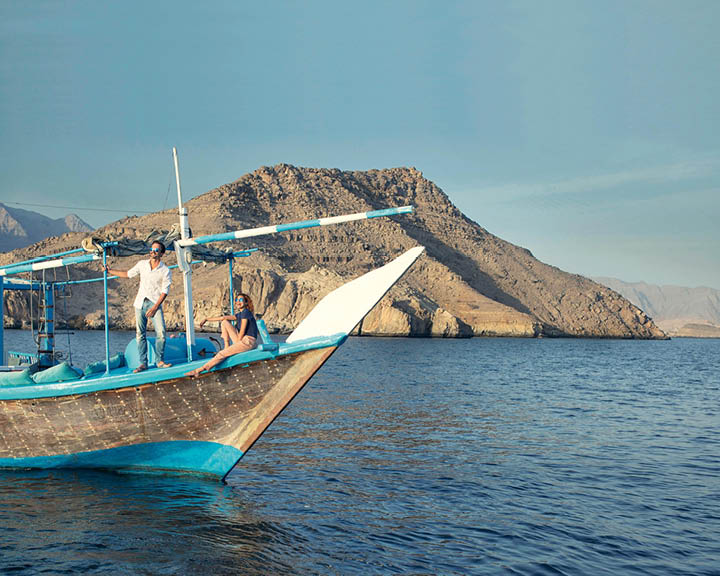 My home base on the peninsula is Khasab, the regional centre of the Musandam Governorate. Its name is inspired by the Arabic word for fertile soil—something that is in abundance here. Sleepy villages dot this area, and the town mainly serves as a base for adventures high up in the mountains and deep in the waters. The region's history can be explored at the Khasab Castle. Much of the present-day structure was rebuilt by Omanis on the remains of the 11th-century Portuguese-constructed castle. Its middle tower is a museum containing handicrafts, archaeological items, traditional clothes, ornaments, and furniture. The castle's courtyard displays beautiful boat models that are typical to the Musandam region. A stone's throw away is the only large supermarket of the region, providing an interesting juxtaposition of old and new. It actually stands out as an aberration in the vast rocky scenery. Further ahead, a few small shops make up Khasab's marketplace, and that's all the hustle and bustle that is allowed in this part of the world.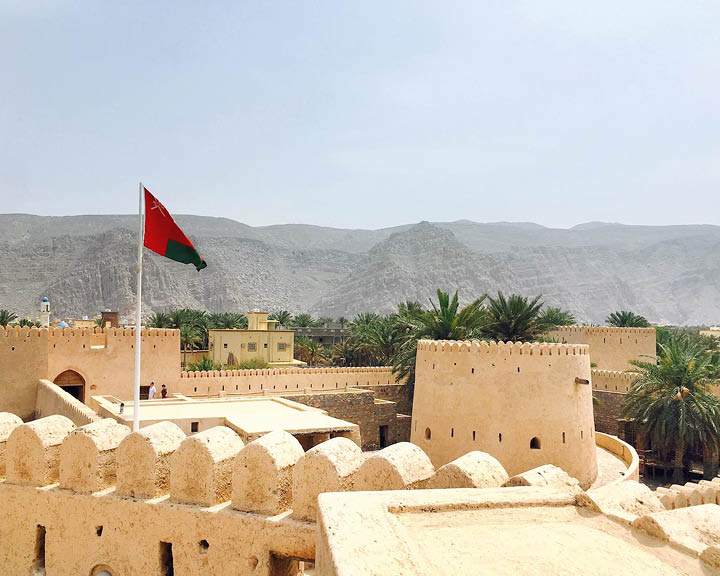 Another unique feature of this land is its collection of villages. Most of them are hidden in the rocky outcrops of the mountains, and it is quite impossible to drive by the region without noticing them. A good example is Qannah. Its stone houses are part of the cliffs. They were built in such a manner so as to serve as the villagers' first line of defence. The local way of life can also be sampled at Lima Village. Surrounded by fantastic rock formations overlooking the sea, it is known for the al jarz. A specimen of fine craftsmanship, it is an axe made with local wood (from the indigenous al majz tree) and stone. The al jarz is used exclusively by the men of Musandam for chopping tree wood, as a tool for climbing trees, as a walking stick, as a means of support for jumping over stones, and of course, as a weapon. When it comes to the Strait of Hormuz, two lagoons stand out. The Khawr Najd, one of Musandam's largest lagoons, was once used by seafarers to wait out rough weather. This is also why its name is inspired by the Arabic term for help. I witness it reposing in all its natural glory from a fjord 420 metres above sea level. Before the culmination of my trip on this fantastical land, I revisit Khawr Sham, the lagoon where the dolphins had dropped by to accompany me. As I prepare to dive in for one last tryst with the tranquil water, I spot Telegraph Island in the distance. Also known as Jazirat al Maqlab, this islet was used in the 1860s as a telegraph-cable repeater station and was integral to quick communication between Britain and India, then a British colony. It is said that the remote outpost and its hot weather drove men mad. Today, as tourists seek out such lands for their untouched wealth of natural resources, I realise that the world remains largely the same. It is we who change.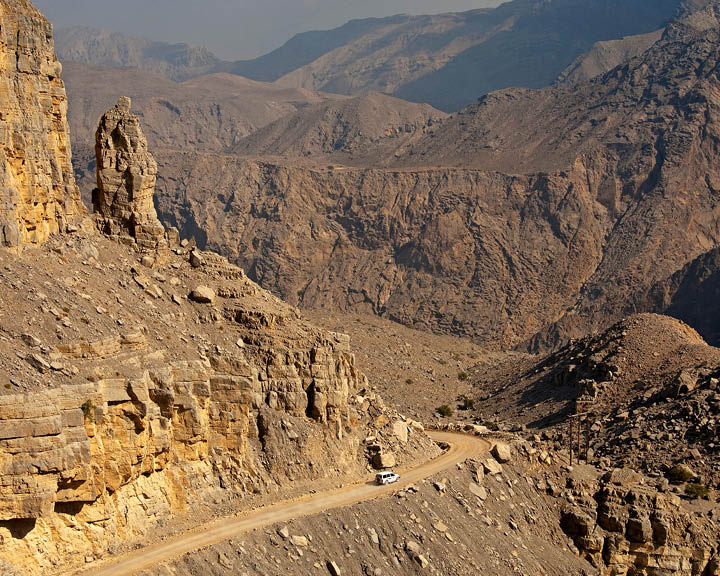 GETTING THERE
Oman Air connects Khasab with Muscat via daily flights. It takes a little over an hour to get there. Musandam can also be reached via road from Dubai (about 196 kilometres away).
STAY
Atana Musandam is a sprawling resort perfect for families. Designed as a traditional Omani village, it offers 110 spacious rooms with balconies and terraces, a pool overlooking the waterway where local fishermen go about their daily routine, and a charming restaurant. It is a five-minute walk from the Khasab Castle. From INR 12,000 per night.
DO
Overnight camping at Jebel Harim or Jabal Bil Ays is recommended in Musandam. A tour operator's permit isn't needed, however it helps to hire someone (contact Salim Al-Maawali; erc.salim@gmail.com) who can set up the tents, barbecue, and running water, and also arrange a four-wheel drive to get to the camping spot. Be prepared for mountain goats who come foraging for food in the dead of night!
Enjoy a scenic 27-kilometre drive from Khasab to Bukha that offers spectacular sea views on one side and mountainscapes on the other. The Al Harf village en route offers a peek at Iran.
The winds in Musandam are perfect for paragliding adventures. Sign up for one at Zighy Beach, from where you can enjoy views of the Hajar Mountains, fishing villages, and the Gulf of Oman. From INR8,600 per person.
Related: 20 Super-Luxe Experiences You'll Find Only in the Middle East