Perched on the sixth floor of the Leela Ambience Gurugram Hotel & Residences, Zanotta—an iconic Italian restaurant—has finally reopened its doors to offer patrons the choicest Italian flavours. We visit the fine-dining venue to sample an exquisite eight-course meal. Text and food photographs by Priyanka Chakrabarti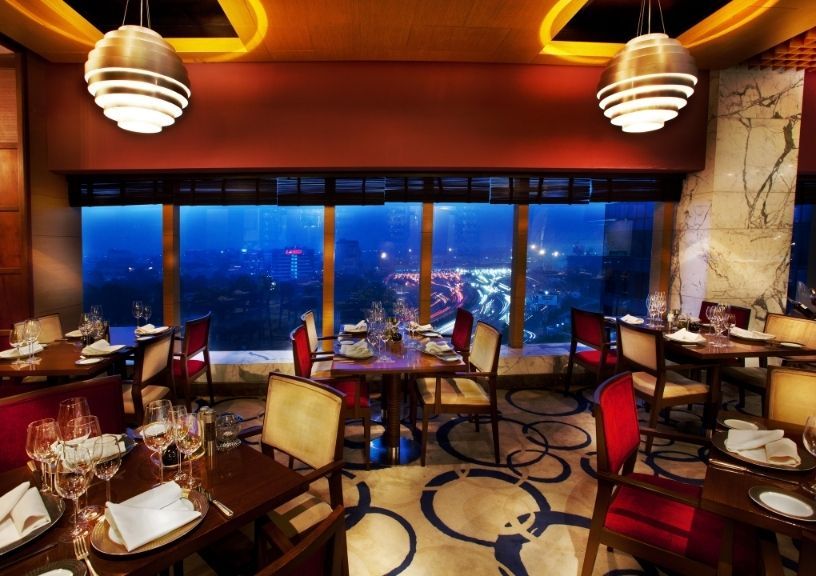 I am sitting at Zanotta next to a tall glass wall that offers splendid views of Gurugram's skyline. It's Tuesday evening and I can see a stream of incoming and outgoing traffic on the highway beaming countless speckles of red and white lights. I am told, this view is called 'Rubies and Pearls'.
Executive Sous Chef Abhishek Gupta greets me warmly with a glass of sparkling red wine and gives me a quick update on what my well-crafted eight-course Italian meal will look like. I learn that this menu is named after the longest river of Italy—River PO—which swirls through Turin, Cremona, Piacenza and Milan. This particular experiential table d'hôte features finest epicurean selections from regions like Puglia, Veneto, Lombardy, Province of Parma and Reggio Emilia.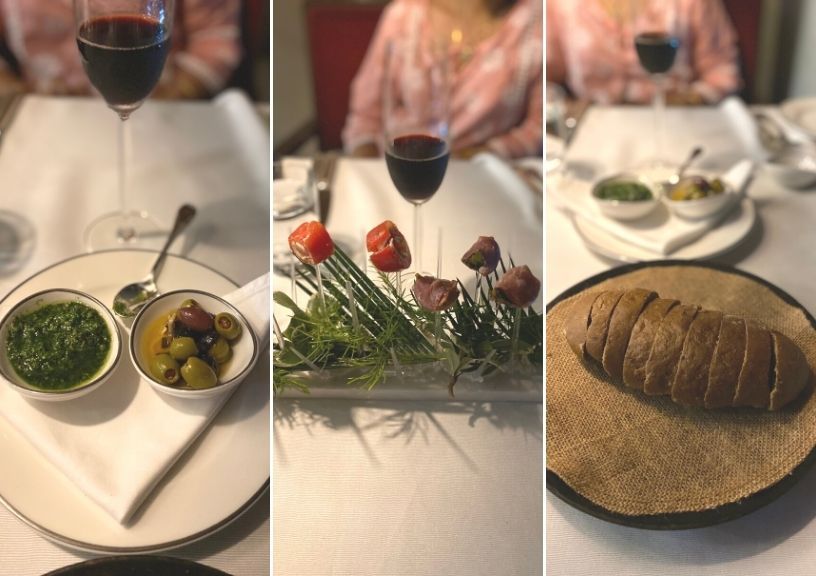 I start my feast with some dainty hors d'œuvres—caramelised fig and Parma on sticks, and some Caprese (mozzarella and tomato). The sparkling red wine pairs beautifully with these nibbles.
Next on my table is a humble portion of seven-days fermented sour bread made in-house along with some smooth and meaty textured Kalamata olives and a dollop of hand-pounded Genovese pesto. Every bite unfurls a series of classic flavours. As I polish off the piece of bread, I set my eyes on the open kitchen of the restaurant called 'Umbria' where I can see a team of chefs diligently crafting dishes from scratch.
Craving for something sweet, I get myself a Mandarin Delight—a delicious concoction of mandarin, mint and brown sugar topped with Red Bull. A few sips later, I find the Amuse Bouche on my table; served on a block of Himalayan salt to add a touch of Indian-ness to the Italian dish, the zucchini parcels with caramelized pumpkin bites stand out for me. I pop the tiny bites quickly so that it doesn't become overly salty.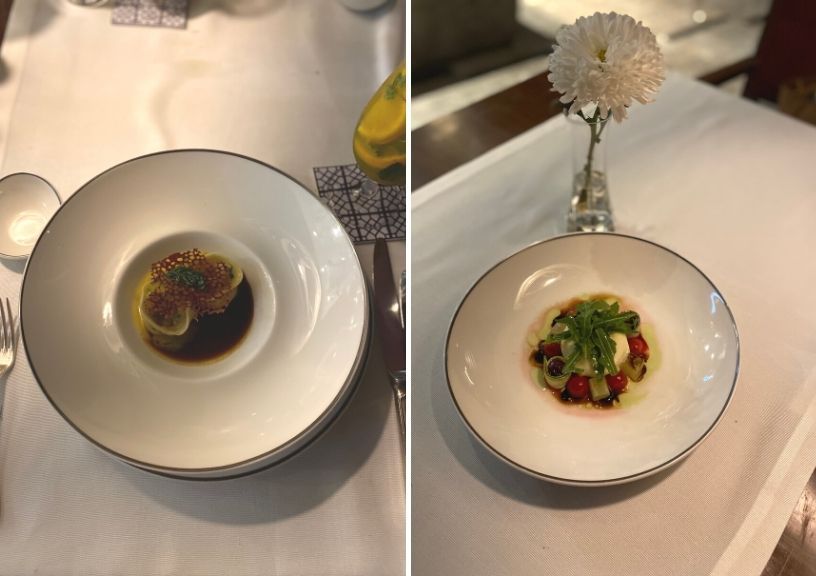 A few minutes later, I dig into a generous serving of Puglia Burrata—homemade burrata paired with pickled zucchini, beetroot puree, compressed melon and a dash of 12-hour concentrated tomato essence. The rich aroma of this antipasto juxtaposed with delicate flavours of the Italian cheese transport me to lands far away. I relish each bite mindfully, allowing all my senses to awaken.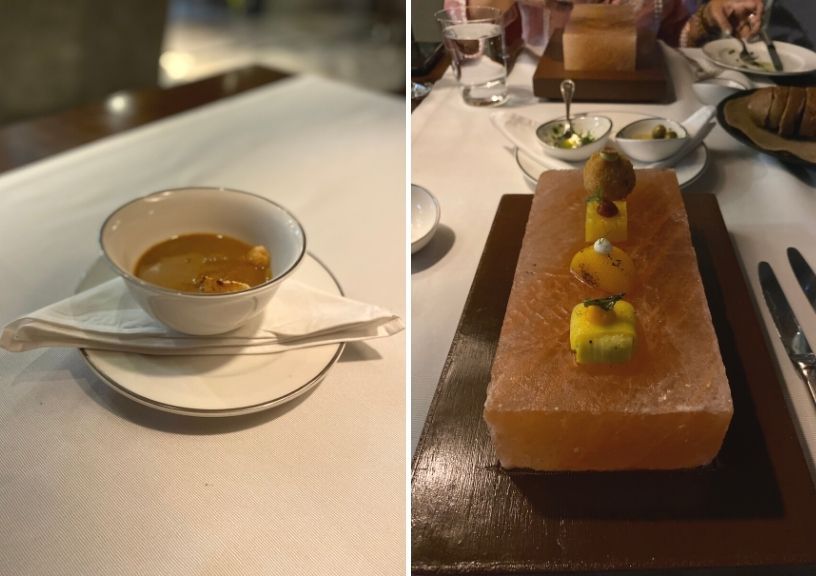 Now, it's time to indulge in some classic Zuppa; a thick-textured warm soup called the Italian Style Lobster Bisque is carefully poured into a bowl for me. I take a sip of this fragrant consommé and find a dollop of unsalted lobster butter floating on my palate. The strong flavours teased my sensitive palate and I couldn't help but wonder why did I never taste something so incredibly rich before. The soup hid a house-made shrimp cracker at the bottom, and it took me by a happy surprise.
A little while later, the chef comes out with a modest helping of Cacciatore Tortellini—hunter-style chicken tortellini doused in beetroot jelly and beetroot tuile and topped with a drizzle of chicken jus. The dish disappeared from my plate in two minutes!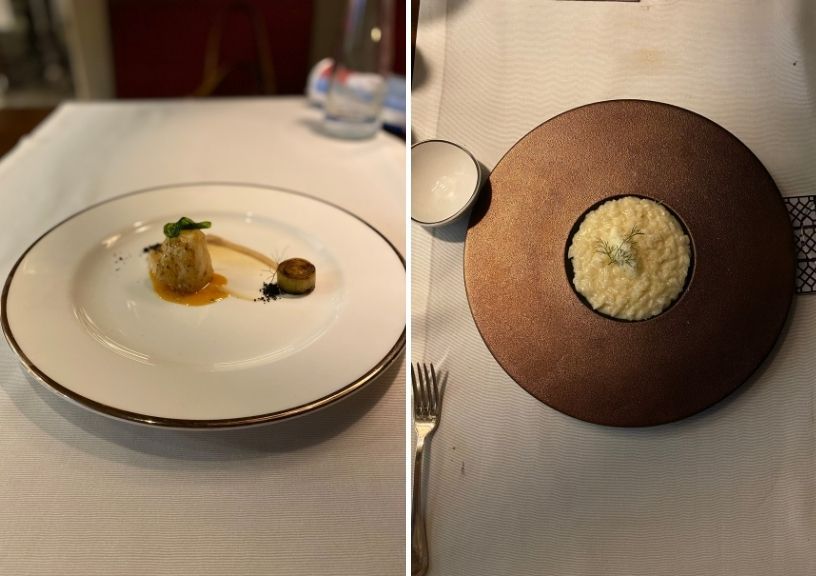 No Italian meal is complete without the Risotto; mine comes on a charcoal-black plate. Called Parmigiano – Reggiano Risotto, the soft Arborio rice cooked in parmesan cheese and parmesan mouse melted in my mouth, effortlessly. To make the dish even more appetising Chef Gupta adds a lavish amount of parmesan flakes on it. This dish put my mind to ease; I guess that's what happens when you indulge in soulful comfort food.
It's time for some palate cleanser now. I get a fresh celery sorbet that does its job efficiently. Now, for the main course, the chef whips up a flavoursome Chilean Seabass for me. The pan-seared fish comes on a bed of cauliflower puree and is paired with some pickled leeks and citrus hollandaise sauce. The full-bodied flavours feel like a soothing balm on my taste buds.
Last but not the least, I conclude my dinner with a classic chicken roast served on a bed of velvety-textured mash potatoes. What's not to love?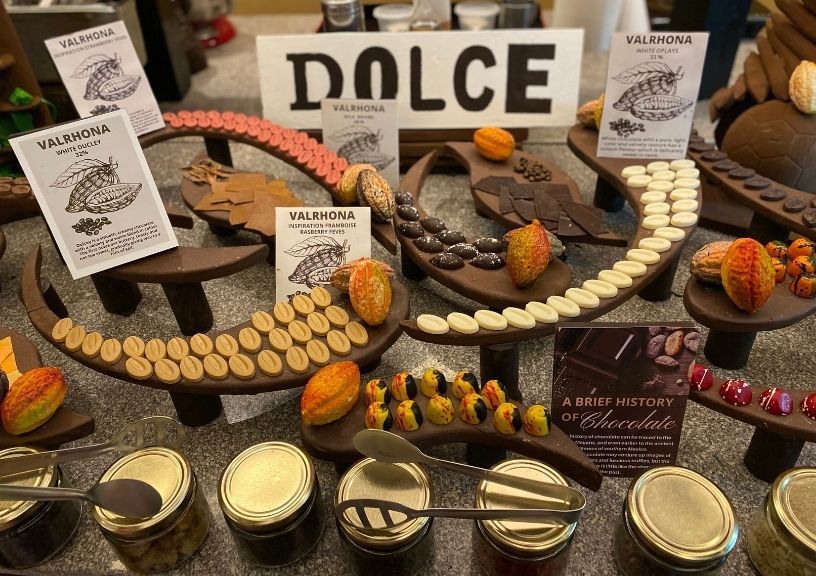 To end things on a sweeter note, Chef Gupta leads me to a room called Dolce Dome. He says, "You need to take a little walk with me for desserts." As intriguing as it can get, I enter a room that is housing countless Italian desserts. The aroma of cocoa and the sight of colourful goodies all around make me go weak in the knees. Now I truly know how Charlie felt at the Chocolate Factory! I pick a classic chilli infused chocolate gelato and an orange flavoured chocolate flake. Upon returning to my table, I find a tiramisu in a chocolate jacket waiting patiently for me.
It's 10:30 pm already; I have a full belly and a content heart, ready to hit the sack. But I bid goodbye only to return soon, and this time with my family who is infatuated with Italian food.
Venue: Zanotta, 6th floor, The Leela Ambience Gurugram Hotel & Residences
Time: Tuesday – Sunday (Monday is closed), 1900 – 2300 hours
Cost: The eight-course menu is priced at INR 3,999 plus taxes
Reservations are mandatory
Related: We Found 'Lucifer' At Diablo–Delhi's Hottest Restaurant!