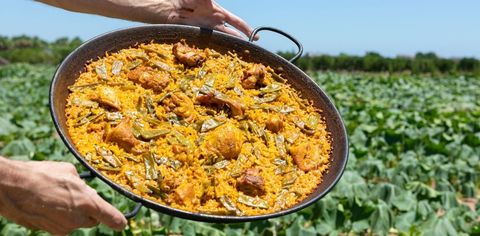 World Paella Day is no ordinary day for Spaniards, gourmands, or food lovers in general. We tell you all about this popular dish, the coveted day that celebrates this international delicacy, and how to savour a taste of Spain from home. By Anushka Goel & Bayar Jain The culinary offerings of Spain deserve a spot of their own in a traveller's itinerary. Home to flavours that dance between the spice of paprikas and the fresh herbaceousness of oregano, rosemary, and parsley—to name a few—paired with heady sangrias, it's only justified for the European nation to cement its position as a culinary must-visit. Of these many dishes, however, few recreate the same magic as the humble paella. Naturally, then, September 20 is celebrated as World Paella Day annually.
While internationally, Tourism Office of Spain (Turespaña), Spain collaborates with the country's Valencia region to celebrate the coveted day; in India, too, the celebrations march on. Tourism Office of Spain, Mumbai, in collaboration with Travel + Leisure India & South Asia, organised a friendly cook-off as part of the World Paella Day celebrations, where Chef Vivek Rana from Sevilla at The Claridges, New Delhi and food blogger Vernika Awal created two versions of the Spanish dish.
But first, what is paella? A rice-based dish, paella's story is just as humble as the dish itself. Once restricted to Spain's Valencia region, it is believed that the hearty meal originated as a farmer's dish in the countryside. "It was a lunchtime meal for farmers who would use the available ingredients in and around the Valencia province," explains Elisa Robles Fraga, Director, Tourism Office of Spain based in Mumbai, but with operations nationwide.
Literally translating to frying pan—in reference to the very kitchen utensil it is cooked in—the Paella Valenciana, the traditional variant of the dish, consists of bomba rice, a kind of short-grain rice; varieties of green beans like bajoqueta and tavella; vegetables like tomatoes and onions; and meats of rabbit, chicken, and duck. Rosemary branches and flavours of olive oil round the dish, while also adding to its freshness.
Today, paella has warmed its way across societal segments. As paella found admirers nationwide, and subsequently the world over, its traditional avatar metamorphosed to incorporate more alternatives. Peas, mussels, avocados, and even pineapples can find a spot in this homely dish today. "It evolved into a more sophisticated but still accessible dish, and now we can say that it is an international dish," says Alfonso Pérez-Hernández Egart, First Secretary, Cultural Affairs and Press, Embassy of Spain in New Delhi.
Where did paellas originate? "Valencia is a region in Spain where paella originated," explains Chef Rana. Located on the southeastern coast of Spain, the rice-based dish finds its roots in the rural paddy fields where it once doubled as a lunchtime meal for farmers. Being a region rich in rice, this choice of ingredient came naturally. Over the years, the dish elevated to becoming a food worthy enough for special occasions and festivities, eventually allowing it to transcend beyond the español borders. "Seafood to chicken, to even vegetarian varieties…the paellas [now] have something to offer to every food lover and has a distinct place in international gastronomy, " elaborates Robles Fraga.
What is World Paella Day? World Paella Day is a day dedicated to the heartwarming dish. Marked on September 20 annually, on this day Valencians not only celebrate the dish with the world but also pay homage to its internationality. Pérez-Hernández Egart elaborates, "It's a way to show the rich and diverse gastronomy of Spain, and a way to share this important dish."
Awal agrees. "I think it [World Paella Day] is a beautiful celebration of food. And food is not just about eating and cooking. Food is a lot about culture. Food becomes a symbol of tasting cultures. World Paella Day is a beautiful way of celebrating Spain and all that it offers."
World Paella Day celebrations ordinarily span a few days. "Apart from meeting your family and friends over a few drinks and a pan full of mouthwatering paella, they also organise many cooking workshops, festivals, and contests," notes Robles Fraga.
Entering into its third edition this time, World Paella Day 2021 also hopes to bring citizens from all around the world together through a plate of paella. "Spain is already on the path of recovery from the pandemic, and nearly 70 per cent of the population has already had two doses of the vaccines," assures Robles Fraga. She adds, "Many restaurants are welcoming local and foreign tourists so that they can enjoy paella and other lovely dishes, of course, only by following all safety regulations." Another such celebration of the humble dish is The World Paella Day Cup 2021. The coveted cup is an international competition where eight chefs defend their country with their paella versions, the finale of which will coincide with World Paella Day. After all, not even a global crisis can break Spanish spirits!
Although Spain has reopened for travellers from India—albeit subject to necessary precautions, the full details and protocols of which can be found on Spain Tourism's Travel Safe website—tasting a slice of Spain in India comes restriction-free. Cue Chef Rana and Awal who were gracious enough to share a page from their cookbooks during Tourism Office of Spain, Mumbai, and Travel + Leisure India & South Asia's collaborative paella cook-off at Sevilla, The Claridges, New Delhi. While Chef Rana's was the more traditional version with meat and seafood, Awal's was more experimental; she cooked a vegetarian version for Indian palates.
Traditional Spanish Paella
Recipe by Chef Vivek Rana from Sevilla at The Claridges, New Delhi
Ingredients:
45 grams bomba rice

30 grams shrimp

30 grams squid ring

20 grams string chorizo

40 grams chicken tikka

40 grams fish (river sole)

40 grams tomato puree

15 grams chopped tomato

15 grams cherry tomato

30 grams french beans (diced)

30 grams green peas

30 grams red and yellow bell peppers

30 millilitres saffron water

40 millilitres seafood stock

60 millilitres chicken stock

1 tablespoon extra virgin olive oil

40 millilitres olive oil

10 grams paprika powder

1 lemon, sliced into wedges

1 gram chopped parsley to garnish

Salt and pepper to taste
Method:
Peel and devein the shrimp.

Heat oil in a large paella pan. Add chorizo and chicken tikka, and cook for a few minutes.

Next, add chopped onion and garlic, and sauté for one-two minutes or till it softens.

Add paprika and saffron, and cook for 10 seconds.

Stir in tomatoes, beans, red and yellow bell peppers, and green peas. Cook for 30 seconds.

Add rice and stir well for 15 seconds.

Then, add your tomato puree and stir for 20 seconds.

Next, add both the stocks. Bring to a boil while stirring for 10 minutes or till the rice is al dente.

Add shrimp, squid rings and fish.

Transfer the pan to a Josper oven for 10 minutes or continue cooking on an open flame for 15 minutes.

Garnish with chopped parsley and lemon wedges. Serve hot.
Vegetarian Spanish Paella
Recipe by food blogger, Vernika Awal
Ingredients:
1 cup bomba rice or any short-grain rice

1 onion (chopped)

3 cloves of garlic (crushed or finely chopped)

1 red bell pepper (sliced lengthwise)

1 green bell pepper (sliced lengthwise)

1 yellow bell pepper (sliced lengthwise)

½ cup peas

½ cup button mushrooms (sliced)

½ cup french beans

½ cup zucchini

½ cup cherry tomatoes

1 tablespoon extra virgin olive oil

¼ teaspoon turmeric powder

½ cup homemade tomato puree

2½ cups vegetable stock

1 pinch saffron strands or syrup

1 teaspoon paprika powder

½ teaspoon dried thyme powder

5-6 black olives (pitted and cut in half) for garnish

Chopped parsley leaves for garnish

Lemon wedges to serve

Salt to taste
Method:
Heat olive oil in a paella dish or a flat cast iron pan.

Add dry thyme followed by button mushrooms. Cook till the water from the mushrooms dries out a little.

Next, add chopped french beans, zucchini, cherry tomatoes, and peas.

Add chopped parsley, salt, s

moked paprika powder, turmeric, and saffron syrup.

Next, add bomba rice and toast it for two minutes.

Mix in tomato puree.

Add vegetable stock along with the sliced peppers and cook on slow flame till the rice is cooked al dente and a crisp layer is formed on the bottom of the pan.

Garnish with cherry tomatoes, olives, fresh parsley and lemon wedges, and serve hot.
For more action on World Paella Day and the lovely European nation, follow Spain Tourism on Instagram, and Facebook. Follow Tourism Office of Spain, Mumbai on Facebook and Twitter.
Related: If You're Chasing Paella In Spain These Are The 4 Restaurants You Can't Afford To Miss!
Written By