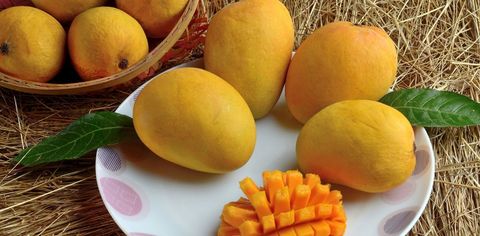 Are you a fan of mangoes like us? If yes then it's time to know more about your favourite Maharashtrian Mangoes–Alphonsos, Kesars, Rajapuris, and more. By Kumar Shree
Stories of Maharashtrian Mangoes
Did you know, Maharashtra is the largest mango-exporting state in India? It accounts for more than 80 per cent of India's total export. Mango is also one of the leading fruit crops in the state. With around 205 varieties of mangoes produced in the Western Ghats alone, Maharashtra is the only state to have a Geographical Indication (GI) tag for its Devgad Alphonso mango. In this article, we talk about stories behind some popular Maharashtrian Mangoes that can make you go weak in the knees with their gamut of delicate flavours and juicy textures.
View this post on Instagram
Mankurad
Produced extensively in Goa, you can find its orchards in Ratnagiri and Sindhudurg. Mankurad mangoes are yellow and oblong; they develop black spots upon ripening.
Malgova
The large and round-shaped Malgova mango retains its green colour with hints of red upon ripening. Found mainly in the North Konkan belt, Aurangabad, Parbhani, and Beed in Aurangabad district, they appear in the market towards the end of the season.
Kesar
A small to medium-sized fruit with a roundish shape and a curved tip, Kesar mangoes are named after Saffron because of their orange hue. They also happen to be one of the rarest kind of mangoes. Their harvesting occurs at the beginning of the season. You can mostly find Kesar mangoes in North Konkan region, Dhule, Jalgaon and Nandurbrar in Nasik district, Aurangabad district and Marathwada.
View this post on Instagram
Vanraj
Vanraj mangoes are known for their purple skin, brilliant yellow flesh, and sweet and sour flavour profile. Available in the middle of the season, they have good shelf lives. The North Konkan region and Nasik district have them in abundance.
Rajapuri
Rajapuri has an attractive amalgamation of spotless yellow, orange and red skin. Their strong floral aroma and sweet flavour make them one of the most popular table mangoes. Found mainly in Aurangabad district, they are also ideal for pickles and other forms of cooking.
Pairi
If you are a fan of aamras–one of Maharashtra's favourite dishes—you must know about Pairi mangoes. They are deliciously sweet with a mild undertone of tartness and firm pulp. Found in the South Konkan region, including Ratnagiri and Sindhudurg, Pairi mangoes are known for their unique flavour and fragrance.
View this post on Instagram
Alphonso–King of Mangoes
Alphonso, the king of mangoes, has different names in different regions. Badami, Gundu, Khader, Appas, Happus, and Kagdi Hapus are other names of Alphonso! Known for its rich, creamy, delicate, non-fibrous and juicy pulp, Alphonso mangoes have long been one of the most popular fruits in the world.
Alphonso was named after the Portuguese Viceroy, Alfonso de Albuquerque. Alphonso mangoes are exported all around the globe. Since Viceroy Alfonso de Albuquerque conquered Goa and laid the foundations of the Portuguese Empire in Asia in the 15th Century, Alphonso became a regular part of their meals. Thanks to their long shelf lives, Alphonsoes could also be sent back to Portugal and Europe, and it thus gained international popularity.
As per an official press release, Dr Mahesh Kulkarni, Assistant Professor at Udyan Vidya Mahavidyalay, a constituent college of Dr Babasaheb Sawant Kokan Krushi Vidyapith, said, "Mango was named aam because it was commonly found and is favourite of the rich as well as poor… Mango is probably the only fruit that is known by its specific breeds. Hence I request all consumers not to stick to one variety for a lifetime. Buy prudently and try all different varieties, as you may miss out on some interesting flavours."
View this post on Instagram
Editor's Note: Keeping the current situation of the pandemic in mind, T+L India recommends every reader to stay safe and take all government-regulated precautions in case of travel at this time is necessary. Please follow our stories on COVID-19 for all the latest travel guidelines.
Related: Nutritionist-Recommended Foods To Eat Pre- And Post-vaccination
Written By