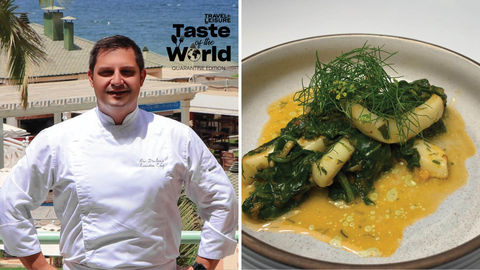 When stepping out of the cosy, and safe space of your home is not an option anymore, dreams of exploring the world brew up within you. Add in a drizzle of virtual travel and a splattering of gourmet food, and you've got what we call

#TNLTasteOfTheWorld.

Throughout the series, we'll be getting in touch with chefs from around the world to recreate their signature dishes for you to try at home. After all, who said one needs to leave the house to embark on a culinary trail?

Recipe by Chef Ilias Doulamis
With more than 18 years of experience, Chef Ilias Doulamis has now settled as Grand Hyatt Muscat's executive chef. Prior to spearheading the kitchen of this beachside resort in Muscat's Shatti al Qurum area, the Greek-born chef worked in various Michelin-starred restaurants including Paris' French restaurant, L'Astrance; Scandinavian restaurant Texture in the United Kingdom; and le Meurice Alain Ducasse – also a French restaurant in Paris. He comes equipped with a long illustrious career coupled with immense culinary knowledge garnered during his food adventures in seven different countries.
For this episode of #TnlTasteOfTheWorld, Chef Doulamis brings his Greek influence to the foreground and teaches us how to make soupies me spanaki – a typical Greek recipe from his hometown, Kalamata.
Ingredients
500 grams cuttlefish
30 grams white onion
30 grams spring onion
30 grams leek
80 grams fennel
300 grams of spinach
200 grams tomatoes
40 grams parsley
40 grams dill
1 lemon
2 bay leaves
Black pepper
Olive Oil
Salt
Recipe
In a pot, add some olive oil, chopped onion, chopped fennels, sliced leek, and chopped spring onion. Stir and cook for a few minutes.
Add the chopped cuttlefish and continue cooking.
Next, add black pepper, sea salt, bay leaves. Stir again.
Grate the tomatoes and add this to the pot. Stir.
Add some water, let it cook for half an hour with the pot's lid on.
Next, add spinach leaves and chopped parsley. Leave it for 10 minutes.
Transfer to a plate, and squeeze a lemon on it. Drizzle it with olive oil, grate some lemon zest and garnish with chopped herbs.
Related: #TnlTasteOfTheWorld With Chef Laurie Gear: Seabream With British Spring Vegetables, Crisp Garlic & A Fennel Salad
Written By