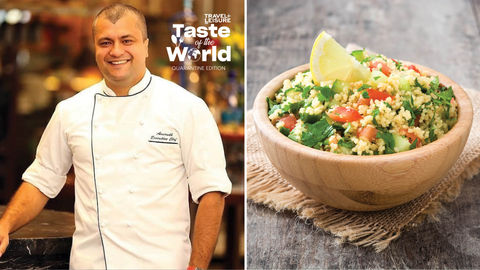 When stepping out of the cosy, and safe space of your home is not an option anymore, dreams of exploring the world brew up within you. Add in a drizzle of virtual travel and a splattering of gourmet food, and you've got what we call

#TnlTasteOfTheWorld.

Throughout the series, we'll be getting in touch with chefs from around the world to recreate their signature dishes for you to try at home. After all, who said one needs to leave the house to embark on a culinary trail?

Recipe by Chef Anurudh Khanna
Multi-property Executive Chef Anurudh Khanna loves Asian flavours and enjoys bringing it to the table at both, The Westin Gurgaon, and The Westin Sohna Resort & Spa. Coming with more than two-decades worth of experience, this illustrious chef brings innovation to his kitchens. Constantly on the strive to adapt to the ever-changing culinary landscapes, Chef Khanna enjoying celebrating flavours, particularly those of Asian origin.
For this episode of #TnlTasteOfTheWorld, Chef Khanna brings an amalgamation of two flavours: Asian and Lebanese, and teaches you how to make a vegetarian variation of the Tabbouleh.
Ingredients
For the salad
Broken wheat (dalia)
Broccoli
Cucumber
Red Onions
Green Capsicum
Green Peas
Carrots
Apple Cider Vinegar
Extra Virgin Olive Oil
Sugar
Water
For the dressing

Soya Sauce
Honey
Salt
Lime
For the pesto

Basil
Parsley
Coriander
Green Chillies
Garlic
Walnut
Preparation
Soak the broken wheat in water for half an hour.
Roughly chop broccoli, cucumbers, carrots, and green capsicum.
Slice the red onions.
Recipe
To pickle the vegetables
In a wok, add water, vinegar, salt, and sugar.
Once it starts to boil, add the carrots and cucumbers and cook.
Next, add capsicum and red onions. Cook till it becomes tender.
Next, add broccoli and toss together.
For the salad
In a wok, steam the pre-soaked broken wheat in water.
Strain the broken wheat and let it cool.
Add extra virgin olive oil and mix.
For the dressing
Add lime juice, honey, soya sauce, salt and blend well.
For the pesto
Blend basil, coriander, parsley, green chillies, garlic, and walnuts till it forms a thick paste.
Assembling and Plating
In a bowl, mix the broken wheat with the pickled vegetables.
Next, add the pesto and mix it well.
Chop basil and parsley and toss it well.
Add the dressing and mix.
Garnish with basil leaves.
Related: #TnlTasteOfTheWorld With Chef Imad Boukly Hasan – Learn How To Make A Middle-Eastern Mango Mahalabia
Written By