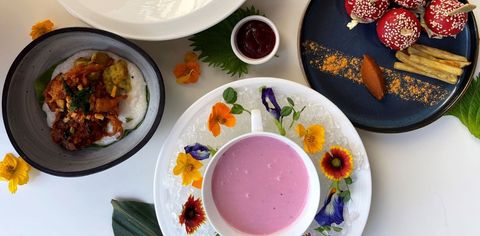 Taking a plunge towards sustainability, The Oberoi, Gurgaon has launched a brand-new plant-based menu. Crafted with responsibly sourced produce, the dishes are so delicious that you'll keep coming back for more. We stop by for a quick tasting. By Bayar Jain
My previous encounters with vegan foods have largely been stripped of taste; often, with health taking centre-stage, instead. I find myself at threesixtyone° at The Oberoi, Gurgaon to try my luck at the sustainable dietary preference and sample their plant-based menu. "We are noticing more and more guests opting for vegan options, not only for their health benefits but [also] as a sense of responsibility towards the planet," explains Chef Manish Sharma, The Oberoi, Gurgaon's Executive Chef. A quick look around the dining space justifies this. While families are devouring various cuisines like Japanese, Chinese, Italian and Indian; others are eyeing the plant-based menu—like me.
My meal begins with sol kadhi—a pastel pink cold soup hugged by ice shavings and edible flowers. A speciality of the Konkan region, this coconut-based dish leaves behind a cooling sensation—an ideal starter to cleanse the palate and pave the way for other flavours to enthral. As I tilt the bowl to scoop another spoon, my soul smiles. There's something naturally appetising about starting a meal on a light note. Next, a warm teapot graces the table, courtesy the king mushroom confit. The brown wild mushroom tea comes paired with bean sprouts, instantly establishing the dish's plant-based origins. The mushroom itself—which isn't too overpowering, just the way I like it—sings Earthy notes. When devoured with the soft crunch of the sprouts and strands of noodles, it feels like an ode to the green planet itself.
A shiitake mushroom and truffle sushi follows next. For purists, vegans—or even vegetarians, for that matter—sushi is sacrilegious. This dish, however, quashes those arguments. The sesame encrusted casing and sticky rice marry well with the avocado bits and edamame. The sesame-miso cream wraps the whole thing beautifully. Completing the small plates offerings for the night is Peruvian asparagus—boiled stems of asparagus sitting on pistachio and almond milk yoghurt accentuated further with edible flowers. While the asparagus itself has a soft crunch, the creamy green paste on which it sits shines. If given a choice, I'd order the cream as a standalone dish—it's that delicious!
The first dish from the large plates section for tonight's culinary adventure is a mock meat pecking duck. A log of fried silken tofu emulates the meat delicacy that comes wrapped in a crêpe-like pastry. Juliennes of enoki mushroom, spring onion and cucumber bring a playful touch to the plate, while also adding to its juiciness. "When in India, you cannot not have chaat!" says Chef Sharma as he places a big bento box of assorted street snacks on the table. The signature threesixtyone° chaat box comes nicely compartmentalised with a mix of spiced gun powder-tossed mini idlis, experimental puchkas with creamy avocado mousse, crunchy Jodhpuri bhindi and lotus stem, Bengali-style pomelo chaat, and sweet potato with rock salt and lime. My eyes pop at seeing the star fruit on sweet potato chaat, my mouth however has picked its winner—the pomelo chaat. The tanginess of the pomelo doused in mustard oil leaves me inspired, while its refreshing aftertaste compels me to go for seconds, and thirds, and more!
The desserts, however, clinch the top-spot—as is often the case with me. Not one for dry fruit granolas, the coconut yoghurt of the first dessert leaves a cooling after-effect—almost sweeping my palate clean again. The bitter chocolate and almond milk mousse is as indulgent as can be. My favourite, however, is the thapthim krop—pink water chestnuts, shaved ice and sweet coconut milk. The bite of the chestnuts add a lovely texture to the creamy milk base, while ice gives it a lovely chill. If every plant-based menu ends on a fresh note such as this one, I'll willingly ditch my vegetarian lifestyle for good!
Where: The Oberoi, Gurgaon, 443, Udyog Vihar, Phase V, Gurgaon
Timings: assisted buffet breakfast: 7:00 am to 10:30 am (a la carte until 11.00 am); lunch: 12:30 pm to 3:00 pm; Sunday brunch: 12:30 pm to 3:30 pm; high tea: 3:30 pm to 6:30 pm; dinner: 7:00 pm to 11:00 pm
Bookings: +91 12 42451234
Price: starting at INR 575 (exclusive of taxes)
Related: Evoke Childhood Nostalgia With Punjab Grill's Ongoing Special Menu, 'Nani Ke Nuskhe'
Written By