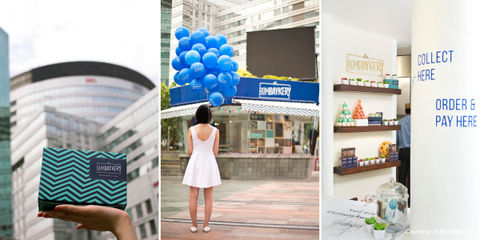 The story of The Bombaykery began much before it set up a store at Cyber Hub last month. Sometime last year, Zomato app users in Gurgaon were ranking a certain cookie home delivery service with five stars. It would soon be found that a warm-hearted baker was making warmer cookies to cleanse people's palettes of commercial cookie brands. Apeksha Bhateja, a patron from the early days, fondly recalls her discovery.
It has been more than a year since I discovered The Bombaykery on Zomato. I had polished off the box of Homie Cookies that I got from Hong Kong (an absolute delight for a cookie monster) and The Bombaykery's almost perfect rating (4.9) started me on the chase. Set up in a house in DLF Phase 4, the cloud bakery and popup run by baker Mitali Sahani and her partners Manhar Sabharwal and Karan Sahani had no frills, but she brought me warm, fresh out of the oven Nutella Seasalt Cookies (her signature) and I went back for seconds and thirds, despite horrible roads in monsoons. Her pop ups at Delhi's food festivals saw success all through last year and recently, the cloud bakery found a home: the flagship store in the centre in Cyber Hub. The peppy décor inspires a happy feeling, like someone should feel in a cookie shop. "The brand is bold and fun. Our design is abstract and attractive," Mitali Sahani says. Her menu has bite-size desserts and savouries that blend French and American baking techniques.
The flavours are nostalgic for the partners; their memories of home. "The brand is an ode to the city and the menu has influences of its local flavours, from Kala Khatta to Parsi-style Chicken Patties," she tells me. So what should you have there? The cookies are a winner, I would recommend them to everyone with a sweet tooth. The red velvet cupcakes and dark chocolate cupcakes, chocolate bars, and Opera Cake are memorable too. They introduce seasonal flavours like Mango Cakes. If you're a fan of the classic banoffee pie, try their version in a jar. Their savouries such as quiche and vada pao didn't excite me, though.
Cyber Hub already had Theobroma, Choko La, and Angel In My Kitchen, so the competition is heating up. As much as I love the Rainbow Cake at Angel In My Kitchen and the Millionaire's Brownie at Theobroma, The Bombaykery is a discovery that I most proud of.
But next time you visit, try them all and tell us how they compare.
Written By