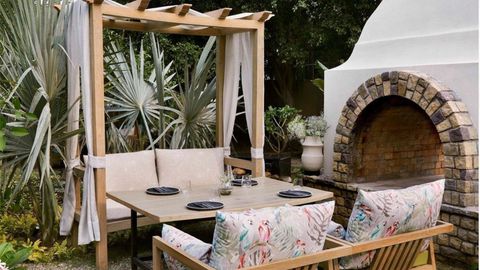 When one talks about Amritsar, it's not just the Golden Temple that instantly flashes before the eyes but also its food, which is passionately celebrated, wherever you are or wherever you go in this holy city. Menus of Indian restaurants in almost every part of the planet ardently take advantage of its fame by labelling many foods and drinks as Amritsari, from lassi and kulcha to fish and chicken and even many traditional desserts.
"Besides my visits to the community kitchen at Golden Temple, where my grandmother and I often volunteered, the rich food scene of Amritsar did play a role in boosting my culinary-loving spirit," says the famous son of Amritsar, Chef Vikas Khanna, who moved to New York City some years ago. "I may be based in New York now, but I always miss the food of my hometown."
Amritsar-born comedian Sudesh Lehri, whose work took him to Mumbai, says, "Whenever my family and I have to come to Amritsar, we come with a list of eating places we want to visit. Our favourite is the kulcha." If local chefs are to be believed, other than the passion behind the food, most of them also give huge credit to Amritsar's water, labelling it 'sweet', which adds a flavour of its own. Many also talk about the spiritual connection.
While Amritsar is keeping its many traditional food items alive, over the last few years, a battery of new concepts has also brewed. Here, we have a quick guide, ensuring you don't miss out on some of the best food experiences, and of course, we have also gone beyond the usual recommendations.
These places to eat should be on every food lover's Amritsar itinerary
One of t

he best place

s

for Kulcha:

Pehalwan

Kulcha Kulcha, a flat spicy bread filled with mashed potatoes and made in a tandoor (clay oven), is truly a cynosure of the Amritsar food scene. No wonder the staff at the hotel concierge desks are quizzed daily about the yummiest kulcha places. Pehalwan Kulcha on Lakshmanser Road near Chatiwind Gate is one of them. Entering this place — a large room that can seat about 20–25 customers — the busy tandoor welcomes, which crafts many varieties, from the most ordered 'Mixed filling Kulcha' to its just about three-year-old creation, 'Pizza Kulcha'. "Its base is heavy and is baked just like other kulchas but as it comes out of the oven, we sprinkle cheese on it, which stands topped with many veggies, including corn," says Harish Kumar, Pehalwan's owner. This place, which opened in 1953, has often appeared in several international travel shows, and as its name suggests, it was the creation of a wrestler who had migrated from Lahore after the Partition. If you plan on trying their pizza kulcha, it will come sliced into four pieces and served with their secret sauce. Many order it after the regular kulcha for a cheesy end. Whatever kulcha you may order, it will be served on butter paper along with curry of chole (chickpea) and salad chutney, which comes in small bowls made of dry leaves along with a wooden spoon. The tables are large. So, expect to join other customers from different parts of the country and beyond. The walls carry vintage pictures of the owner's father from his wrestling days. The staff is attentive and friendly, and they always begin the process of taking the order by asking, 'Would you like it spicy or not so spicy?' No tea is served, but soft drinks are available.
Cost for two: INR 250
Timings: 8 am -1:45 pm
The most popular

tea room

: Giani Tea Stall It has to be a place called 'Giani Tea Stall' on Cooper Road, just before you take the Bhandari Bridge, where, besides its delicious tea, kachories, samosas, gulab jamuns, paneer pakoras, warm butter buns, and the all-day breakfast meal of 'bread omelette' loaded with assorted veggies, delight infinite tongues. It's also a favourite of morning walkers.
They not only keep the tiny room with six large tables occupied but also the pavement, where they are seen sitting on stools every single day with tea glasses in hand. "Their menu may be limited, but whatever they serve carries quality. For me, their kachories stand out, which is a beautiful combo with their tea, but they run out by 1 pm, sometimes even before that," shares Amritsar-based food blogger and chef Jagjeet Singh. Interestingly, this tea room is also a must-stop for many celebrities, as its walls are dotted with their pictures, from Bollywood stars such as Ranbir Kapoor and Rani Mukherjee to politicians such as Navjot Sidhu and Arun Jaitley. "We opened our doors 18 years before the partition in Lahore's Anarkali bazaar, and after the partition, we moved here. It received the same love also in Lahore," its elderly owner, Giani Gurmeet Singh, tells us.
Cost for two: INR 200
Timings: 5 am – 8 pm
Favourite

fine dining restaurant since the British era: Crystal Located on Queens Road, it has held its reputation since its opening in 1935, when it started as an open-air restaurant, as per Surinder Kochar, an author and historian from the city. "It was the first restaurant where Indians were also allowed to visit during colonial rule. As it dished out many European delicacies, it was also frequented by the British folks, including officers," Kochar informs.
Even today, it continues to exude the vintage European charm that one can feel with the first step in. Thanks to the furniture, the art pieces on the walls, the Victorian-style decorated ceiling, the smartly dressed servers in black and white, and of course, light English music in the background. The à la carte menu includes Chinese and Indian cuisine as well.
Crystal is also known for its softy ice cream which is served outside. "We were first in the region to install a softy ice cream machine. It was imported from Italy in 1960 and ever since it has been an instant hit," informs Crystal's owner Ankul Khanna. Despite many flavours, Vanilla tastes the best!
Cost for two: INR 1500
Timings: 11 am -11:30 pm
The newest restaurant with a vintage setting: Rang Punjab Housed in Town Hall, a British-era building on Heritage Street near the Golden Temple, it celebrated its first anniversary just a few months ago and labels itself as a vegetarian 'dhaba'. Therefore, expect authentic Punjabi meals, including special 'thalis'. The restaurant, for many of its dishes, claims to practice slow cooking using wood and cow dung cakes for fuel, and it does show up in the taste.
"For the slow cooking effect, do try our mix dal, which includes a mixture of five different lentils. It is made in an earthen vessel. Aloo Wari is another speciality," says Sahil Bhatnagar, the restaurant manager, who commenced his career at the iconic Taj Mahal Hotel in Mumbai as a management trainee.
If you order their lassi platter, you can taste six different kinds of lassi. The local lassi shops are the inspiration behind some of these. While others, such as the mango-berry and caramel flavours, are their own creations. Rang Punjab has also taken advantage of the local sharbat bazaar of the walled city since it also serves many sharbat drinks. The dessert list is also long, but one of the most unique experiences is litchi rasamalai. There's also a small shopping corner inside, where one can buy many Amritsari foods such as papad, wadian, and even baked goods. Outside, there are many street food stalls put up by Rang Punjab.
The interior arrests one within a New York minute since it seems more than vintage. Old-fashioned fans from the old buildings of the capital also contribute richly. It has become the competitor of many old restaurants in Amritsar, including its two neighbours — Bharawan Da Dhaba and Brother's Dhaba.
Cost for two: INR 600 – INR 800
Timings: 12 pm -00: 00, Weekends: 8 am – 1:30 am
Book your stay at Welcomhotel by ITC Hotels, Raja Sansi, Amritsar via Booking.com
Book your stay at Welcomhotel by ITC Hotels, Raja Sansi, Amritsar via Agoda.com
Where the menu values health: Grain by Elgin As you step in, nature suddenly stands before you, as it's all wood and plants, which remain bathed in daylight and soothing vibes. The overall setting reminds you of Japan. It's a perfect escape within the bustling Ranjeet Avenue's D-Block market, which is on a high floor and also offers bird's-eye views.
The menu is versatile, kept alive by many of its globally travelled chefs, who have given a front seat to many healthy choices, from vegan and whole wheat pancakes for breakfast to an array of salads and steamed vegetable bowls. The breakfast menu (American is their speciality) is always on, and its Granola Berry Yoghurt is highly ordered. You can also get your coffee crafted with almond or oat milk.
"For quality, we source many of our menu ingredients from different parts of the globe, such as our salmon, which is sourced from Norway, and avocados from New Zealand," says Gyan Deo Singh, its executive chef, who has headed kitchens in the Middle East and the USA, as well.
The healthy choices continue while picking the dessert too, as the list includes sugar-free and vegan ice cream flavours and also their very popular vegan carrot cake. But if sugar or dairy is not a concern for you, go for its Lotus Biscoff cake, inspired by the globally famous Biscoff biscuits, which are commonly served on many flights too. The bar menu also offers many non-alcoholic choices that are inspired by nature.
Cost for two: INR 2,500
Timings: 12 pm – 11:30 pm; Sundays: 10:30 am onwards
One of the most popular breakfast places: Sohan Di Hatti If your travel mantra is to go where the locals go, the 60-year-old Sohan Di Hatti should be on your itinerary. From 9 am -1 pm, its customers sitting at its four tables are always busy ordering their 'puri chole', followed by a tall glass of lassi, which can also be ordered without sugar, with salt, jaggery powder, or simply plain. Located in Nimak Mandi Chowk, it also functions as a dairy and a traditional sweet shop. From 7 am to 2 pm, it also serves bowls of curd, asking customers, 'Do you want it with sugar or jaggery powder?'
"In the coming months, we will also open a bigger place to eat, which will be just above our ground level.  We will also make our menu grander and more creative," says Hardik Narang, one of the young co-owners who recently returned to manage Sohan Di Hatti after a long stint in the kitchens of five-star hotels in Delhi.
Cost for two: INR 200
Timings: 7 am -9 pm
Dine with a view at the Vue Bar and Grill A Courtyard by Marriott outlet (ninth floor), offering multi-cuisine with a full-service bar, it has both indoor and outdoor space with stunning panoramic views of Amritsar, including the two famous towers (Ramgarhia Bungas) and domes of the Golden Temple. Pair your alcoholic or non-alcoholic drinks with infinite starters, from Indian to Western choices, followed by a main course and dessert at a table with a view.
The most beguiling experience is during the moments of a sunset or just after it when the city begins to shine. If you smoke, an outdoor space with a pool can be your den. So, pick your table along the water. It is after 8 pm when it becomes extremely cheerful as a live DJ begins to play or local musicians come to perform.
Cost for two: INR 2,500
Timings: 12:30 pm -1 am
Book your stay at Courtyard by Marriott Amritsar via Booking.com
Book your stay at Courtyard Amritsar via Agoda.com
Where nature and food have the best meeting

:

The

Bagh Gourmet Garden and Bar Staying faithful to its name, which translates to the orchard in English, its guests often compare it with Bali or even Europe, which is built on a natural landscape, boasting an array of plants, trees, and a water body that snakes all around. Nestled within the Forest Resort on the Amritsar Bypass highway, it is spread across half an acre of land.
Here, it's also common to spot many having quiet time with books or painting, considering the peace this place presents. One can choose to dine indoors in any of its four Indonesian-styled huts or alfresco under the rich shade of trees. There are also spots that are away from the public eye, in case you are one of those who don't want to be seen. But even if you choose to sit inside, you will feel as if you are very much outside. Thanks to the floor-to-ceiling transparent glass walls. As you begin to dine at one of the wooden tables, ordering from its multi-cuisine menu, from Asian to Italian delicacies, you may get reminded of some renowned luxury hotels. Don't forget the pizza from its wood-fired oven and several other dishes, including the slow-cooked chicken, cooked on coal in an underground pit. One dessert that stands out here is Mexico's very famous milky 'Tres Leches' cake.
Cost for two: INR 1500
Timings: 12:30 pm to 00:00 am
For the essence of Punjab: Haveli The sprawling Haveli restaurant, more like a resort, should be on your radar. It opened just some years ago. Sitting along the GT Road in Jandiala Guru, the first thing that arrests you about it is its old architecture and the many sculptures of traditionally dressed Punjabi men and women, some of whom also indulge in Bhangra and Giddha dances. While one can dine outdoors, do plan to dine inside, as every nook is inundated with art pieces and many original things from the rural kitchens and farms of Punjab.
A real truck is also parked inside, and just as you step out, walk through the village street here, a living museum, which is lined with old homes, schools, and a post office. The sculptors have done a great job of introducing the characters inside, be it children in punishment mode in school or a couple seen listening to the radio at home. And it's not ticketed. Coming to its food, it offers vegetarian food, but other than Punjabi cuisine, Chinese and South Indian cuisine are also available. The menu is also loaded with many street food options, tons of appetisers, and traditional desserts. Their paneer dosa, idli-sambar, and paranthas fetch the most praise. They also have 'thali' choices. In the evening, puppet shows and local musicians make the air here very lively. Expect a long wait for a table during the weekends. They also have a smaller branch in the D-Block market in Ranjeet Avenue but its worth going to Jandiala Guru, which is about 25 minutes in a car from the city centre.
Cost for two: INR 500
Timings: 6 am -11:30 pm
Shop the best travel experiences here
The most talked-about restaurant in a luxury hotel: The Chinese Room
Part of the seven-year-old Taj Swarna, opposite Basant Avenue on the Outer Ring Road, it takes one on an authentic culinary journey to China. After all, its kitchen team was trained by a chef from Hong Kong, who was with them even before the restaurant officially opened and stayed for three long years. His connection with the current executive chef, Aspan Singh, continues, whose ideas keep finding prominent space in the menu, featuring choices beyond Sichuan and Cantonese.
The interiors reflect gold and wood, with a high ceiling carrying China-inspired lamp chandeliers, like many elegant restaurants in Beijing and Shanghai. Sitting at the table, it's fascinating to catch the chefs preparing the meals and readying the plates. "We are the only restaurant in Amritsar that serves Peking duck, and many locals since its opening have become our regular guests," says Singh, who has been with the Taj group for 16 years. It may be a Chinese place, but it has given equal importance to vegetarians. There are soups and appetisers like fried lotus stem, turnip cake, steamed shitake mushrooms, and main courses like steamed jasmine rice or noodles with tofu and vegetable curry. The servers pour complimentary jasmine tea into the traditional cup throughout the meal. For those who have a sweet tooth, apart from fried ice creams, do try their 'Sultana pancake', which comes filled with a fresh paste of dates and served warm with a scoop of vanilla on the side. There's also a private al fresco dining space. Food festivals are common as well.
Cost for two: INR 3,000
Timings: 7:30 pm -11:45 pm
The most unique café:

Mitti

Café It's a café where your soul will also be touched, considering the sole intention behind it is to empower the mentally challenged youngsters, who will take your order with the help of their manager and then serve you on their own. A year and a half old, it sits on the floor below the ground level of the Mall of Amritsar on GT Road. Agosh Holding Hands (AHH) manages the café, the walls of which feature these special adults' artwork and some of their pictures as well.
Seats about 10 guests, serves hot and cold beverages, and has a simple menu comprising sandwiches, pizzas, and pasta. A huge glass case holds assorted cakes and pastries, sourced from a local bakery."It is the first such café in Punjab. Every customer who walks in absolutely contributes to boosting their confidence. It means a lot to them and us. We will also train them in the kitchen too," shares Maninderjit Kaur, a social worker and manager of this café. Coffee and tea here are made in the same way as at home.
Cost for two: INR 500
Timings: 10 am -9:30 pm
Spiritual food experience other than Golden Temple's community kitchen: Gurudwara Toba Bhai Shalo Every Sunday and on religious days, this historic gurudwara built long ago in memory of Bhai Shalo, an ardent follower of Guru Ram Das, serves a special meal (langar) of 'chole/aloo-puri' along with 'dal', prepared by a large team of young and old volunteers (sewadars). The gurudwara is not far from the Lohgarh Gate, where langar is prepared the traditional way using cow dung cakes and wood for fuel and it tastes heavenly.
What makes it an interesting affair is that cow dung cakes are donated by the devotees, which they buy from the many shops outside. Those from rural areas get their share from their homes, and these cakes have to be dropped directly in the kitchen.
"Here, you always have locals, mostly from rural areas or from the walled city. It's absolutely a very local experience, which not many Amritsarians also know," says Pratibha Malhotra Panghal, a photographer and a retired teacher from Amritsar. There's also a small holy pond (Toba). Its water is used for bathing in the covered areas.
Post-bath (not obligatory), one proceeds towards the community kitchen, which is on the second floor, access to which is only through stairs. But if taking the stairs is arduous, volunteers will happily serve you langar on the ground floor too, where tea is served continuously. To make your experience richer, you can also volunteer with the locals in a range of services, from cleaning dishes to making dough for the puris, or lend your hand in the kitchen.
Book your stay at Taj Swarna, Amritsar via Booking.com
Book your stay at Taj Swarna via Agoda.com
Cost: Free
Timings: 7 am to 3 pm
(Hero and feature image credit: thebagh_/Instagram)
Related: These 9 Places Are Must Visits For Delectable Street Food In Amritsar
Frequently Asked Questions (FAQs)
– Are there any restaurants that serve Jain meals in Amritsar?
Most vegetarian restaurants across the city serve Jain meals upon request. But some also offer Jain meal thalis, such as Brother's Dhaba on Heritage Street, Haveli on Ranjeet Avenue, and Jandiala Guru.

– Where can one get the best fish and chicken in Amritsar?
Though the most famous addresses are Makhan and Bira on Majitha Road and Bubby on Cooper Road, try the open food courts, which won't disappoint. They open mainly in the evening hours until late at night. Some of these are located at Crystal Chowk, Ranjeet Avenue, Rani Ka Bagh, and Kabir Park.

– Which are the best lassi spots in Amritsar?
There are lassi shops all over Amritsar, but the walled city is inundated with them. Giani Punjabi Lassi in Regent Chowk is the oldest and has appeared on several international travel shows. Ahuja Lassi in Dhab Khatikan and Rani Ka Bagh is also quite popular, especially for its Kesar-flavoured lassi.
– What are some of the best budget-friendly eating places?
Apart from open food courts, try the canteens of Hindu temples, which are favourite of locals, not just because their menu is inexpensive but also because the quality of the food (Indian street food) is no less than that of many other famous restaurants. Their traditional sweets are also worth trying. There are many temples with canteens in both the walled city and the new city. These include the Durgiana Temple opposite Hathi Gate, Mata Ka Mandir in Model Town, Rani Ka Bagh, and Mandir Longewala on Heritage Street.
– Which are the most popular places for the best chaat, gol gappas, dahi bhalla, and aloo tikkis?If you ask locals, two names stand out for sure: Brijwasi and Rajasthani, which have branches in several parts of the city. Lawrence Road is also very popular for this and many other street foods.
– Which pocket of Amritsar has the most restaurants, cafes, and street food?
It's the posh and busy Ranjeet Avenue, which is divided into different blocks, identified alphabetically. They cater to different budgets.

– Are there good bakeries in Amritsar?
Yes, there are many but the oldest names are Popular on Queens Road and Bakewell on Cooper Road. They are also known for their quality. East Mohan Nagar's Gupta Bakery, which also has a branch on Majitha Road, is also a good bakery. There are also many old-fashioned bakeries since the partition time here in the walled city.
– Is there a plane restaurant in Amritsar?
There is one expected by the end of this year from a local family. Preparations to open it are in full swing, as a retired Air India plane arrived months ago at its location, near the Manawala Toll Tax Plaza. It will be a multi-cuisine restaurant and the first of its kind in Amritsar.
– Is there an interesting restaurant near the Wagha –Attari border?
Yes, just minutes before the border. It's called 'Sarhad', where dishes from Lahore and Amritsar meet, but it is temporarily closed. It is expected to reopen by the end of September.
– Are food chain restaurants near the Golden Temple fully vegetarian?
Yes, the list includes McDonald's, Domino's, and Subway, which are located on Heritage Street, just like other eating outlets on it. As per the local administration rule, no food outlet can serve non-vegetarian food on the street around the Golden Temple. This is to maintain religious sanctity. This applies to hotels on this street too.
– Can one volunteer in the community kitchen at Golden Temple?
Yes, anyone can volunteer, and there are no permissions required. In fact, serving thousands of devotees every hour happens because of a large number of volunteers. One can serve food or even extend a hand in washing the dishes, peeling vegetables, or making chapatis.
– Are there any provisions for those who cannot sit on the floor, especially the elderly, at the Golden Temple's community kitchen?
Yes, there are benches for them, and volunteers will be more than happy to assist. 
Written By