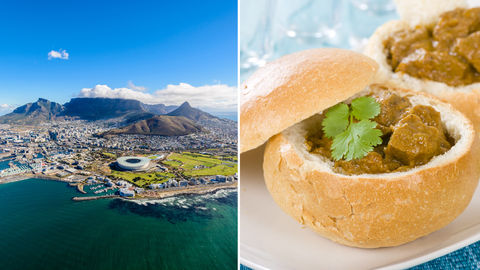 When in Cape Town, food trucks and vans are the way to go instead of Michelin-star restaurants. Why is that? Because the fusion of crazy culinary experiments takes shape in these vans which whip up a storm every day for the queues of people waiting for their bunny chow, healthy pizza, or Vietnamese rice paper rolls. You spell it, and the Cape Town culinary masterminds from the streets will deliver it for sure! By Shubhanjana Das
1. Bunny Chow
Let's start with what is absolutely unarguable, not to be missed when trying the street food delicacies in Cape Street. This local favourite is an absolute delight for every foodie because of its warmth and the flavoursome curry served in a hollowed-out piece of bread. Durban's Finest Curry seems like the apt place to grab yourself a filling portion of bunny chow in veg or non-veg options.
2. Rice Paper Rolls
Craving street food but on a diet? The Vietnamese came up with just the apt answer in form of rice rolls. Light and fresh yet reviving, these come in a variety of flavours and take some substantial effort to tear away from if you warm up to this Vietnamese street food delicacy. Veggies, tofu, prawn, and chicken are all on the list of available options and we are pretty sure you can't get enough of them. The place to find the best rice rolls in Cape Town is undoubtedly Lua Street Food at the Waterfront Food Market.
3. Betsie
Who's bêtise? Betsie is a wors-rol. Doesn't make sense? Well, wors-rol is a super soft white bread hot dog that is the creation of Die Wors-Rol exclusively. This massive 22 cm-long hot dog comes with a special pork sausage with the Bertus' family-recipe ketchup, thrice-fried fries and mustard sauce.
4. Ramen
How many times a week do you find yourself craving the culinary form of a warm hug that a big, steaming bowl of ramen is? If you ask us, we would fly to Cape Town every time to have the pork ramen from the streets to fulfil our yearnings. The ramen at Lotus Food Truck, one of the best for Asian food in all of Cape Town, is mind-bogglingly delectable. It is light yet bursting with flavours and is just the right kind of balance you would want in your ramen. If you find yourself at Lotus Food Truck, don't forget to give their satays, beef short rib, and other contemporary Asian dishes a try, which are worth being served in a five-star Asian restaurant.
5. Sweets and Baked Goods
We are firm believers of the fact that every great meal should end with an equally epic dessert. That's why we highly recommend scouring the streets of Cape Town for croissants fresh out of the oven or the good old school soft serve and basically everything that's sweet about life. Grab a bacon maple croissant at Jason Bakery in Bree Street or a vanilla soft serve at The Soft Serve. The rusks at Ouma Rusk are the best friends for your morning coffee while the freshly baked muffins at the Spar supermarkets are the perfect pick-me-up for those with an insatiable sweet tooth.
Related: The Mexican Grub Scene: Street Foods Of Mexico Worth Taking A Trip For!
Written By