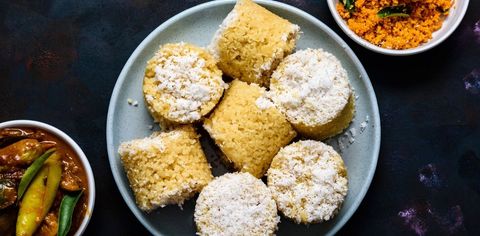 There's a lot that we love about our neighbouring island country. Our contributor tucks into its rich treasure trove of gastronomic delights, and discovers shared ingredients and unique recipes of Sri Lankan cuisine. By Veidehi Gite My journeys through Sri Lanka have birthed a culinary passion that is bound to last a lifetime. The island country has a rich repository of traditional dishes in which spices and textures come together in perfect harmony. Most of these recipes trickle down generations of family kitchens like heirlooms. During my travels across various Lankan provinces, I have sampled Arab, British, Dutch, Malay, Portuguese, and South Indian flavours tempered with a tropical touch. Be it a gourmet feast by the ocean or roadside snacks, the pearl of the Indian Ocean offers an excellent assortment of epicurean pleasures. Here are a few traditional dishes that you must try, in order to get a taste of Sri Lankan cuisine.
Kola Kanda: Eat like a Monk Ancient texts reveal that kola kanda dawned in the light of Buddhism. This creamy herbal congee is a traditional meal that is said to promote digestion and lower cholesterol levels. Hence, it's a preferred breakfast of Buddhist monks. In Sri Lanka, most families cook a comforting bowl of kola kanda to kickstart a healthy day. I chanced upon it during my stay at Jetwing Lake in Dambulla. This chic hotel with a spa overlooks a small, secluded lake with enormous peaks serving as the backdrop. It is a five-minute walk from Dambulla Royal Cave Temple and makes for a great base if you're planning to climb Sigiriya, the ancient rock fortress. Subtly introducing me to the yogic way of life, Jetwing Lake made me taste my first kola kanda, a warm bowl of rice cooked in coconut milk and fresh juices of medicinally prized greens. Executive Chef Nihal Senanayake threw light on how they use gotu kola, hatawariya, iramusu, karapincha, polpala, ranawara, and welpenela leaves in the dish. As the soup-like mixture has a peculiar tartness, I was given a helping of jaggery on the side to savour this charming element of Sri Lankan cuisine. If we are what we eat, then I might as well eat like a monk! STRING HOPPERS: ALL ROADS LEAD TO RICE Modern Sri Lanka has not relinquished its traditional recipes. Hence, rice has retained the spotlight. When you travel across the island nation, you spot hundreds of paddy fields. Ricebased dishes like dosa, pittu (rice flour and coconut cake), and kottu (diced roti stir-fried with scrambled egg, onions, chillies, and spices) are perennial favourites. But string hoppers, also called Idiyappam, trace their roots back to first-century Tamil literature. Today, this simple rice noodle preparation is relished in many parts of Southeast Asia. String hoppers are essentially steamed, ring-woven noodles customarily served with coconut milk, coconut chutney, date palm, jaggery, spicy sambol, bananas, or an egg/fish/meat curry or stew on the side. I ate string hoppers almost everywhere I travelled in Sri Lanka, but The Kingsbury Hotel in Colombo deserves a special shoutout; their hoppers were hot and fresh, and I had a variety of spicy curries to choose from!
Egg Hoppers: Bowls of Innovation Just when I thought I had mastered the art of eating string hoppers, Araliya Green City in Nuwara Eliya surprised me with egg hoppers. Set near the Seetha Amman Temple and Gregory Lake, the naturally landscaped Araliya Green City offers forest views while their chefs expertly craft refined Lankan dishes. I got the taste of my first egg hopper in its ground-floor restaurant, Fresh N Warm. These bowl-shaped rice and coconut crêpes have a soft-boiled egg in the centre. They were paired with sambol, crisp coconut meat, and caramelised onions splashed with Lankan spices. To eat egg hoppers like the Lankans do, either crush them into the sambol or layer up the poppadom-like crust with coconut meat before you dig in. Wash it all down with some piping hot filter coffee.
JACKFRUIT CURRY & NUGGETS: THE VEGAN FAVOURITES In recent times, jackfruit has taken the vegan world by storm. The Brits call it "the new kimchi, kale, and cauliflower all rolled into one." What has made this large tree-borne fruit from Asia so popular is its mild, starchy, meaty texture that makes it an efficient meat substitute. Although it's native to South India, jackfruit takes on different guises in Lankan cooking. From curries to nuggets, this exotic tropical fruit is consumed in many ways. Of all the jackfruit dishes I tasted across central and western Sri Lanka, the ones I enjoyed the most were at Raja Bojun in Colombo. Located in the Liberty Arcade shopping mall, Raja Bojun is an airy, high-ceilinged restaurant accoutred in ethnic tapestries, life-sized elephant murals, and traditional wood wagons. Amid a large buffet of authentic specialities from Sri Lankan cuisine, the jackfruit curry at Raja Bojun instantly wooed me with its aroma. Lankan chefs cook jackfruit chunks with coconut milk, lime juice, hot spices, and water until each piece of the fruit soaks up the spice extracts. The creamy curry is garnished with fried onions, and served with spicy veggies and boiled rice on the side. The fruit also makes an appearance in the appetisers. Jackfruit nuggets are firm yet moist, with a spongy consistency and mild flavour. At Raja Bojun, jackfruit nuggets are crisp, yet, beneath the crust, they retain the moist texture of the fruit. Try them with one of the spicy Lankan dips to experience the richness of this delightful offering from Sri Lankan cuisine.
Jaffna Crab Curry: Meat of the Matter Jaffna Crab Curry is a popular clay pot dish that portrays the best of Sri Lanka's culinary traditions. Kakuluwo, as the locals call it, originated in the northern province of Sri Lanka, where mud crabs wallow across the Pannai Causeway and Passaiyoor shorelines. But I chanced upon this rich recipe at Palmyrah in Colombo. The spicy punch of the red meaty crustaceans immersed in a thick, peppery curry blew me away. Here, I learnt that the residents of Jaffna simmer exotic seasonings in coconut milk, grated coconut, and lime juice to intensify the density and flavour of their signature curry. While I ate this famous dish with pittu and string hoppers, you should try it with flatbreads, kottu, thosai, or a mound of rice. On the side, taste porichcha meen pittu (fried fish pittu), beef poriyal (fried beef), and maalu ambulthiyal (sour fish curry). The staple course is usually appended with an arrangement of spicy vegetables and pickles. KANGKUNG: GO NUTS ON NUTRITION
Another interesting vegetarian dish I ate across the country was kangkung, made with a leafy vegetable rich in calcium, iron, and vitamins. Also known as morning glory or swamp cabbage, this tropical water spinach with tender shoots is one of the most traditional and healthy ingredients in Lankan kitchens. The humble leaves sprout quickly, are available year-round, and are consumed largely in the countryside. I sampled the most delicious kangkung preparation on my way to Dambulla from Kurunegala, when I stopped at the Tropical Village restaurant in the heart of the cultural triangle of Sri Lanka. Tropical Village is not just a restaurant, it is an experience. Cloaked in tranquillity, this palmfringed restaurant gives you a taste of Sri Lanka through its thatched-beach-hut food counters, traditional clay-pot arrangements, authentic cuisine, and warm hospitality. The tender kangkung leaves with their crunchy stems offer a whole new palate experience when they're cooked with kidney beans. Delivering a mildly sweet and nutty aftertaste, tempered kangkung is best enjoyed with steamed rice, flatbreads, or neer dosa.
Athirasa: A Sweet Finish Call it Athirasa in Sinhalese or adhirasam in Tamil, this sweet jaggery cake literally means 'extremely tasty'. Athirasa is a traditional, festive dessert made with a mixture of cardamom, roasted rice, coconut treacle, freshly powdered rice, jaggery syrup, and coconut oil. Across the island country, it's available as either round- or toffee-shaped cakes. On my first trip to Bentota, I sampled athirasa at Vivanta by Taj Bentota, where Executive Chef Neeraj Chaudhry had set up a table with several desserts in traditional clay pots. The kokis (deep-fried, crispy dessert made from rice flour and coconut milk) and kavum (deepfried oil cakes made from rice flour and kithul treacle) didn't catch my eye until later. Athirasa at Taj was a surprisingly fresh take on a complex, time-consuming recipe. Soaking, drying, grounding, and deep frying—a lot goes into the making of these cakes, which are intensely sweet with a crispy surface and spongy centre. Athirasa is indeed a fine element of Sri Lankan cuisine.
BUFFALO CURD WITH TREACLE: THE HEALTHY DESSERT Much like their counterparts in India, Sri Lankan desserts offer a medley of aromas and flavours by imbibing spices and organic sweeteners. Coconut milk, rice flour, and treacle are the staple ingredients that make the foundation for most Lankan desserts. If you have a sweet tooth but are conscious of your diet, don't curb your cravings. Instead, go for buffalo curd with kithul treacle. Also known as mee kiri, this dessert is ubiquitous in its homeland. To aid natural fermentation, buffalo curd is sealed and set aside overnight in kiri hatti, a baked clay pot that lends it natural flavour. In the small village of Ayagama, Samarakkody's presented me with a large portion of this healthy dessert with a handful of tropical fruits over lunch. I was on a tour of their cinnamon factory when they surprised me with a lavish home-cooked meal. We concluded our delightful chat with this calming dessert, which works wonders in the coastal humidity. Just bedew the creamy buffalo curd with palm treacle, add a dash of grated coconut, and dig in! Editor's Note: Keeping the current situation of the pandemic in mind, T+L India recommends every reader to stay safe, and take all government-regulated precautions in case travel at this time is absolutely necessary. Please follow our stories on COVID-19 a for all the latest travel guidelines.
Related: Sri Lanka Offers Free Visa-On-Arrival To 48 Countries Including India!
Written By