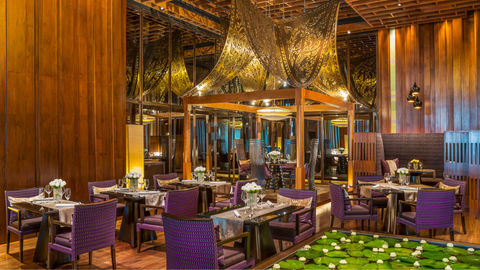 Sra Bua by Kiin Kiin serves modern Thai food like you've never had before. By Karishma Sakhrani In the street food capital of the world, you'd wonder if a fine dining restaurant can compete with hawkers that line the chaotic streets in supreme levels of organisation, each dishing up flavour bags by the second. Being a long committed fan of the intrinsic rustic nature and big, bold flavours of Thai food, I never imagined a Michelin starred restaurant like Sra Bua by Kiin Kiin would take my breath away. Not only was it a great meal, but it was also an incredible experience! And I'd recommend you put it high up on your list too! This Thai restaurant at Siam Kempinski Hotel Bangkok is famed for its creative dishes using molecular gastronomic techniques. The menu is innovative, wild and deeply engaging. It doesn't slip even once or compromise on flavour with its effort to enthral with tricks and treats. My four course lunch tasting menu began with a round of inventive nibbles and drinks in the lounge area of the restaurant. One of the courses included edible plastic bags stuffed with Thai spiced cashews. They were so enjoyable to eat that I mustered up courage to ask for seconds! Each round is entertaining and engaging; my favourite being the soy meringues that come in a magic box which first appears to be empty. But, with a little twist around, it reveals perfectly crafted savoury meringues hitting you with the right balance of sweet and salty. After the little magic show, we move over to our table and begin our tasting menu. Each bite of the courses made me relish my meal a little more. The first course began with an avocado and cucumber salad which is light, refreshing and innovative. They had me at avocado, but the yuzu vinaigrette poured over the fluffy cotton candy to dress the salad made it so much more theatrical and special. For seafood lovers, a plump piece of crispy seabass is also served on the side. Move over, red and green curry to make way for Sra Bua's yellow curry bowl! My bowl came complete with pickled cabbage, 'shrooms and crispy fried betel leaves. It was bursting with flavour and effortlessly impressed. For the mains, you can choose between a tofu dish or Wagyu beef. The tofu has some serious personality, thanks to the spicy sambal and the choicest market veggies. The beef, too, is slowly cooked to perfection and dished up with a made-from-scratch oyster sauce. At this point, I was probably be bursting, but thankfully, there's always a second stomach for dessert. The banana caramel dessert delighted in every way possible, and a double espresso helped keep me awake despite this state of food coma. And, of course, I didn't stop here. I'm easily coaxed into ordering the entire menu of petit four. They are so intensely conceptualised, carefully crafted and tantalise every sense of my being. Sra Bua by Kiin Kiin also has an eight course option, both of which are available for lunch and dinner. Go for the wine pairing alongside, and make it a little more special.
My experience at Sra Bua can be summed up as delicious, creative and playful – to say the least!
Related: Bangkok Street Food Joint Run By 70 Year Old Wins Michelin Star
Written By