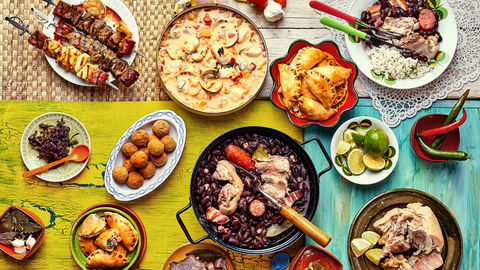 South American cuisine is varied and if done right, it's rather delicious. We've scouted the top restaurants that serve the best South American dishes in India. By Mahika Dhar
The Wildfire is a great place to hang out with family and friends and enjoy delectable food.The ambience is elegant and classy, and reminiscent of vintage luxe. For extra opulence, try to get a table next to the light waterfalls. Their expertise is in Brazilian cuisine with dishes such as Creme de Abóbora com Parmesão and sopa de couve flo. With an impressive selection of wines and cocktails, you'll never be bored!
Cost: Rs. 5,000 for two.
Boteco is described as a carnival of colours with cutting-edge Brazilian style of dining. The azure stained windows, teak tables, and the laid-back yet opulent experience is what this place is known for. You can't miss their mixed grill, and an array of delicately cooked red meat. And don't forget the Caipirinha, a Brazilian drink. They are also famous for their Doce de leite com churros, a classic Brazilian street food, but with an expensive twist. Come with an open mind and let your tastebuds run wild, it'll be worth it!
Cost: Rs. 1, 600 for two.
Nueva is a fine dining restaurant and bar with influences from Peru, Chile and Colombia. The first thing that catches your eye when you enter Nueva is their jaw-dropping ambience. With a wood finished floor, decorative crystal spheres and a minimalist approach to seating, Nueva is elegant luxury. Try ordering Tamalitos, a traditional dish of the Amazons or Nueva de la Casa, as recommended by the Chef. For dessert, ask for Arroza Con Leche, a decadent dish with its roots in ancient Bablyonian history.
Cost: Rs. 3,000 for two
4. Chama Gaucha, Hyderabad
The shining feature of Chama Gaucha is its large portion sizes, with customers saying that they were more than content with the portions that they received. For ultimate relaxation, choose the pool view. For your cocktail, ask for the Grande Bastardo, a delicious symphony of whisky and chocolate. For mains, get any of their sizzlers and finish off with a Brazilian Banana Cake.
Cost: Rs. 2,200 for two.
5. Cafe Colombia, Pune
Cafe Colombia is a cute joint that aims to bring classic Colombian flavours to India. Their ambience is stunning, with adorable fairy lights strung all along the outside seating and a cozy atmosphere inside. Definitely try the Patacon Pisao, Lomo De Carne Apanado, and the red wine Sangria.
Cost: Rs. 1,400 for two.
RELATED: Find Out If Your Favourite Restaurants Won An Award At Travel+Leisure India's Delicious Food Awards 2018
Written By