Sly Granny Along With Casarecce Are Whipping Up Artisanal Pasta Dishes. We Get An Exclusive Preview
Chef Utkarsh Bhalla of Sly Granny, Khan Market collaborated with Sambhavi Joshi of Casarecce (a homegrown pasta brand) to craft a very special, limited-edition menu, featuring seven different kinds of delectable pasta dishes. We dig right in for a soulful tasting session. Text and food photographs by Priyanka Chakrabarti Delhi's Sly Granny never ceases to delight food connoisseurs. Known for its multicultural culinary offerings and an array of free-flowing prohibition-era cocktails, this restaurant, perched on the first and second floor of an old building in one of the vibrant alleys of Khan Market, is now luring urban foodies with a delectable, limited-edition pasta menu.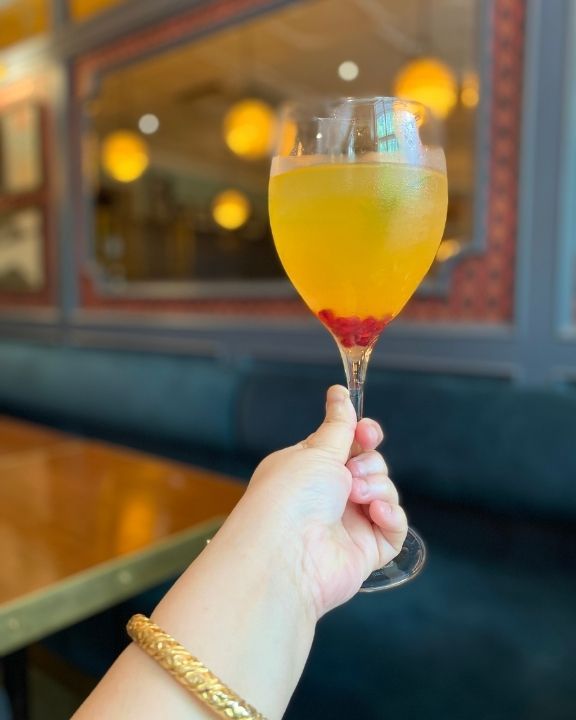 I reach Granny's on a sultry Saturday afternoon. Upon climbing a short flight of dimly lit stairs, I find my way to a cosy table for two right next to a huge glass window pane. I settle down and take a quick glance around me; tables are socially distanced, servers have their masks on, and every table has a sanitiser on it. Phew, my post-corona anxiety subsides and I slowly let the quirky space grow on me. Colourful Aztec printed wallpapers take centre stage here, while pop art, modern paintings and vintage posters stand out like precious accessories. I love the indigo furnishing that blends so well with shiny wooden tables. My corner table is awash with crisp sunlight—and I think, it's a perfect intimate ambience to have a heartfelt conversation over delectable food!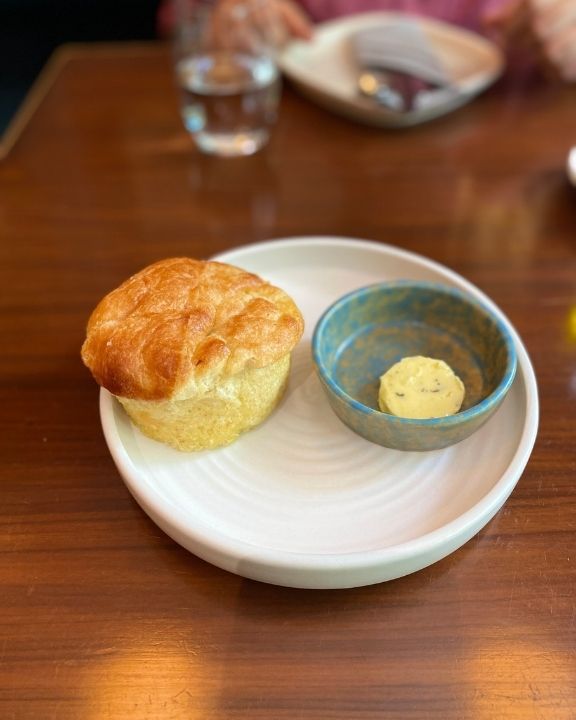 To begin the afternoon soiree, I first sample their house-made bread called Kubaneh. A traditional Yemenite bread, it comes complimentary at the beginning of all meals here. Served with flavoursome olive oil and a tiny dollop of herbed butter—this soft, warm bread sets the tone for the rest of my afternoon.
To add a soothing layer of summer-garden vibe to my lunch, I get myself a white wine sangria poured over a bed of pomegranate pearls. Every sip of this potion evokes a sense of Italian nostalgia.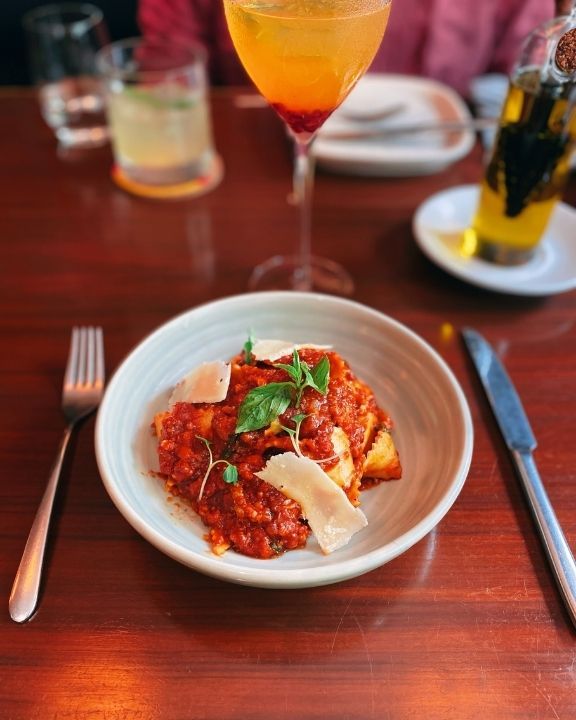 The first pasta dish I taste is called Saffron Pappardelle–a beautiful amalgamation of Lamb Ragu and Kalamata olives. The pasta is al dente, every bite unfurls a gamut of full-bodied flavours, and I love the right notes of spiciness on my palate.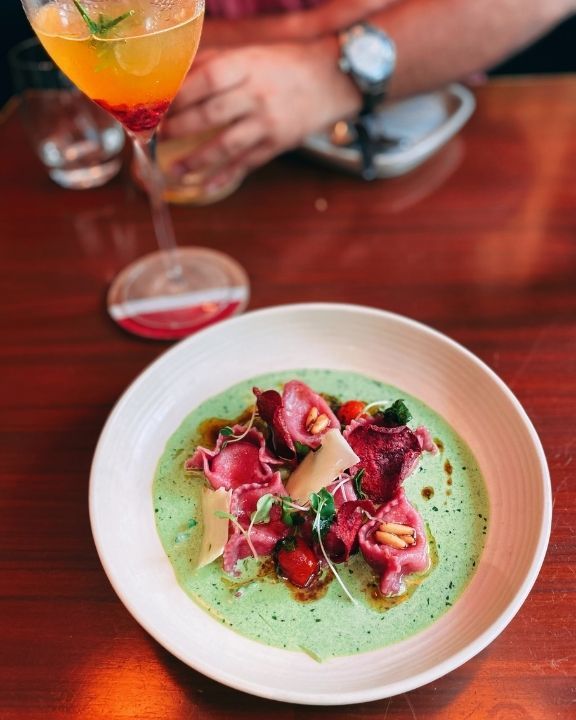 Next, I get a humble serving of Beetroot and Ricotta Agnolotti on my table. The dish is a visual spectacle—the crimson hues of beetroot fashionably colour-blocks with light green pesto sauce. I especially love the texture of the pesto—it's creamy, almost velvety. The topping of cherry tomatoes, pine nuts, beetroot chips and parmesan shavings makes this a dish that I'll come back to Granny's for!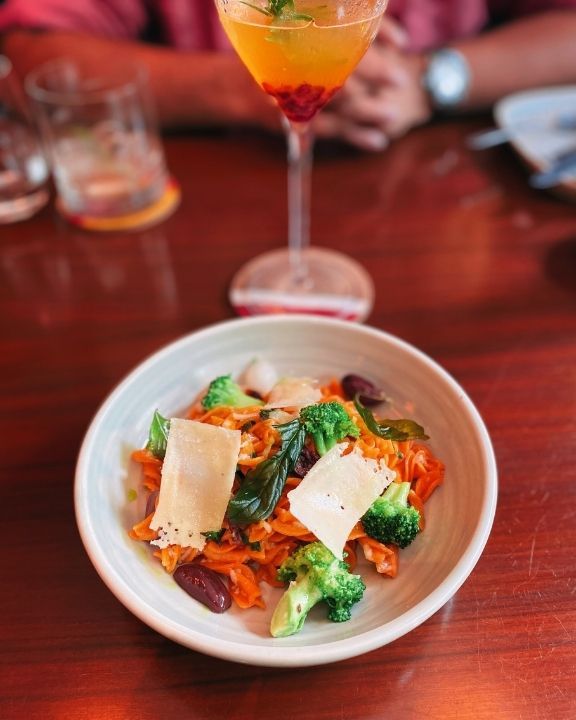 Then, I try some Sriracha Fusilli. Aglio e Olio tossed with grilled broccoli, Kalamata olives and crumbled goat cheese. What's not to love? Pair it with a classic Brixton Smash (vodka with elderflower syrup), and you can thank us later. I opted for a gin variation, instead, because why not!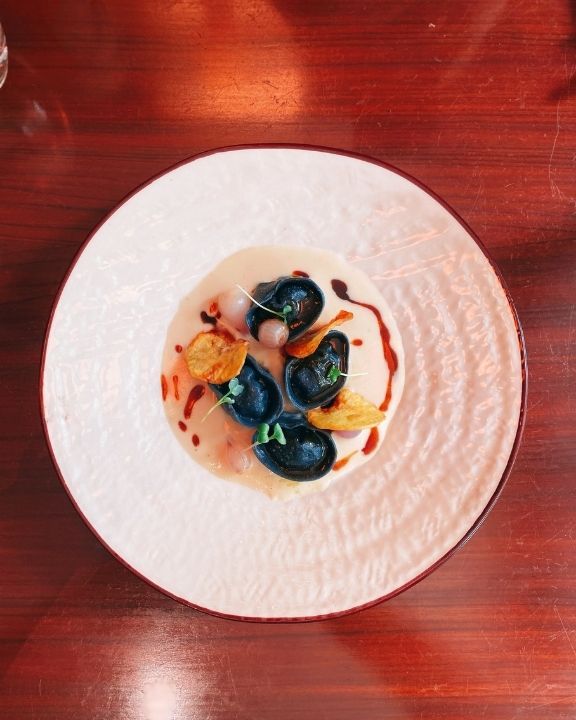 The last pasta dish is truly the showstopper of my lunch. Confit Duck and Charcoal Tortellini. Imagine Roasted cauliflower velouté paired with confit onion bulbs, sweet potato chips for that extra crunch and a drizzle of jus for some added zing—sounds mouth-watering, right? It truly is! The duck filling of the charcoal Tortellini was so flavoursome that I wish I could have savoured some more. But sigh! Full points to the chefs for this aesthetic looking monochromatic dish that tastes heavenly.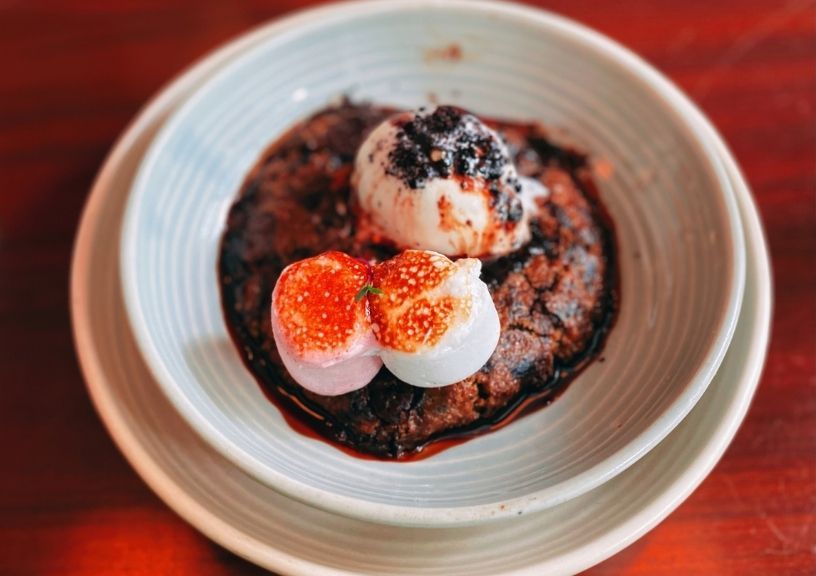 I wrap up lunch with an indulgent dessert—Panookie. A huge choco-chip cookie comes on a bed of hot chocolate sauce and is topped with toasted marshmallows, plus, a dollop of vanilla ice cream. Talk about sinful desserts!
Well fed and super content, I thank the chefs for this memorable lunch and leave only to return soon.
P.S–this menu is only available for dine-in until August 27, 2021.
Address: No. 4, Khan Market, Rabindra Nagar, New Delhi, Delhi 110003