Perched on a rooftop at Gurugram's bustling 32nd Milestone, RYU is an eclectic resto-bar that's luring millennials from all corners of Delhi NCR. We go on a quick tour to sample its offerings. By Priyanka Chakrabarti With a mask strapped across my face and a tiny bottle of sanitiser in my pocket, I reach RYU on a chilly winter evening. As I enter the restaurant, countless speckles of neon-blue lights pepper my black coat and crawl over to the rest of my palms, while peppy techno music in the background set the mood for the rest of the night. I walk past the entrance and reach a huge dance floor only to witness a spectacular dance of bright lights; no soul on the floor. I guess that's the new normal we need to get accustomed to now. At this point, I am greeted by the polite restaurant manager who leads me to the rooftop section.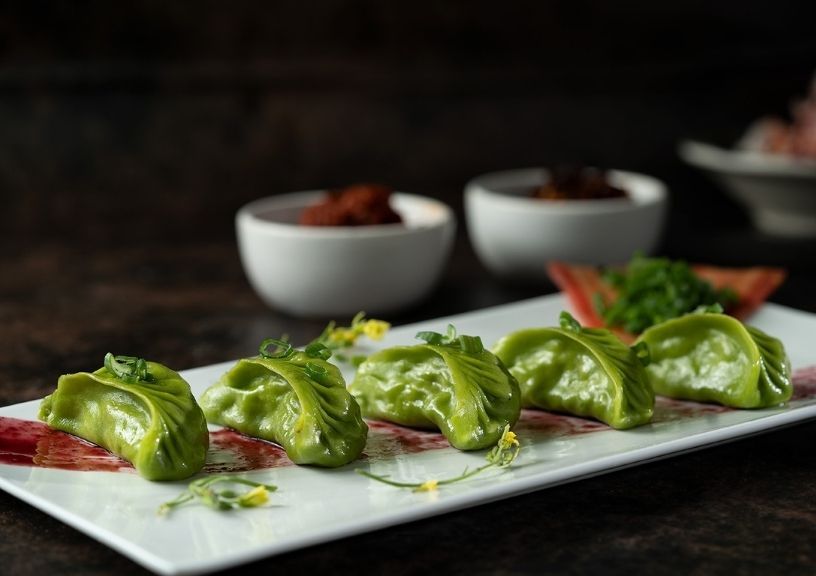 A quick flight of stairs later, I am out in the open, under a Japanese umbrella and a beautiful potpourri of white and crimson, paper-made cherry blossom cluster. Feels, I must say! I choose a cosy corner table next to a tall warmer and start my evening with a cocktail called Banana Mama—creamy run-based cocktail mixed with bananas, oranges, spices and RYU's homemade Advocaat (a traditional Dutch alcoholic beverage made from eggs, sugar and brandy). Next, I get myself a drink named Red Light District—cold brew whiskey-based cocktail shaken with chocolate, salted caramel syrup and Advocaat. Then, a funky cocktail called Ping Pong grace my table—tequila mixed with fresh yoghurt, strawberries, lime and pineapple juice, topped with a cloud of sweet cotton candy. The last cocktail for the evening is called Hopping Mexicans—tequila blended with carrot juice, yoghurt, RYU's hopscotch syrup and a dash of pink Himalayan salt, smoked with flavour blaster smoke bubble.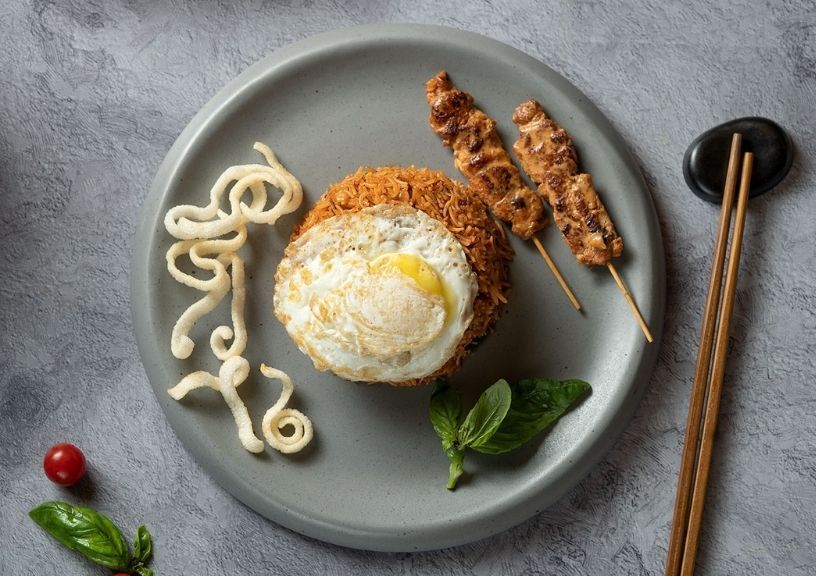 All the heady cocktails were presented most interactively and innovatively—think, ice cubes radiating disco lights, hazy fumes floating delicately under a glass, surprise marshmallows hidden to enhance the whole artisanal experience, and more. I am most definitely reeling, but I must attend to the hunger pangs now.
I am told, the Mongolian Crispy Chicken is one of their signature appetisers; doused in generous amounts of black pepper, this spicy chicken dish unfurls a melange of flavours adding the much-needed warmth that I need right now. Up next is a humble serving of Thai Crispy Vegetable Lemon Chilli—crunchy seasonal veggies wok-tossed in fragrant lemon chilli oil. Then, I dig into some Prawn Tempura—deep-fried tiger prawns enveloped daintily with Japanese wine flavoured rice and nori sheets; paired with wasabi and pickled ginger, this starter is a clear winner for me! Lastly, I savour a modest serving of chicken momos made in choila style—momos slathered in hot and spicy Nepali sauce. The artfully blended piquant flavours give a sense of comfort to my palate.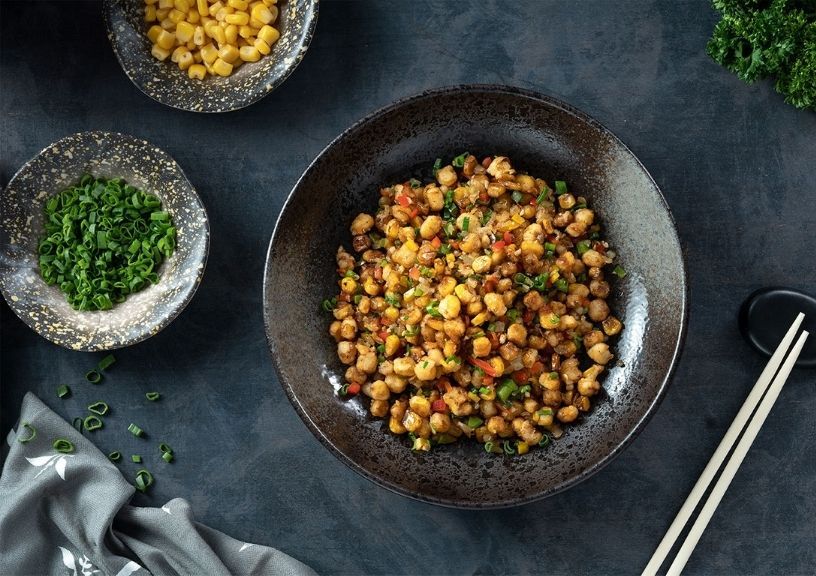 I wash down the starters with a mocktail this time. Called Pop Culture, this sweet and mildly pungent drink is a concoction of bananas, popcorn and blueberries. Served with a tiny pocket of hot, buttery popcorn, every leisurely sip feels indulgent.
All set for the main course, I get myself some chicken fried rice along with piping hot chicken Sichuan; the fried rice is light on the palate and compliments the flavoursome spicy chicken gravy beautifully. To end my meal, I indulge in two hearty desserts—date pancake with two dollops of vanilla ice-cream and banana caramel marbles. The latter is a real show-stopper—deep-fried banana balls coated with caramel sauce and topped with a scoop of vanilla ice-cream.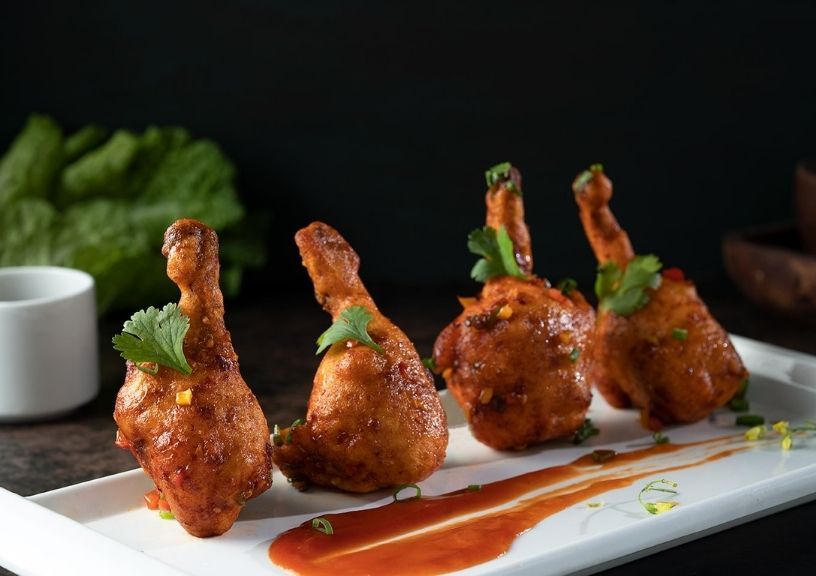 After devouring such a delectable Oriental spread amid a gorgeously done up East-Asian ambience, I must admit, all my senses are profoundly satiated, and it's time to call it a night.
Mr Shyam Thakur, the co-founder of RYU, says, "I have always been incredibly passionate about cocktails. The flavours, the skill, the kind of precision that goes into creating a great cocktail–it's an art worthy of obsession. I have been obsessed with cocktails ever since my first bar in Malaysia. Passionately crafted cocktails, if complemented by the best of Asian food and a tailored ambience, could be the dream of a nightclub connoisseur. And that's exactly what we are bringing to RYU!"
Address: 32nd Avenue, Gurgaon
Reservations: +91 89203 21500
Opening hours: 12 pm to 12:30 am
Price for two: INR 2,500 (including alcohol, taxes extra)