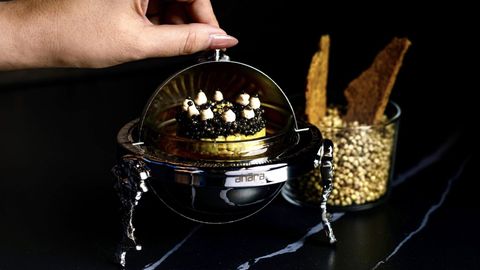 There's a zinger from Masterchef Singapore Season 2 contestant Vasunthara Ramasamy that goes, "I'm Indian, I don't do minimalism." The adage is also true at the recently-opened Indian restaurant Ahāra.
Diners enter the fine-dining establishment in Keong Saik through a bunker-like hallway that spools out into a dramatic dining room. Blobby fabric sculptures by Indian artist Kallol Datta reach down from the ceiling. Russian caviar, dotted by hazelnut emulsion and smeared over chewy Rajasthani buckwheat khichdi, is revealed in a miniaturised chafing dish held up by busty mermaids.
All about the newly-opened Indian restaurant Ahāra
Book Your Stay In Singapore Here
For all of Ahāra's spectacle, chef-owner Vikramjit Roy is rather understated. The 39-year-old smiles shyly as he pours syrups of kala khatta (blackberry), khus (vetiver), then nimbu (lime) soda over shaved ice for a palate cleanser. There's a deliberate silence as he ponders questions. When he answers, it's in the manner of a meditation guru. "We want to celebrate India, but as an emotion more than anything else," he said. "It's not about technicality, it's about creating connections with food." Derived from a Sanskrit word describing the Ayurvedic belief of food as the root of all well-being, Ahāra is Roy's eulogy to the plurality of Indian cuisine. After running restaurants in some of India's top luxury hotels, the Kolkata-born chef decided to open a venue in Singapore that merged his background with his training under Japanese Iron Chef Masaharu Morimoto and avant-garde British chef Heston Blumenthal, as well as at Bo Innovation in Hong Kong. He and two other chefs fanned out over the sub-continent to explore regional cuisines, then met again after 18 months to compare notes and identify flavours that would appeal to an outside audience.
Book Your Stay In Singapore Here
This culminated in two tasting menus (either nine courses for SGD 248++ which is INR 15,405 ++ or 16 courses for SGD 338++ which converts to INR 14,162) that include plump hay smoked oysters doctored with curry leaf oil, shiso leaf, and sol kadhi, a curry from the country's southern coasts with coconut milk and kokum, a fruit similar to mangosteen. Delicate wagyu tartlet is a homage to shaami kebab, layered with cumin and tart takuan (pickled daikon radish). Two kinds of stretchy buns, one stuffed with caramelised onions and the other with edam, beg to be soaked in nihari lamb curry, smoky Goan chorizo dip, and an impossibly light herb butter. Up to this point, almost everything could be eaten in one or two bites, but the grandeur course delivers a school semester worth of food. Laid out like a thali, the main star is atta chicken lababdar, which has been marinated in spices, encased in wholewheat dough, and then baked in the tandoor for over 30 hours. Surrounding it is buttery dal makhni, lahsuni palak with four types of spinach, and onion pulao, augmented by sauces of walnut raita and a lovely fenugreek butter.
Book Your Stay In Singapore Here
For dessert, an amoebic rose and spice gel on top of almond mousse and frozen fruits is served with a stalk of frozen rose. A server instructs us to knock the flower on the plate, shattering the petals into dozens of tiny shards. It's very extra, but feels rightly appropriate here.
Ahāra is located at 20 Teck Lim Rd, Singapore 088391. Book here.
Main and Feature Image Credit: Ahāra
This story first appeared on Lifestyle Asia Singapore
Related: 7 Romantic Staycations In Singapore To Book For Valentine's Day 2023
Written By