Travel + Leisure India launches #TLFinds—that will get you a sneak peek into either new or interesting places and experiences across the country and abroad every week—for travellers to discover. The next in the series is Indian Alchemy, a cloud kitchen based in Gurugram that serves finger-licking Mughlai food. Text and photographs by Bayar Jain
What is it?
A delivery-only restaurant that serves Mughlai food with a modern twist in Gurugram
Ideal for:
Foodies looking for sustainable delivery menus.
Gurugram has no dearth of restaurants serving Mughlai food. What it does lack, however, is a place that creates these delicacies with top-notch flavours that are equal parts delicious and ingenious. Indian Alchemy seamlessly fills this void.
Founded by father-daughter duo Atul and Jhanvi Celly Saxena, Indian Alchemy opened to the culinary world just a year ago. Today, the cloud-kitchen delivers its piping hot dishes across Gurugram, regularly adding new sectors and localities under its wings. I decide to sample the 'Conversational Set Menu'—largely to avoid stepping into the kitchen post a long work-day.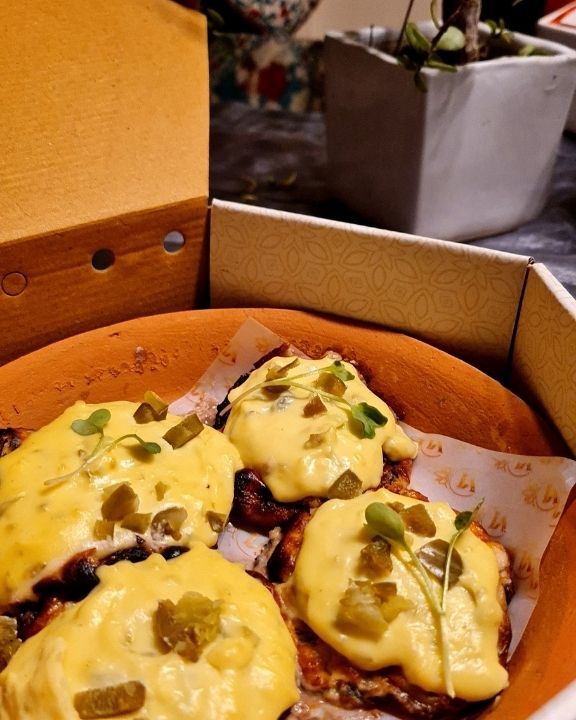 A glance through the menu reveals that Indian Alchemy is looking to preserve the legacy of Indian food—mostly Mughlai—through family recipes. Think chaats, biryanis, keemas, niharis, and the like. "Seemingly typical of most restaurants in New Delhi," I think to myself. The earthen pots and handis that knock at my door bust my assumptions in no time!
At once, I'm in love with the minimal-waste packaging. I'm greeted with tamper-proof hexagonal cardboard boxes that come with an array of clay pots and plates, paired with small glass containers for various accompaniments. The aromatic smells lingering from each further entice, coaxing me to ditch taking photographs for the 'gram and dive straight into the food.
I begin with the Tandoori Jalapeño Cheese Portobello Mushroom—a surprisingly soft creation that melts in your mouth. Ordinarily, tikkas tend to weigh on the heavier side, often dripping with oil. This one, however, is different. The dish is wrapped in umami, with hints of carom seeds (ajwain) and the oozing cheese giving a delicious kick. A similar taste continues with the mozzarella grill tikka, a cheese-loaded mini disc variation topped with micro-herbs. Next in the list of appetisers is Hari Dal Galaouti Mini Sliders. Paired with a saffron emulsion and chilli harissa, this one is more traditional in flavour. The galouti kebabs are the right mix of soft and crunchy. The buns sandwiching the kebabs are fresh. What I truly love is the simple addition of a bamboo coil piercing through the buns to keep the layers of the slider in place—sustainable and smart!
The Charcoal Paneer Tikkas conclude my appetisers and beautifully so. The char on the soft paneer wedges is nothing short of yummy, and the tanginess from the marination complements it well. I'm already licking my fingers clean, and the mains are yet to begin!
For mains, I've got a full feast laid out: special kachi haldi and malai, paneer khurchan, dal alchemist with hand-churned butter, Awadh biryani sampler, and truffle mini kulchas. The black gram dal is indulgent with wisps of glistening white butter lending the dish a creamy undertone, compelling me to go back for seconds, thirds, and more!
Paneer khurchan skips the otherwise commonly found sweetness in similar dishes—and I'm not complaining! The paneer chunks float in the onion-tomato-and-bell-pepper gravy, with fresh sprigs of coriander lending the dish a herbaceousness. The haldi and malai dish, although similar in looks, strays away from its twin in flavour. Stripped of any veggies, this creamy dish is best described as yummy. Knowing it has the superfood turmeric in it lessens the guilt of eating like a glutton!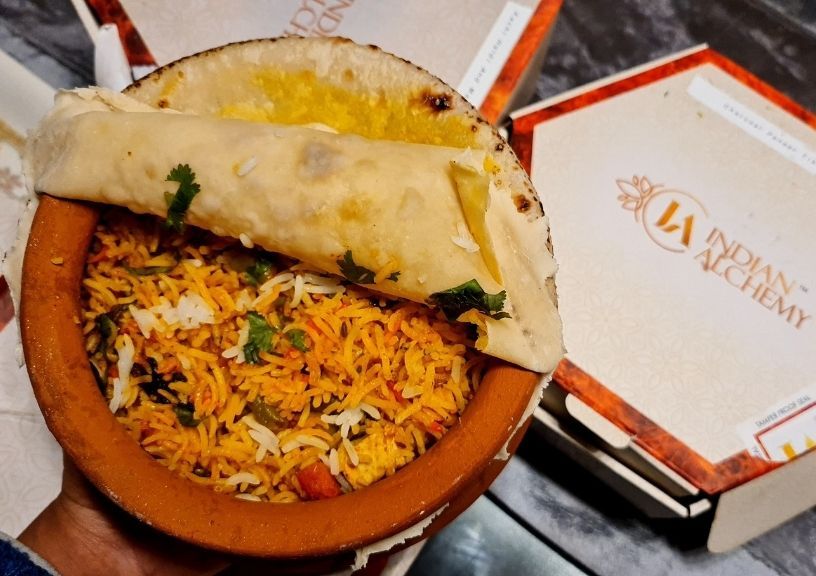 The Biryani, too, is a surprise. Offering a delicate balance of the spices and vegetables, this rice dish is devoured as is (although Indian Alchemy sends a creamy raita for company). The truffle kulcha, although slightly rubbery by the time I taste it, pairs well with each of the gravies, making up for the miss.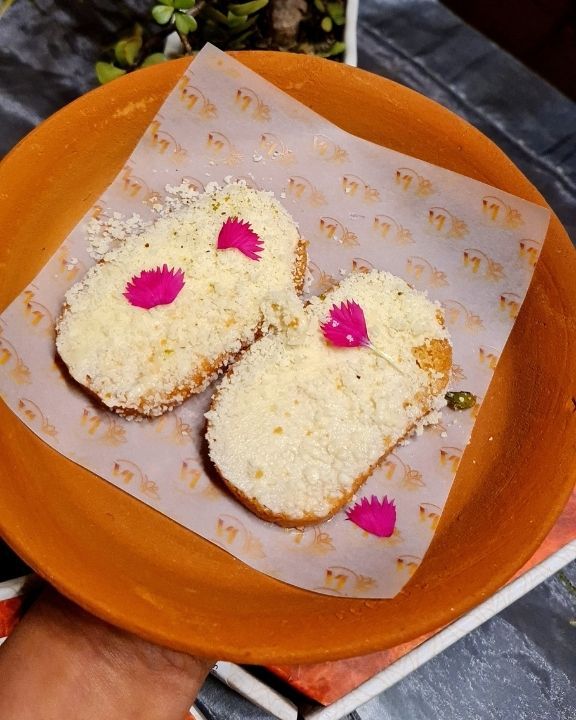 For dessert, I've got shahi tukda shining on my plate. Two portions of ghee-fried bread is doused in thickened milk, with sweetness subtly pleasing through. My stomach, by now, is full…
…and yet, I find myself going in for the chutneys and raita. A special mention to the creamy yet tart ginger dip that I can't get enough of. If given a choice, I'd like to order that as a standalone item on the menu (hint, hint, Indian Alchemy!). For now, my heart and soul are happily satiated.
Price:
INR 500 for two (approximately)
Contact:
To order, call +919810022065 / +919810022064; or visit their website here. Indian Alchemy is also available on delivery aggregators such as Zomato and Swiggy.
Related: TL Finds: The Glass Villa, A Luxurious Four Bedroom Stay In Goa