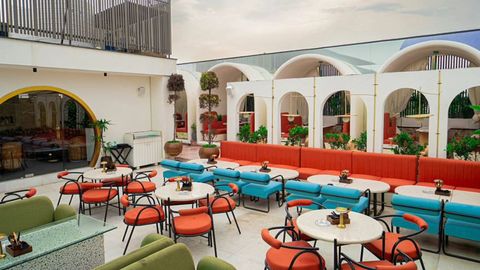 Welcome to Akra, New Delhi's high-energy bar where innovative dishes and carefully curated drinks redefine gastronomy to suit all palates.
TL Tastings
A Review of Akra
Cuisine
The menu at Akra is a testament to the creativity of its chefs who skilfully blend the simplest ingredients to make exotic dishes with global inspirations. Being a teetotaller and a vegetarian, I assumed the options for me would be limited. But Akra did justice! The multi-cuisine restaurant caters to the needs of each palate, even one with restrictive dietary preferences such as mine.
Ambience
View this post on Instagram
Nestled in a quaint corner of the bustling area of Lajpat Nagar, from the moment you step through the doors, the dazzling ambience, tinted glass walls and tantalizing aromas set the stage for an unforgettable dining adventure. Akra plays with dazzling colours and modern decor. Picture a contemporary decor adorned with colourful couches — an apt setup for a laidback meal.
We Recommend
Dishes
View this post on Instagram
The Shroom Bao (INR 695)–delicate bao buns filled with mushroom fries, fresh vegetables and tangy sauces– is a must-try. The Asian steamed buns amped with a slight Indian twist a stroke of genius that elevates this humble dish into something truly extraordinary. For those seeking a unique twist on comfort food, the Truffle Baby Potatoes (INR 495) is a revelation. These bite-sized spuds are coated in an assortment of house-blended spices, sautéed veggies and crisped to perfection. The playfulness of the dish is mirrored in its presentation, resembling a vibrant mosaic of flavours and colours.
Saving the best for last, the Chocolate Tart (INR 699) is the best part of the meal. The smooth ganache along with the crunchy crust is simply wow!
Drinks
View this post on Instagram
There's an extensive drinks menu for all the booze lovers out there, as well as a non-alcoholic beverage menu for teetotallers like me. The Hibiscus Iced Tea (INR 249) that I had along with the meal complimented all the robust flavours of my dishes perfectly.
Our Takeaway
View this post on Instagram
Akra's magic doesn't stop at its delectable dishes; the service is equally remarkable. The staff is helpful and more than ready to suggest the top picks of the menu, offering insights into what dishes you may like. Their passion for the food they serve is palpable, adding an extra layer of enjoyment to the whole experience.
Whether you're dining with friends, family, or a special someone, or if you're just down to drink and dance, the restaurant's versatile setting caters to every occasion! Choose to relax at the indoor dining area with a discotheque and stage or head outdoors for an open-air dining rendezvous perfect for all meals. With its amazing service, inviting ambience, and a menu that pays homage to modern and fusion cuisines and caters for the needs of all, Akra promises an experience that will linger in your memory long after your last bite.
Akra
Timings:

12:00 noon to 01:00 am


Address

: 32, 3rd floor and 4th floor, Link Road, Lajpat Nagar – III, New Delhi


Price for two:

INR 2,000 + (approximately)
Reservations: 9888641111/ 9888631111/ 9971104529
Featured image/hero image courtesy: Akra/Instagram
Related: TL Tastings: Bharat Excellensea – Mumbai's Iconic Seafood Eatery That Reopened With A Bang!
Frequently Asked Questions (FAQs)
– Does Akra have valet parking?
Yes, Akra provides valet parking.
– How can I reach Akra?
Akra is located in Lajpat Nagar, New Delhi. The closest metro station is Lajpat Nagar metro station (roughly 200 metres) on the Pink line.
Written By