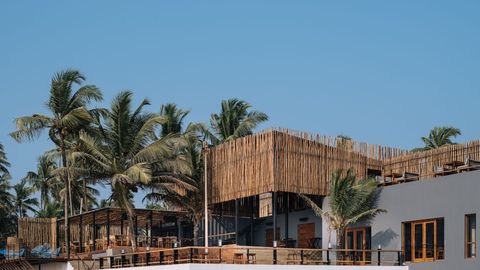 Slow Tide, on the rocky shores of Goa's Anjuna, pays an ode to the region's hippie culture with its food and alcohol offerings. Travel+Leisure India & South Asia drops in for a taste.
When I arrive at the doors of Slow Tide, literally located on one end of Anjuna, it is the golden hour. At first glance, the restaurant looks like any other shack in Goa–it overlooks the sea and has wooden and glass exteriors to let in light and air. A closer look reveals more sophisticated interiors that play with levels– there is an upstairs seating, a soon-to-opened intimate party area, and a lower and upper deck offering spellbinding views of the ocean. I am told that Slow Tide was founded by Neil Dsouza, a Goan living in Bombay [now Mumbai] who returned to Goa during the pandemic. It was conceived by award-winning architect Palinda Kannangara in such a way that it redefines the 'Anjuna shack' model. The restaurant stands where the '60s shack named San Francisco once stood; a place where sunset and sunrise meetings were a ritual.
TL Tastings
A Review of Slow Tide
Cuisine
The menu at Slow Tide showcases Portuguese influence on Goan, Mangalorean, Bombay, and Sri Lankan food. Apart from this, there are also dishes with unique adaptations of traditional ingredients.
We Recommend
Small Plates Among the small plates on the menu, I choose Moringa Fritters (INR 475). It is crumb-fried and served with pumpkin sauce — the perfect dish to accompany one of the many cocktails at Slow Tide. The flavour of moringa is unique yet subtle, making for a great start to the meal.
The Catalonia Grilled Broccoli (INR 550) with white bean, roasted garlic, and romesco sauce is an example of how the right mix and measure can elevate even the simplest of ingredients.
The Red Snapper Crudo (INR 525) is a bowl of comfort. It sits in a coconut, tamarind and jaggery sauce and is topped with puffed rice–the ideal coastal preparation with a gourmet twist. Large Plates
Try the Amshi Tikhi Fish Curry (INR 850), a Mangalorean preparation. It is hot and sour and is served with a steaming bowl of rice. The Military Canteen Mutton Curry (INR 950) is another excellent dish–an age-old recipe from the Gowda farming community. It is served with mudde made from ragi flour and ghee. Desserts
For desserts, try the Pataleo (INR 350)–a rice and jaggery dumpling wrapped in turmeric leaves and steamed–if you want to go for something traditional. They also have mousse cakes and cheesecakes to choose from.
Drinks
Slow Tide is a high-energy bar in the making. It makes its infusions and blends, and most of the cocktails are named after prominent people associated with Goa's drinking traditions. For instance, Amsterdam Dave (INR 675) is named after a hippie who lived in Anjuna during the 70s–it has gin, muskmelon, lime, and beet dust. The concoction tastes modern, yet has a classical touch to it. Acid Erick (INR 795)–another cocktail with tequila, watermelon, Yuzu, basil, and almond milk–tells the story of a man who supplied LSD paper at full moon parties in Goa. The drink is topped with a blotted paper sporting the picture of a Huffman bicycle. Full marks to creativity and taste! Our Takeaway
Slow Tide is a Goan dream. Be it date nights or a friend's hang, it doesn't disappoint. The menu is coastal yet unique, making it the perfect place for food lovers. There is good music, sea air, and a great sunset to feast your eyes on.
Quick Notes
Price for two:

INR 2,500 + taxes


Address:

Dmello Vaddo, Anjuna, Goa
Timings: 9 am to 11:30 pm
Related: TL Tastings: Murphies Bistro & Bar Is All Set To Elevate Pune's Culinary Landscape
Written By