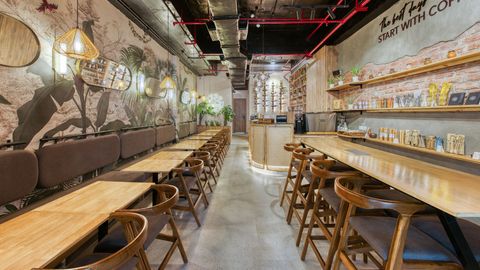 Going beyond just sustainable dining and planet-conscious meals, For Earth's Sake in Gurugram's South Point Mall at Golf Course Road celebrates the planet with its zero-waste lifestyle offerings and intriguing weekly events, too. Travel + Leisure India & South Asia stops by for a slice of their healthier, cruelty-free and waste-free lifestyle and meals. By Bayar Jain
"The best time to plant a tree was 20 years ago. The second-best time is now" — Chinese proverb
With floods wrecking havoc and mercury levels rising at alarming rates, the need for sustainable and waste-free living is more important now than ever before. Working towards raising awareness and giving a glimpse of what sustainable living looks like is India's first zero-waste café and Store, For Earth's Sake.
Located in South Point Mall on Gurugram's Golf Course Road (the first outlet, also in Gurugram, is at the posh Galleria Market), For Earth's Sake is a humble initiative by sibling-duo Vidur and Vidushi Mayor to celebrate the planet. Dubbed as the country's first zero-waste store and cafe, this space not only presents a locally-sourced menu, but also celebrates a sustainable eating experience. I stop by for a visit to put this claim to test.
Ambience Sandwiched among a plethora of shops in the mall, For Earth's Sake dims the light on glamour that is signature to the posh locality and shifts the focus on understated, chic aesthetics instead. Beyond the turquoise wooden door of the cafe are two parallel lines of seating: one, individual sofas and wooden chairs for groups; and two, a common table with bar stools for collective dining. An open counter complete with fresh bakes, desserts, and whiffs of coffee beans—backdropped by spirits and wines—takes up the rest of the space. The barren bricked walls are lined by a range of zero-waste lifestyle products that are available for purchase. Think stationary, soaps, gift boxes, bags, bamboo cutleries, and more. I'm eyeing the handmade, vegan, paraben-free oil-based shampoo bars, making a mental note to come back for more once my last bar shampoo bar haul reaches its end. Lifestyle products aside, For Earth's Sake's intriguing logo catches my attention. On cue, founder Vidur explains that the logo features all the Earth's elements that need to be saved: the water (represented as waves), land (mountains), sun (symbolic of solar energy) and air (dashed lines). The handmade paper menu paired with the fresh green plants dotted all around the café reassert their commitment.
Before getting to the meal, though, it's equally important to mention the live act accompanying the meal today. As I browse through the menu, Chochung, an independent singer, is serenading diners with live, acoustic music. Omisha Chugh, the cafe's program manager, reveals, "We have weekly events at For Earth's Sake — from live music, tattoo artists, food photography workshops to even sessions on gut health!" She further explains how the cafe believes that community is a big part of sustainability, and these events are a means of fostering a like-minded collective that celebrates conscious living.
Food & Drinks
As I glance through the multi-page menu, Vidur says, "We don't bulk procure ingredients as that could lead to food wastage. As a result, there might be some items on the menu that might not be available." Understandable, I think to myself.
Appetisers
The first dish to arrive are the pita pockets. Not one to ordinarily like cottage cheese with pita, this rendition is surprisingly delectable. The cheese chunks are soft and melt in my mouth. The sautéed onions and capsicum have a nice bite, pairing well with the homemade creamy hummus and fresh lettuce. However, it's the fresh grilled pita bread itself that triumphs. Baked to a perfect golden-brown and leaving a herbaceous aftertaste, this bread could just as easily be a stand-alone dish. Next up are the Vietnamese rice paper rolls. The translucent rice paper sheets burst with colour, courtesy of julienned carrots, green cabbage and lettuce. The hint of lemongrass adds another layer of vibrancy to it all. Subtle undertones of sesame oil and soy sauce give it a kick, while the accompanying homemade honey sriracha sauce takes it to levels, sublime. Within minutes, the six rolls are polished clean.
Main Course
View this post on Instagram
Power bowls, burgers, sandwiches, soups, open toasts, mini pizza platter, and salads are some of the main course offerings at For Earth's Sake. Today, I'm sampling the Chef's special: spaghetti red sauce with cheese balls. The simple no frills bowl of handmade pasta is comforting. The red sauce—lovely. While the in-house garlic bread is a little tough to bite, the fresh mozzarella cheese balls — packed with herbs — helps cover up for this miss. Kudos to the chef for packing flavour into a simple dish that often goes astray!
Drinks There's a lot to choose from on the drinks front. Whether it is hot teas and coffees, chilling coolers, or regional delights like Kashmiri Kahwa. The end of a long work day, however, calls for some cocktails! Elderflower Fizz reminds of a subtle champagne with simplicity fused into the concoction. The Prosecco base of the drink is elevated with the elderflower cordial. The cucumber ribbon gives it a touch of freshness, working wonders at cleansing my palate with every sip. The Espresso Fiero—my preferred of the two drinks—blends the kick of caffeine with the sweetness of Martini Fiero and tropical flavours of orange juice. Each sip launches a burst of flavours in my mouth, compelling me to savour every moment of it. The floating dried orange is a stroke of genius, amping the drink's overall bittersweet flavour profile.
Address of For Earth's Sake
Shop 119, First Floor, DLF South Point Mall, Golf Course Road, Gurgaon
Price
INR 500 for two (approximately) plus taxes
Timings
Every day, 09:00 am to midnight
Related: TL Reviews: Sip On Coffee By A Stepwell At Roastery Coffee House In Jaipur
Written By