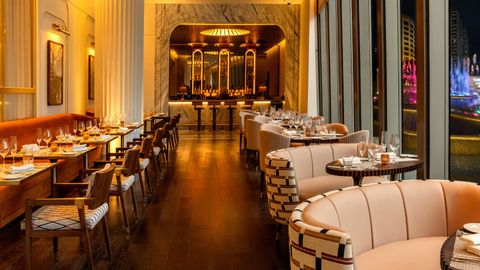 In the city that never sleeps and where culinary exploration is a way of life, a new star — Indian Accent — has risen on Mumbai's gastronomic horizon. A name synonymous with innovation and impeccable flavours, this culinary gem promises to whisk you away on a delectable journey through modern Indian cuisine, crafting dishes that are as imaginative as they are unforgettable.
For over a decade, Indian Accent has been a beacon of culinary brilliance, captivating taste buds and hearts alike. As a Mumbaikar, the anticipation surrounding its arrival is nothing short of monumental. Yet, when it comes to the genius of Rohit Khattar and Chef Manish Mehrotra, expectations are always surpassed. Indian Accent thrives on crafting experiences that transcend the ordinary, and the Mumbai chapter is no exception. Indian Accent, my dear readers, is not just a restaurant; it's a pioneer, a trendsetter. It is a culinary explorer that has navigated uncharted waters with finesse. New York, Delhi, and now Mumbai — the journey reads like a bestseller, and each chapter is a revelation.
Ambience
Stepping into the intimate embrace of Indian Accent in Mumbai is like being welcomed into the warm embrace of a long-lost friend. The lighting? Perfect. Not the blinding kind that makes you squint, but the warm, inviting kind that sets the stage for a culinary journey that's about to unfold. Indian Accent features a unique seating arrangement with love seats arranged like poetry verses, all facing a majestic fountain, where light and water pirouette in a mesmerising dance. The Nita Mukesh Ambani Cultural Centre backdrops for this culinary escapade.
Amidst this enchanting ambiance, the menu reveals itself as a work of art and a symphony of Indian flavours reimagined in unprecedented ways. With separate menu options for vegetarians and non-vegetarians, Indian Accent caters to every palate while pushing the boundaries of culinary creativity.
We Reccomend:
Drinks I start with a little sip of heaven: Black Gold. This signature cocktail is like an espresso martini with a glamorous twist. Think Cognac, vanilla, and carob molasses garnished with gold foiled white chocolate. It's bitter, sweet, and a tad bit extravagant. It leaves me craving more, like an encore after a fantastic performance.
Appetisers I waltz through the Chef's Tasting Menu; and oh boy, what a graceful start! The Indian Accent Corn Shorba is a warm, comforting hug from the hills. The Blue Cheese Naan is a heavenly dance of flavours that melt in my mouth. A chat with Chef Rijul Gulati reveals the brilliance behind this creation — a dash of the familiar combined with a sprinkle of the unknown. Dilli Papdi Chaat, Chhole Bhature, Smoked Eggplant, and Churan Ka Karela, pay an homage to the vibrant chaat streets.
Main Course
While the menu boasts of a multitude of flavours, Pulled Lamb Dumplings and Aab Gosht served with rice puffs were my favourite. A nod to the Kashmiri tradition, this dish dons a contemporary mantle, inviting diners to savour the blend of heritage and innovation. Amid this delectable feast, I am treated to a charming interlude – the anar and churan kulfi sorbet, playfully presented in a mini pressure cooker. It was so adorably iconic that I was almost tempted to smuggle it home as a cherished memento from this gourmet affair!
But here's the scene-stealer: Braised Pork Kofta, adorned with Punjabi Lobia and a saucy drizzle of bacon chili, served with the wasabi kakdi raita and black dairy dal along with the signature Indian Accent kulcha.
Dessert The gastronomic marvel reaches its crescendo with a reimagined Mishti Doi Cannoli, bridging the gap between Italian sophistication and Indian soul. And let's not forget the iconic Daulat Ki Chaat, Indian Accent's signature preparation. A sweet surprise that never ceases to amaze and makes for the perfect parting Instagram shot.
Our Takeaway Indian Accent's love affair with Mumbai is more than just flavours. It's a tribute to the city's heart, its art deco heritage, and its infectious spirit. Imagine sipping on Jazz Age Cocktails, a nod to an era where life swung to the rhythm of jazz and art was a masterpiece in motion.
With Chef Rijul Gulati at the helm, the Mumbai menu of Indian Accent weaves a tapestry of seafood and vegetarian delights, catering to the city's discerning palate. The culinary masterpiece is complemented by an exquisite bar program, featuring signature cocktails that evoke the nostalgia of a bygone era.
Fellow gourmands, as Indian Accent's Mumbai chapter unfurls, seize the chance to be part of a story that's witty, warm, and irresistibly delicious and embark upon a culinary journey that promises to delight and surprise. Bon appétit!
Indian Accent Mumbai
Timings: 12 noon to 02:30 pm (lunch); 06:45 pm to 09:00 pm and 09:45 pm to 12 midnight (dinner)
Address: Nita Mukesh Ambani Cultural Centre, Jio World Centre (Gate 11), BKC, Mumbai 400098
Price for one: starting INR 2,000 + (approximately, without alcohol)
Reservations: +91-22-35251500; reservations.mum@indianaccent.com
Related: India's Most Awarded Restaurant Indian Accent To Open In Jio World Centre, Mumbai
Frequently Asked Questions (FAQs)
Question: Is there valet at Indian Accent, Mumbai?
Answer: Parking and Valet Parking are available at a fee from Gate number 11 of the Nita Mukesh Ambani Cultural Centre.
Question: Is there a Dress Code at Indian Accent, Mumbai?
Answer: Smart casuals are preferred and accepted.
Question: Is Indian Accent, Mumbai wheelchair accessible?
Answer: Yes, the restaurant and restrooms are wheelchair accessible. The private dining rooms, however, are accessible via a flight of stairs.
Question: Are kids allowed at Indian Accent, Mumbai?
Answer: To respect the dining experiences of all guests, Indian Accent practices a restricted entrance policy that only allows children aged 10 years and above.
Written By