We perched ourselves at this chic, all-day café in the quaint bylanes of Bandra and we were not disappointed! By Pallavi Mehra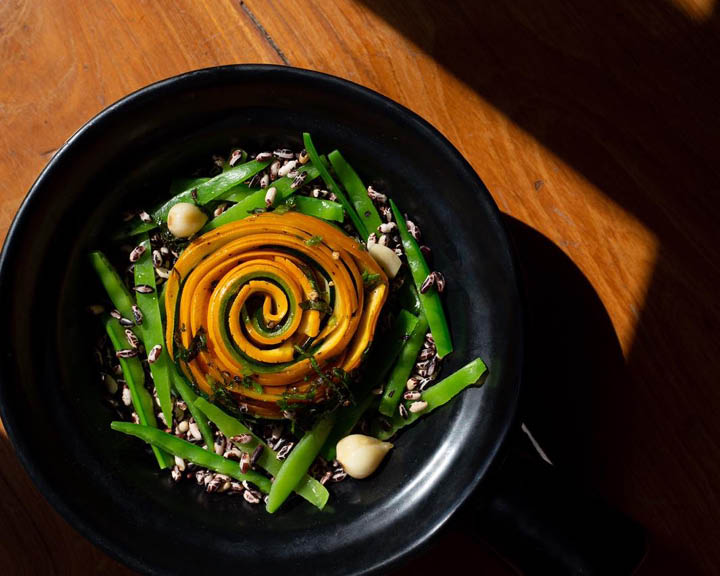 Perch Wine & Coffee Bar, with two locations in New Delhi (Khan Market and Vasant Vihar), has established itself as the ultimate coffee, wine and seasonally-driven European cuisine connoisseur in our capital city. This chic café has made its way to Mumbai with its first outpost opening in the heart of Bandra.
Perch Mumbai, during the day, with its massive windows, has sunlight beaming in. Conversely, at night, the setting is mysterious and cosy. A wrap-around, L-shaped verandah welcomes guests to an indoor-outdoor, airy space with relaxed wooden tables, a deli counter, a coffee and affogato bar and a large cocktail bar. We loved the homely atmosphere, comfy furnishings and minimalistic vibe.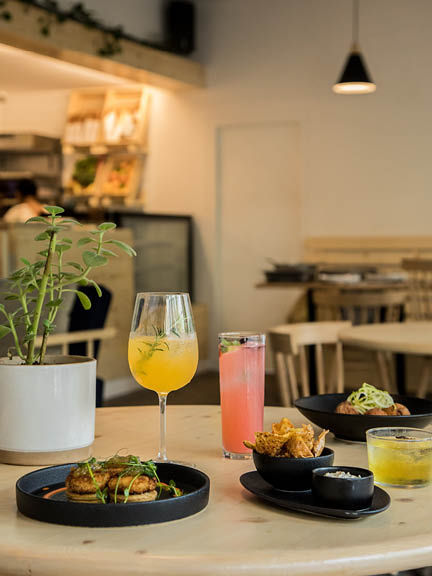 The food philosophy of Perch Mumbai is the same as the original in New Delhi—locally sourced ingredients, presented with European techniques. The menu primarily comprises small and large sharing plates.
We started our meal with the homemade sweet potato chips along with red wine brine and everything-bagel breadsticks with caper cream cheese, and the signature Coffee Sangria. This was followed by a bunch of sharing plates—tossed asparagus with cherry tomato couscous and melted bel paese cheese, shrimp and calamari with lime chilli dressing, crab cakes on a curry sablé and jalapeño jam, wild rice arancini with smoked cheese and insalata caprese, goat cheese mousse on toast and wild rice and porcini risotto with parmesan and truffle oil. The Coffee Sangria, asparagus, shrimp and calamari, and crab cakes made it to our list of favourites.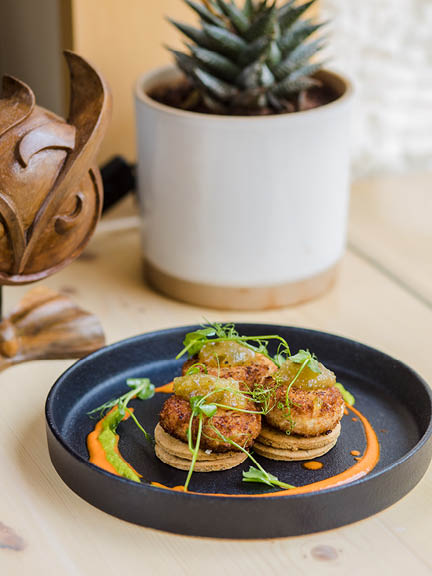 We also tried some of Perch's signature cocktails—Elder Tree — vodka, gin, cucumber, lime, elderflower and tonic, and Touch Wood — Irish whiskey and spiced aged wine. Both the cocktails were innovative, light and refreshing. While we didn't try the wines, we learnt that the bar team is knowledgeable and passionate about them and offers well-priced wines from high quality producers.
For dessert, we had the double chocolate parfait with berries and salted caramel—a bitter chocolate and cacao mousse. It was well balanced and delightful! To end our meal, we had an espresso shot of the in-house blend—a single origin specialty coffee. From a single shot of espresso to a frothy cappuccino, and from the coffee shrub with tonic to the Vietnamese coffee — coffee lovers will be spoilt for choice here. The menu has been conceptualised by Chef Kartikeya Ratan, who leads both the New Delhi as well as Mumbai culinary teams. Talking about the food menu, she states, "Our food philosophy is very simple, we want our food to complement our extensive coffee and wine menus. We have kept the processes simple and we want the ingredients to shine. The flavours are clean and the presentation is fairly modest. So, weather it's a snack, a bar nibble or a salad, the ingredients are the star." Owner Vaibhav Singh adds, "We want Perch Mumbai to be a local neighbourhood café and bar where people can hangout all day. We are going to start a separate daytime menu soon. The evening menu reflects a bar vibe, while the daytime menu will have a café vibe. We will have diverse menus because we want people to visit Perch Mumbai for different purposes throughout the day. So you can come in the morning for a cup of coffee and work out of here, and in the evening you can come back with your friends and get a different menu and atmosphere!" Make your way to Perch Mumbai to unwind, and catch up with friends and enjoy their extensive wine and coffee offerings along with the intriguing, satisfying and most importantly, delicious food dishes.
At Perch Mumbai, an average meal for two without alcohol would be approximately INR 1,500 and with alcohol would be around INR 2,500.