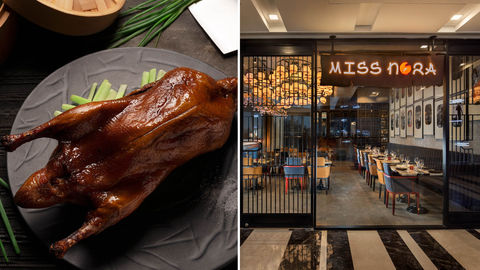 Miss Nora, a new eatery in town, navigates through complex flavours of the far east and serves the best of it in an elaborate setup that oozes panache. By Kumar Shree The setup at Miss Nora has a cosy and welcoming warmth to it. I register this the moment I enter through the iron grill and glass door. I see that a berry blue and muted grey colour scheme dominates the space. The furniture wears vibrant shades of blue and peach, and a life-sized Cherry Blossom tree popping from behind the bar cabinet adds to the Japanese charm. One can see the action going on in the kitchen via glass blocks in a wall separating the kitchen and dining area. The adjacent wall is dedicated to framed installations showcasing Chinese culture. I begin with a chicken khao suey soup with shreds of chicken and egg split in four. It has a creamy texture and a sweet undertone to it. The chewy noodle mingles surprisingly well with the flavours, and reminds me of Korean Jjolmyeon noodles minus the spices.
Next up on my table is prawn mountain dim sums. It has minced prawn enveloped in rice flour, and is as original as it can get. There is minimal interference of spices, therefore allowing the prawn to shine.
The presentation of the chicken spinach — my next dish — can be summed as stunning. The hot and spicy wok-tossed chicken in oyster sauce, sitting on a crackling bed of fried spinach, is already my favourite from the evening. The fried spinach with finely-chopped carrot, green onions, baby onions split into two, red chilly, and sesame seeds burst open a symphony of flavours on my palette. Sushi, cooked two ways, arrive as a relief from all that chilly. Although not a big fan of sushi, this one manages to surprise me. Chef Raminder Singh and team at Miss Nora have done their homework, and have definitely spent time fine-tuning their craft. For mains, I'm served the tom yum fried rice, and kaeng karee chicken. I love the rice! It is a simple and beautiful dish. The crunch of the broccoli, mushroom, baby corn, and cherry tomato is wonderful, and adds many layers of deliciousness to the dish. The kaeng karee chicken resembles the taste and texture of the khao suey soup. I'm delighted by the combo. I end my meal on a sweet note with homemade coconut ice cream.
Talking about the restaurant, Richa Malhan, Founder, Rcube Hospitality LLP says, "We feel proud to debut in the national capital with the flavours of the far east offering pan-Asian delicacies to Delhi-ites. Miss Nora is inspired by a chef named Nora, who runs a little restaurant. The restaurant is a hidden gem in Japan. We took a cue from some of her flavours, and our team of chefs here present dishes prepared with pure passion and love. Miss Nora is all about offering a wholesome experience to food enthusiasts of the town." Address: 103 & 104, First Floor, Rcube Monad Mall, Rajouri Garden, New Delhi
Price for two: INR 1,600 for two people (approx.)
Timings: 11 am to 11 pm
Contact: 011-25151515, 9999117761 / 62
Related: Here's Everything You Need To Know About The Diverse Taste Of Coorg
Written By