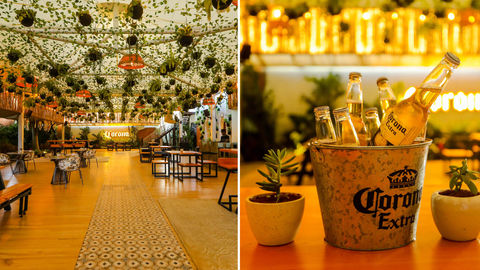 Just when work-place burnout gets officially recognised as a serious mental health issue by World Health Organization (WHO) and millennials are struggling to find ways to stay afloat by finding outlets that let them unwind, Corona partners with luxury hotel JW Mariott Bengaluru to provide the perfect urban oasis in a concrete jungle. By Amitha Ameen I had the pleasure of experiencing 'Merak' a one-of-a-kind lounge restaurant introduced by Corona at the rooftop pool area of JW Mariott Bengaluru during its recent grand unveiling. Launched for the first time in India, the space brings to life Corona's brand philosophy and inspires patrons to experience outdoors, by establishing a tropical forest setting in the heart of Bengaluru city. As I walked into the lounge, I could see the brand's belief that outdoors is where the best version of ourselves shine through, translate through the ambience.
For a generation that is constantly hustling, driven and ambitious — this space acts as the perfect abode to kick back, rejuvenate and get the creative juices flowing. Of course, doing that while sipping bespoke cocktails, indulging in dishes from a custom-made menu while being seated in a distinct tropical atmosphere just adds to the experience. Commenting on the grand launch, Udit Mediratta, Director Global Brands – South Asia, AB InBev, said, "Corona personifies outdoor living through all its efforts which inspired us to bring this urban oasis to India for the very first time. We aim to deliver a unique experience to our consumers who wish to take a break from their routine and re-energise in the midst of nature resonating with the brand's outdoor narrative." What really impressed me is the fact that the design elements in the lounge are crafted from 100% authentic materials. The open bar setup with swings instead of bar stools, wooden blocks instead of bean bags and a generous amount of greenery really reinforces the tropical ambience. It's almost impossible to not be mentally transported to a beachside shack with sand between your toes.
As I continue to sip my beer and make my way through the crowd wondering if the night can get any better – a beautiful sound reverberates through the room. Delhi-based indie band, Peter Cat Recording Co. sets the vibe for the night with jazzy tunes that gets the crowd grooving. As the drinks kept pouring and a cool breeze kept flowing — there was an almost rhythmic wave amongst the crowd at the event. On the successful launch of Merak, Reuben Kataria, General Manager, JW Marriott Hotel Bengaluru said: "With 'Merak at Spice Terrace', our latest offering in association with Corona, we are taking a step closer in creating a space that promotes and encourages people to experience the outdoors in an urban setup."
To sum it up, Merak by Corona lets you drop your inhibitions and wind down, without having to travel far, right within city limits. And what's even better is that the brand plans on expanding and replicating this paradise destination to other cities by 2020.
Written By