Here Is All That Happened At The Exclusive Masterclass With Chef Vicky Ratnani At Novotel Kolkata
Travel + Leisure India & South Asia joined hands with Accor and ALL – Accor Live Limitless to host its first Masterclass at Novotel Kolkata. 'Grill-o-Logy' with celebrity chef Vicky Ratnani at Cascades, the poolside restaurant of the hotel, was an evening celebrating great food, a fresh menu, and conversations. Here's all that happened at this exclusive culinary event. By Adila Matra
On October 28, 2022, team Travel + Leisure India & South Asia and members of ALL – Accor Live Limitless landed in the City of Joy for a Masterclass in 'Grill-o-Logy' with celebrity chef Vicky Ratnani at Novotel Kolkata. Cascades, the poolside restaurant of the hotel was the venue for the fun evening of grilling, exclusively for the members of ALL – Accor Live Limitless loyalty programme. Renowned food bloggers, digital content creators, and food entrepreneurs also attended the event. Members of ALL – Accor Live Limitless who attended the T+L Masterclass with Chef Vicky Ratnani, held at Novotel Kolkata, learned about…
Global Grilling Techniques
Grilling alongside Ratnani was chef Neelabh Sahay, F&B Director of Novotel Kolkata. Together, they cooked up a storm for the guests at Cascades, the poolside restaurant of the hotel. Ratnani introduced the guests to global grilling techniques with some local ingredients—on his menu were delicacies such as Grilled Sweet Potato Medallions with Avocado Cucumber Raita, Radhuni and Honey Glazed Pork Chop with Apple and Chinese Sausage Chutney, Grilled Naga Pineapple, and Bandel Cheese Sourdough Crostini, and more. An awestruck audience watched on as Ratnani offered tips on grilling, explained the difference between barbecue and grilling, and filled plates with grilled scampi, corn on the cob, and more. The rich aroma of grilling filled the air and the sizzle and crackle of it got everyone excited. Chef Ratnani tirelessly and enthusiastically cooked and plated dishes for members of ALL – Accor Live Limitless present at the Masterclass, which made the event truly special. Modern Kolkata Cuisine.
Chef Neelabh on the other hand introduced guests to 'modern Kolkata cuisine' with dishes such as Chingri Malai Curry Mac and Cheese, Morning Glory and Chenna Tortellini with Kasundi Coconut Cream Sauce, and Kosha Mangsho Pie. For desserts, he served a mean Nolengurer Eclairs and Gandhoraj Lemon Petit among other dishes.
It was an evening to remember for culinary enthusiasts in the City of Joy and the members of ALL – Accor Live Limitless.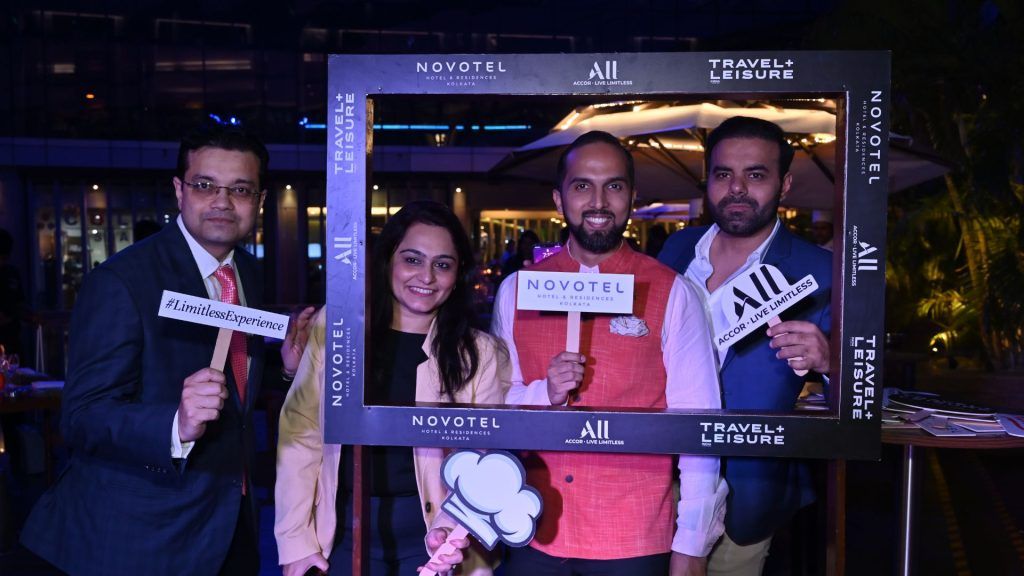 ALL – Accor Live Limitless is a daily lifestyle companion. ALL harnesses and enhances the brands, services, and partnerships offered by the Accor ecosystem. ALL delivers meaningful experiences and rewards to its most engaged customers while enabling them to work live, and play far beyond their stay, at home and around the world. Thanks to this rich value proposition, Accor is bringing its augmented hospitality strategy to life with new digital platforms, iconic partnerships (Credit Cards, Mobility, Airlines, Entertainment with AEG, IMG, Paris Saint-Germain), and a global roll-out plan for all its guests and loyalty members.
Related: Bookmark The Ultimate Kolkata Food Guide To Get A Taste Of Everything Best