Avantika Sinha Bahl's newest restaurant in Delhi—Mai Bao—is offering mouth-watering Singaporean street food to Delhiites. We visit this premium diner at DLF Avenue Mall, Saket for a weekend brunch. By Priyanka Chakrabarti Painted in pretty pastel colours, Mai Bao looks like a true visual delight to me. After a quick temperature check at the porch, I enter DLF Avenue Mall's latest eatery that has been making quite a buzz in the capital's epicurean circuit. I take a quick tour of the cosy, 50-seater diner and notice quirky décor accents placed throughout the space coupled with hints of indoor thickets. I am offered a corner table for two under a bright-hued painting, and I know I have found the perfect spot from the 'gram.
The server comes with a candy-coloured mocktail and food menu and suggests, "You must try the Pomelo Salad." I nod in agreement.
Pomelo and grapefruit always stir up childhood nostalgia in me. Back in the days, my grandmother would often scoop out grapefruit flesh and mix it with green chillies, rock salt and sugar. She would feed me this sweet and spicy delight on winter afternoons, sitting on a rug while narrating fairy tales that typically belonged to Bengal. The Pomelo Salad at Mai Bao transported me to that rug.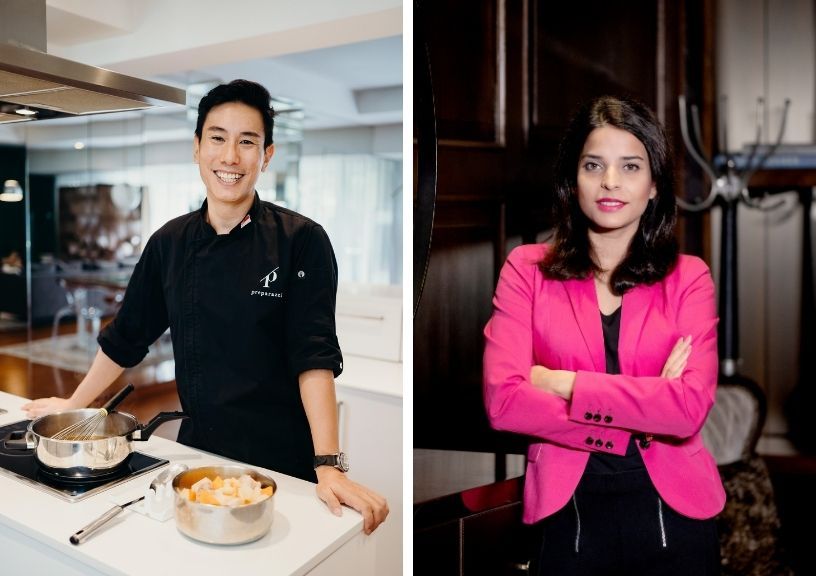 I am told the menu here has been designed by Jeremy Nguee, a renowned chef from Singapore. After savouring the crunchy salad, I order their Pork Yam Puff – velvety yam puree mixed with sweet pork filling, encased in crispy yam crust. Then, I get myself a hearty serving of Popiah – fresh vegetable spring rolls wrapped in rice paper crepes and served with spicy garlic chilli sauce. The last starter to grace my table is a portion of Shen Jian Bao – Creamy mushroom – delectable buns with half-crispy and half-soft dough.
To wash down the starters, I ask the server to get me some mocktail samplers. The first one to arrive is called the Mai Bao Spritz – a soothing concoction of apple, rosemary, elderflower, lime and seltzer. Next, I try the Earl Tannin mocktail – a tall glass of chilled earl grey tea infused with fresh orange juice, honey, citrus and loads of chia seeds. Lastly, I get a gorgeous looking swill to try called Bandung – this baby pink-hued beverage is a delectable potion made of rose cordial, dill leaves, cold milk and fresh watermelon; for me, this is a clear winner!
For the main course, I order some Chicken Shangai Dumplings that come slathered in spicy chilli oil. Then, I try their Chilli Crab – fresh mud-crabs doused in a sweet and spicy egg drop chilli sauce. Every bite packs a punch. Up next is the Lamb Rendang – braised lamb cooked in scrumptious coconut cream-based curry, served with Blue Pea Rice. This is by far the most palatable Rendang curry I've ever had in Delhi; the thick coconut gravy fuses a medley of rich flavours that beautifully complements the steamed jasmine rice.
For desserts, I dig into the Chef's Special Dessert Platter that has tiny squares of chocolate and marshmallow bites. The trick to making the most of this is to pair it with Bandung!
By the end of my Sunday lunch, I am convinced that this place is here to stay. So, if you've been looking for diners in Delhi that serve authentic flavours of Singapore, your search ends here.
Address: Ground Floor, Mai Bao, DLF Avenue, Saket, New Delhi – 110017
Opening Hours: 11:30 am to 11:00 pm
Cost for Two: INR 1,200 (approx.)
Related: Here's Why We Will Keep Coming Back To Bo-Tai Switch!