TL Reviews: A New Restaurant In BKC, Mumbai For Lovers Of Asian-Mediterranean Food
What do you do when you have to contend for a spot on a block that already has some great restaurants? You serve not one but two flavour-packed cuisines! That's Kyma, Mumbai's formula. This new restaurant in BKC dishes out Mediterranean-Asian fare in a chic, boho-style setting. By Ismat Tahseen
Ambience
If you happen to be at Bandra Kurla Complex at lunch hour, where to eat out is often the big question. The area is packed with a range of good eateries. Newly launched Kyma attracts the crowd with a vibrant al fresco area and stylish, club-style interiors. Think dusty-rose chairs, hanging fringe lamps, and planters. The cordial vibe is something that owner Nikita Poojari (who also owns Butterfly High) and managing partners Nikhil Rochlani, Dhaval Udeshi, and Pawan Shahri, definitely wanted Kyma to have.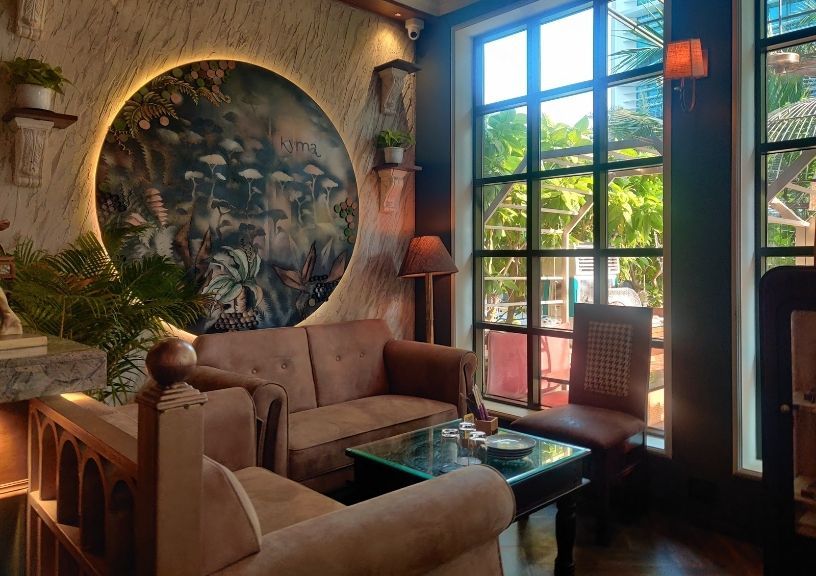 The sun was overhead so I moved into the cooler indoors. Chunky sofas along large bay windows, a gorgeous chandelier, and warm wooden accents, greet one inside. The long bar headlines the room and a private dining nook takes up another end.
Food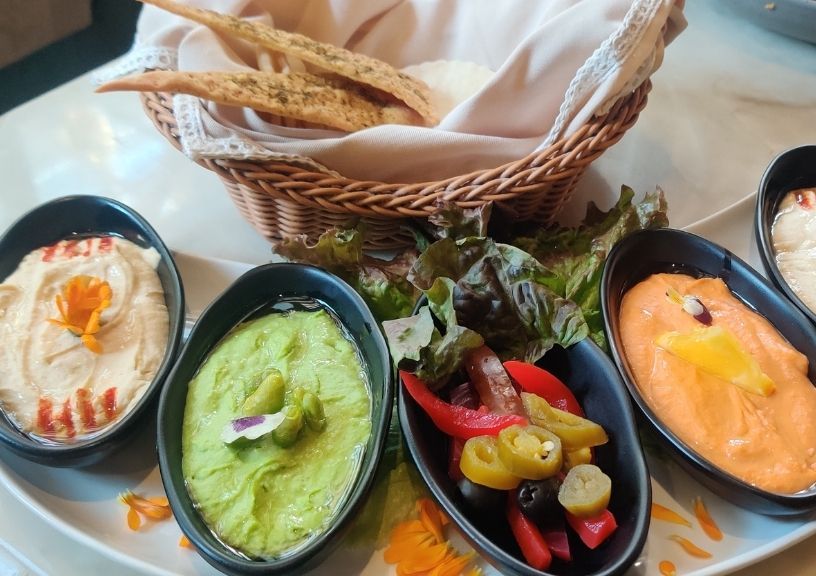 The menu, a synergy between Asian and Mediterranean cuisine, incorporates a lot of exotic spices. I begin with the hummus platter that has four varieties–regular, cherrywood smoked, orange-harissa that's made with orange reduction and an avocado-edamame truffle hummus. Kyma serves the humble samosa with a modern twist, as a fried broccoli-cheese samboosa, which is nice and flaky and cheesy. If you've been to Levantine restaurants abroad, you will know how they love their dips. Here, the chef serves accompaniments ranging from a Lebanese garlic sauce toum served with falafel or prawn, chilled zatziki, the warm saffron-baharat blend, a pecan-rich muhammara, and a spicy shatta served with the samboosa.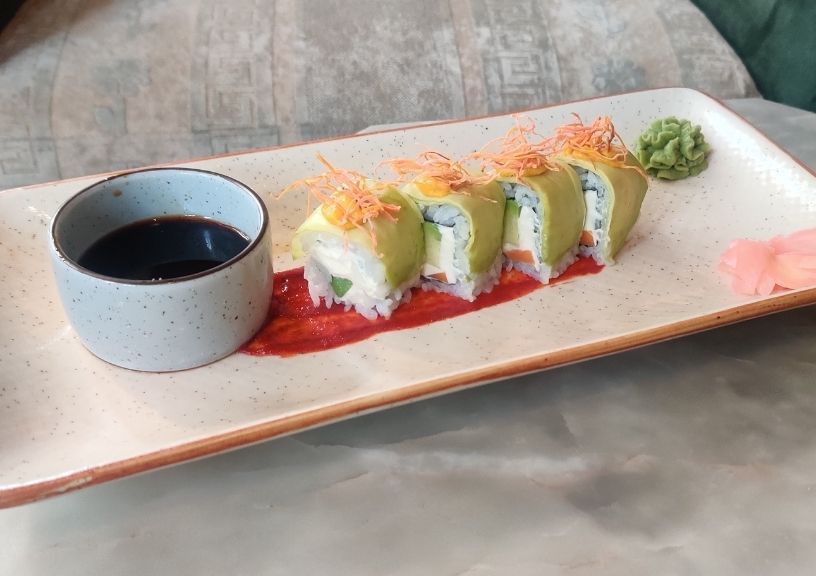 The Turkish stuffed flatbread pide is crispy and well-endowed with grilled chicken and cheese. The aftertaste of bezar spice (much like Indian garam masala) is unmistakable and it lends the flatbread a slight pungent, lemony flavour. Enough of the Mediterranean start though, we must venture Far East, too. Stir fries and maki rolls have a place here, but the jewel is the Truffle Wild Mushroom dumpling. Such a mix of textures here – a glutinous exterior that holds a nice crunch, thanks to lotus stems and yam.
After the small plates, I ventured into mains with the Arabic chicken mandi. It's served with grilled chicken and is like an Indian tahri pulao, sans Middle-Eastern spices. Be surprised with the Lebanese Grilled Lasagna. Kyma gives the Italian classic a Turkish spin. The sharp tang of tomato is smoothly enveloped with a cream cheese sauce, and there's a hint of aubergine as well, adding to its smokiness.
Desserts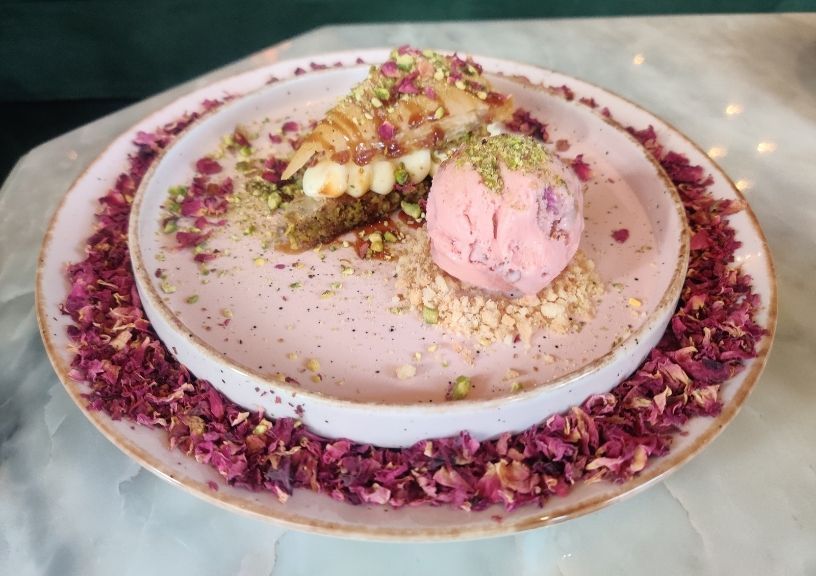 The Saffron Milk Cake here is super moist and flavourful with pistachio and cardamom. If baklava usually makes you think twice due its typically drippy sweetness, this one is quite different. The filo comes beautifully-plated, with rose petals and a side of rose ice cream made in-house, and is neither sticky nor overtly sinful.
Expect a packed restaurant even on a weekday, so it's a good idea to book in advance.
Address: Plot C-66, One, G Block BKC, Bandra Kurla Complex, Bandra East, Mumbai – 400051
Timings: 12noon – 1:30am
Price for two: INR 1,000 for two people (approximately) without alcohol
Related: TL Reviews: Miso Sexy, The Happening New Bar In Delhi, Packs A Punch