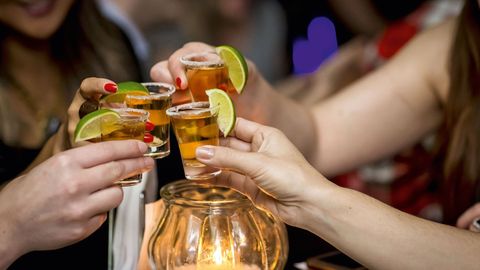 India's alcobev industry is one of the fastest-growing ones globally, show recent studies. Travel+Leisure India & South Asia's contributor talks to some of the insiders for insights into the prevailing trends.
According to reports, India's alcobev industry is among the fastest-growing segment in the country. Underpinning these statistics are a host of paradigm shifts in terms of consumption behaviour. Premiumisation, for instance, is the trend leader, contributing to higher turnovers. There is also the rise of the cocktail culture, a shift of demographics, and the mushrooming of homegrown spirits and brands.
Rise Of The Indian Bartender "People are now respecting bartenders like they're respecting chefs," says Evonne Eadie, head of World Class & National Advocacy Lead, Diageo India. "We're witnessing a bartender revolution where the consumer in India is now appreciating the skill and creativity in mixology," she says. There is a massive shift towards premium cocktails in India. Be it Hennessey doing social media campaigns on cognac cocktails or Johnnie Walker hosting cocktail nights in major cities or Godawan showcasing single malt paired cocktails, there is so much buzz around cocktails.
At the very core of this cocktail culture in India is Diageo's annual World Class Bartenders competition that gives a platform to bartenders all over India. Following a rigorous process, one India representative is chosen to showcase at the World Class finals. Last year's Sydney finals were attended by Delhi's Sahil Essani, while this year's edition will take place in Sao Paolo, Brazil, with finalist Aashie Bhatnagar.
"The Indian consumer now understands that a cocktail is not only a drink—it is about the atmosphere, customer interaction, and the craft behind a great drinking experience," Eadie adds. No surprise then that cities like Mumbai, Goa, Bengaluru, and Delhi are seeing a profusion of highly specialised bartender-led spots, where bar owners acknowledge the draw that their bartenders have.
Is Experiential Marketing The Way Forward?
Alcohol stakeholders like Diageo, Moët Hennessey, and Pernod Ricard are now investing heavily in experiential marketing. Pernod Ricard's exclusive Royal Salute bar at Taj Lake Palace Udaipur, the by-invite-only club Le Cercle for Pernod Ricard's select clients, and Johnnie Walker Black Label's 'Symphony of Flavours' immersive trip to Scotland are examples. In one of the most talked about events this year, the first Indian single malt, Godawan, invited a set of VIPs to Rajasthan to be part of a conservation initiative for the Godawan bird. This was in partnership with HH Chaitanya Raj Singh, the Maharaja of Jaisalmer, and legendary wildlife and heritage photographer Amit Pasricha, who auctioned his work at the event. The idea was to showcase the ultra-luxe limited edition Godawan 100. Shweta Jain, chief business development officer of Diageo India and South Asia, says, "This experiential event for Godawan 100 is an ode to the conservation of the rare bird; the bottle is a bespoke, personalised, and illustrated piece—a collectable if you will." We also got chatting with Vishesh Sahni, founder & CEO of White Marketing, the market leader in alcohol-led experiences. His company currently works with the likes of Diageo, Pernod Ricard, and Moët Hennessey to create experiential events for UHNIs. "The only way to bring alive any brand narrative, from a marketing point of view, is to conceptualise immersive brand experiences," he says adding, "Today's customers understand that a great product is a prerequisite, but what they seek is a creative medium, event, or experience to truly have meaningful conversations." Sahni's White Marketing recently did the launch and activations for Le Cercle India, a rarefied club of UHNIs, as well as the Glenmorangie Delicious Design Project and Blender's Pride Fashion Tour.
New Demographics
Alcobev industry stakeholders are quick to point out the changing demographics of India's alcohol consumers. What was not the case a decade ago is increasingly the case now—younger audiences walking into luxury hotels to consume premium spirits or raking in high-value bills at upscale bars. From a sociological point of view, this trend is very important. Shuchir Suri, the founder of Food Talk India says, "The younger generation today is drinking better. Most youngsters today are drinking less but spending more on alcohol, which has an element of provenance, sustainability, even health." Suri also points out that the cocktail culture has boomed, but, in his opinion, youngsters prefer to go to more innovative bars and not to hotels. Exploration Of New Spirits
Kimberly Pereira is the brand ambassador for India's first aged 100 per cent agave spirit, Maya Pistola Agave Pura. "It has taken a lot for the Indian market to understand the difference between a tequila, mezcal, and agave. However, people are starting to appreciate it. Agave cocktails are on the rise in India and we are featuring it on a lot of menus," she says. Most importantly, agave is no longer a 'shot' based drink; it is enjoyed in sips, like whisky or cognac, Pereira notices as a major trend. Tequila, similarly, is all the rage at Indian bars, largely due to popular culture, and Western celebrities consuming it. Suri tells us that while tequila is growing in India, "there is a 150 per cent import duty that makes it rather expensive and not affordable to a large chunk of consumers. Besides that, we also see a proliferation of liquids that we hadn't seen much before, like Aperol, Campari, and even a whole host of Indian-made seltzers and ciders," she adds.
Related: This Summer, Move Over Beer And Try Out These Packaged Alcoholic Drinks Instead
Frequently Asked Questions (FAQs)
Question: What are the challenges for India's alcobev industry?
Answer: In India, the alcobev indutry has to deal with regulatory challenges such as liquor taxes, licensing requirements, trade barriers and other market-related obstacles.
Question: What is the size of India's alcobev industry?
Answer: According to reports, India is the third-largest market for alcoholic beverages globally. It is estimated that the market size is around USD 35 billion with a projected compound annual growth rate (CAGR) of 6.8 per cent between 2020 and 2023.
Written By