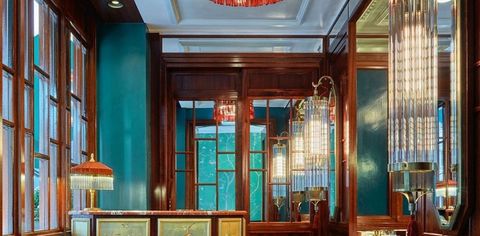 Widely dubbed as London's best-kept secret, MiMi Mei Fair recently opened its doors to the public. We tell you all about this chic new space. By Bayar Jain
View this post on Instagram
After many successes with Jamavar and Bombay Bustle, hotelier and food entrepreneur Samyukta Nair has added another alluring restaurant to her kitty: MiMi Mei Fair.
Opened on September 7, this new three-storied restaurant promises to bring a taste of Chinese culinary secrets to one of London's most bustling spaces, Mayfair. Situated within a Georgian townhouse, the MiMi Mei Fair is designed to reflect histories from China—a tangent from Nair's previous culinary ventures, both of which brought Indian flavours to the fore.
While MiMi Mei Fair's decor—complete with series of rooms—is done up to pay homage to the world's oldest civilisation and its cultural eclecticism, the carefully-curated menu, too, stems from the same thought process.
View this post on Instagram
According to the restaurant's official website, the kitchen is led by Chinese-Singaporean Executive Chef Peter Ho, who brings with him immense culinary expertise accumulated during his stints at Michelin-starred Lei Garden Singapore, My Humble House Beijing, and HKK and Hakkasan London. At Mimi Mei Fair, this knowledge comes backed by innovative Chinese dishes inspired by Empress MiMi's travels across Hong Kong, Singapore, and the Chinese mainland—namely, Guangdong, Sichuan, Fujian and Hunan. Apt for sharing, the menu spans a la carte, dim sums, lunch and pre-theatre, desserts, cocktails, and wine. A tasting menu, too, is available.
Focussed on creating an immersive experience, MiMi Mei Fair assures a memorable meal through its well-thought ambience. A step into its premises leaves the bustling capital city behind to transport its guests to the Asian nation. Take Dining Level 1, for instance. Situated on the ground floor, The Hall is inspired by the Forbidden Palace of Beijing. Timber-screened salons line marble floors, while red upholstered booths, mirrored wall lights, chinoiserie cabinets, marble counters, and antique vases complete the space.
View this post on Instagram
A similar aesthetic paints The Drawing Room, too. With a focus on yellow and warm shades, this space is layered with curated art pieces from Mimi's travels, patterned booths, timber fret-cut screens, and modernist textured plaster pendant lights, among other things. The Peacock Room, on the other hand, adorns hand-painted silk wallpapers with the room's signature bird dotted all over the space. This intimate room is ideal for a family of eight, with an open fireplace to make it even more intimate.
The second floor of MiMi Mei Fair houses The Library, and The Parlour. While the former comes stacked by a rare collection of MiMi's favourite books lining an emerald-green and black hand-painted silk wallpaper, and leather banquettes; the latter—a blue-panelled parlour—sheds spotlight on modern bright coral screens, a red lacquered chandelier, and regency jacquard fabric.
Those looking for a nightcap can descend downstairs to The Moon Bar, a miniature cocktail bar inspired by art deco styles. As per the restaurant's website, "the room, interwoven with the narrative of the Chinese Folklore tale of Yutu, the Jade Rabbit that lives on the moon, is centred around a fluted black lacquer bar with black marble top and Art Deco lamps."
MiMi Mei Fair is located on Curzon Street at Mayfair, London. The restaurant is open for online bookings, too.
Written By