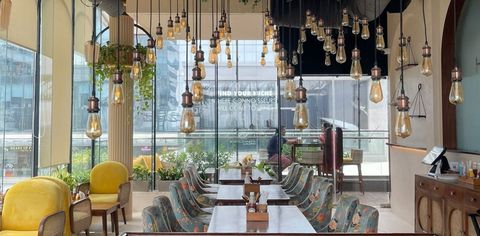 If you miss laidback, hassle-free, and immersive café culture, then you are in for some good news. Houz Cafe Bar, a brand-new two-floored café in Gurugram, has opened its doors to discerning patrons. And we, of course, visited for an afternoon of world cuisine, world tipple and free-wheeling conversations. By Priyanka Chakrabarti I have a soft corner for glass windows, especially when it shimmers in the crisp afternoon sunlight. I am sitting at a cosy corner in Houz Cafe Bar's first floor, right next to a tall glass window awash with autumn sunlight while I sip a refreshing mocktail—Virgin Mary Guava (spiced to perfection with fresh coriander, green chilli and a dash of lemonade).
Sumit Singh, the owner of the café tells me how this place is created to redefine the good ol' café culture. "We are big advocates of cafés and with Houz Cafe Bar we want to recreate the nostalgia of enjoying world cuisine, artisanal cocktails and classic rock music amidst a visually appealing space. We have kept the ambience classy yet relaxed. You can see how the interiors are inspired by nature." Yes, elements of nature are found in abundance at this new café bar. I love how the ceiling is transformed into a tropical garden with lights hanging down below, casting a modish European vibe. The cane furniture and pop colour cushions, beige flooring and neutral walls, and an alfresco area contoured by lush green thickets – all collectively exude a chic millennial aesthetic. The warm, nostalgia-inducing ambience transcends onto the second floor as well.
After a quick tour of the space, I finally begin my epicurean journey here. Chef Bishwajit Halder brings me a platter of loaded nachos with delectable accompaniments – spicy salsa and pineapple dip. Laden in rich layers of cheese and topped with colourful bell pepper strips, this is a savoury slice of Mexico put together with love. Next, Peri-Peri Lotus Stem Chips arrive at my table. Seasoned to stimulate all your senses and served on a bed of chopped coriander leaves, tossed with onions and tomatoes, this crispy starter unfurls whole-bodied flavours. I could keep coming back to Houz Cafe Bar just for this one!
I wash down the starters with another refreshing mocktail called the Plum Fashion Fruit Cooler – a summer drink with mild hints of lemon and chunks of freshly cut plums. Mildly sweet and massively revitalising, this concoction feels like a fresh garden in a glass. For the main course, I try two variations of risotto – spinach and parmesan, and chicken meatballs. The first one can be any vegetarian Italian food lover's dream come true. Imagine medium-grain Arborio rice cooked with mushrooms, olives, capers, broccoli and bell peppers, and tossed in rich cheesy tomato sauce. The final touch – generous amounts of parmesan shavings. Every bite of this meal is soulful. The non-vegetarian version is no different. Cooked in flavourful chicken stock and topped with roasted garlic meatballs, jalapeno peppers, fresh thyme and steamed corn and broccoli, every bite unleashed an outburst of rich Italian aromas. This one is a clear winner for me.
The final meal is a grand one. Peri-peri Chicken Sizzler—Mexican rice topped with grilled chicken that comes slathered in fiery peri-peri sauce, with a side of sautéed veggies and fries. It's unfortunate, I couldn't finish the dish, but I have to congratulate the chef for the poignant creation.
To wrap up the luncheon, I dig into a classic Crème Brûlée. The velvety, pudding-like, baked custard has a fragile top layer of melted sugar; the layer is so delicate that it cracks when I lightly tap it with a spoon. Every bite is super creamy and the rich aroma of vanilla essence accentuates the whole experience. I leave with a happy heart and belly only to return soon on a Thursday evening. Why Thursday, you ask? Houz Cafe Bar is dedicating Thursday evenings to folks from the aviation industry. If you are part of this industry, make a mental note to visit this café on Thursdays from 8 pm onwards for good food, great cocktails and the best vibe.
#TnLRecommends
If you like your cocktails heady, then do try their Orchard's Bramble, Pink Elephant and Fog cutter. Where: Houz Cafe Bar – 128,106 Tower-4, Worldmark, Sector 65, Gurugram
Timings: 12 noon – 11 pm
Meal for Two: INR 1,500/- (approx.)
Call: +91-7042881883
Related: Shangri-La Eros New Delhi Introduces The City's First-ever Moonlight Brunch At Grappa
Written By