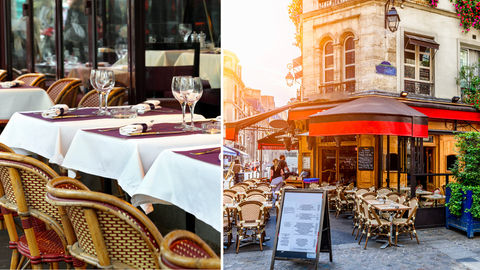 Editor's note: The global COVID-19 crisis has left each one of us deeply affected and we want to help. Burda Media India has organised a fundraising campaign to #FightBackWithTesting and donating RT-PCR test kits to the worst-affected areas in India, which will be secured from our testing partner Mylab Discovery Solutions. You can help these kits reach many more by donating for the cause or by adopting a kit. Click here to join the fight.
After being shut down for over two months now, the gastronomic capital of the world, France reopens its cafes, restaurants, and bars. By Kumar Shree
Much to the joy of the French people, the restaurants, cafes, and bars in the country reopened doors on June 3 after being out of service for more than two months due to the Coronavirus pandemic. The move is a calculated step towards embracing the 'new normal' of the post-Corona world. Earlier, as parks and gardens opened upon during the weekend, people were seen taking up the opportunity for going out after long. All this is happening under the second phase of France's step-by-step lifting of the lockdown.
View this post on Instagram
As reported by AFP, Theo Stuzmann, head waiter of Maison Kammerzell, a popular restaurant in Strasbourg, eastern France said, "We have spent several hours cleaning." AFP also reported that a second and more thorough disinfection treatment was due before opening on Tuesday.
While this is the update for most of France, things still look a tad bit different in Paris. Keeping in mind that the Coronavirus is still way more active in Paris than other areas, Paris has a different plan for opening its bars, cafes, and restaurants. These establishments in Paris can only resume operation on outside terraces.
View this post on Instagram
The city council has also laid out a plan in place to prevent an unexpected rush. These eateries have received special permission to place tables on sidewalks and parking spots. Many other roads have also been closed for cars. Apart from this, people can dine-in with a maximum gathering size of 10 at a time, and that too with at least one-meter distance between tables.
Related: #SomeGoodNews: New York's Metropolitan Museum Of Art Plans To Reopen Soon
Written By