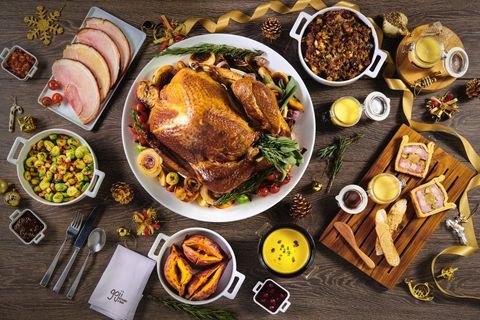 Thanksgiving? More like Thanks-living, as these events are extremely giving. Here are the best places to celebrate Thanksgiving 2023 in Bangkok.
We can't think of any other activities that can bring people together so easily like being seated around the dinner table. Especially if you're in Bangkok, the culinary landscape lends itself especially to foodies. This season of togetherness, we encourage you to bring your friends and families out to these one-day-only feasts, taking place at all the five-star hotels in Bangkok. These are the best restaurants to dine at on November 23 or the night of Thanksgiving 2023 in Bangkok.
Celebrate Thanksgiving 2023 in Bangkok at these events that are extremely giving
Anantara Riverside Bangkok Trader Vic's is one of the few Polynesian restaurants in Bangkok, and they're hosting a semi-buffet party where a generous spread of fresh oysters, cheeses, cold cuts, and Thai and western salads are presented. Guests have three options for the main course, whether it be the turkey roulade stuffed with mushrooms and served with butter squash, the Chilean sea bass with white wine sauce, or the Hakata Wagyu A4 with truffle potato pave. Last but not least, the dessert trolley filled with the smell of festivities, like pumpkin and pecan pies, will slide in to end the meal.
The Thanksgiving dinner is served at Trader Vic's, priced at THB3,299 (INR 7,768) net per person.
Capella Bangkok Capella Bangkok celebrates the occasion of togetherness with a Thai-inspired four-course dinner at Phra Nakhon. The amiable venue is perfect for an occasion of togetherness where friends and families will enjoy the culinary delights of Chef Antony Scholtmeyer and Chef Kannika Jitsangworn. Start with a Thai king prawn cocktail, then a creamy pumpkin soup. The traditional Thanksgiving dish, roasted turkey, is made unique with Thai spices and a red curry sauce to accompany. End the night with Chiang Mai chocolate and coconut pie.
The Thanksgiving dinner is served at Phra Nakhon, priced at THB2,100++ (INR 4,945) per person.
The St. Regis Bangkok The ultimate Thanksgiving feast takes place at the buffet room of The St. Regis Bangkok, Viu. If you're looking for the classics, they have a massive roasted turkey with cranberry truffle sauce and Australian wagyu beef wellington as the highlights. Side dishes are included, of course. The pumpkin risotto in a parmesan wheel, cranberry walnut salad, and spiced pumpkin cannoli are all here to represent the festive season. While there are many more delicacies to fulfill your cravings with, each diner can also dig into a serving of Canadian lobsters, too.
The Thanksgiving dinner is served at Viu Restaurant, priced at THB3,000++ (INR 7,064) per person.
JW Marriott Bangkok The American celebration features the best ingredients from all over the world at JW Café. The all-you-can-eat dinner will fill you up with Australian ribeye beef with Yorkshire pudding, roasted New Zealand Lumina lamb, fresh Alaskan king crab, and the unmissable roasted Butterball turkey. Since it's not a Thanksgiving feast if there's no sweetness, the dessert section offers some delicate pecan pie brownie, pumpkin choux cream, and pumpkin and apple pie. Additionally, more festive delicacies are also available for takeaway at Bangkok Baking Company.
The Thanksgiving dinner is served at JW Café, priced at THB 3,199 (INR 7,533) net per person.
Bangkok Marriott Marquis Queen's Park Although Goji Kitchen + Bar is widely loved on any occasion, this Thanksgiving is when you'll find all the American favourites and more in one place. Whether it's the traditional roasted turkey with trimmings, salt-crusted baked salmon, roasted stuffed duck, or beef bourguignon. To ensure it really is an American feast, four varieties of pies – pumpkin, pecan, apple and lemon meringue – are also offered.
The Thanksgiving Feast takes place at Goji Kitchen + Bar, priced at THB2,229++ (INR 5,249) per person.
Sofitel Bangkok Sukhumvit The season of so-beautiful-it-hurts dishes has returned to Voilà! at the Sofitel Bangkok Sukhumvit. The honey-glazed ham, beef wellington, roasted turkey with trimmings will all be present. The pecan pie will lead the dessert line-up on the buffet spread, for those with a sweet tooth.
The Thanksgiving Day Buffet Dinner takes place at Voilà!, priced at THB 2,190++ (INR 5,157) per person.
Bangkok Marriott Hotel Sukhumvit The Thanksgiving vibe is in full swing at the Bangkok Marriott Hotel Sukhumvit. The District Grill Room & Bar offers a set of whole roasted turkey with side dishes like sweet potatoes, stuffed dinner rolls, sweet potato casserole, and more, plus a slice of pumpkin pie. For the 'Bounty Complete Takeout Meal,' Chocolate Cake Company's Thanksgiving set is suitable for four to six people to enjoy their Thanksgiving dinner at home. Last but not least, 57th Street is where you can totally immerse in the warmth of the season with an epic buffet.
The Thanksgiving dinner is served at The District Grill Room & Bar on November 23-24, 6pm-10.30pm, at Chocolate Cake Company on November 23-26, 7am-7pm, and at 57th Street on November 23, 6pm-11pm, priced at THB1,950 (INR 4,592) ++ per person.
Billy's Smokehouse Billy's Smokehouse is exploring the adventurous combination of American and Burmese flavours using turkeys and tea leaves. In collaboration with Chef Goo Goo, they are offering both unbeatable classics, along with new flavours for your palate to be thankful for. Pickle brined-roasted turkey with stuffing, butter aged prime ribs, Burmese fried chicken served with peanut sauce, tea leaf salad, and more, all awaiting to entertain your tastebuds. Oh, and save some room for Chef Mauricio's world-class pumpkin pie.
The special Thanksgiving menu is available at Billy's Smokehouse on 23 November, 5pm onwards, priced at sets of THB 2,800 (INR 6,593)++ and THB 4,500++ (INR 10,596).
This article first appeared here.
Related: The Best Korean Restaurants In Bangkok That Are Outside Of Korea Town
Written By